Punchlines knock out inequality
Updated: 2012-12-13 07:39
By Doug Meigs (HK Edition)
| | | | | | | | | |
| --- | --- | --- | --- | --- | --- | --- | --- | --- |
|   | | Print | | Mail | | Large Medium  Small | 分享按钮 | 0 |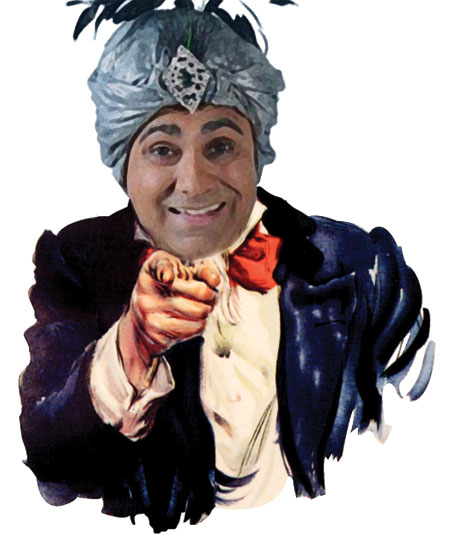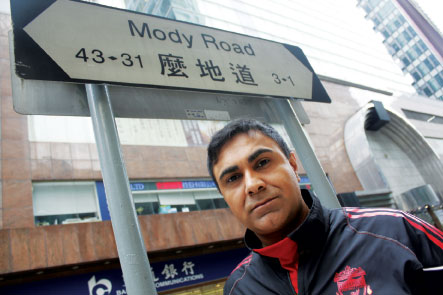 Gill Mohinderpaul Singh's restaurant is located near Mody Road, which is named after a prominent Indian resident who helped to found the University of Hong Kong. He laments that many Hong Kong's don't realize the historic contribution that Indian residents have made to local society. All photos: Doug Meigs / China Daily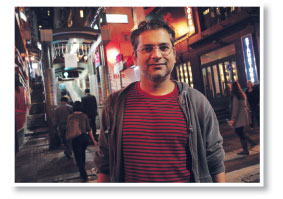 Sunil Khiatani is a Hong Kong born IT professional. He began participating in standup shows at TakeOut Comedy since 2008. His jokes are heavily inspired by his traditional Sindhi culture.
Ethnic minority comedians confront societal barriers with jokes. Local Hong Kong-Indian standup acts are prompting reflection amid their audiences' laughter. Doug Meigs reports.
A wrinkled old granny and her grandson sheepishly approach Hong Kong's most celebrated Indian celebrity. "Could we take a photo?" they ask. Gill Mohinderpaul Singh is happy to agree. "Of course!" he says, speaking in flawless Cantonese. He smiles and bends down to give the grandmother a hug.
Better known by his Chinese stage name "Kiu Bobo," Gill had recently finished a three-day standup engagement, titled, "I am a Hong Konger?!" The performance during the final week of November also served as a protest against the Immigration Department which had denied his wife a HKSAR passport.
Gill, 43, has appeared in roughly 40 television dramas and movies since retiring from a 16-year career with the Correctional Services Department in 2005. He became the first local ethnic minority resident to achieve relative stardom, and the first Indian actor to sign with Television Broadcasting Limited (TVB). Now he is reluctantly planning to leave Hong Kong in April when his contract expires.
China Daily caught up with Gill at the Chinese restaurant (Qian Fu Da Shao) that he owns in Tsim Sha Tsui. Just outside the restaurant, Gill poses with his fans beside the Mody Road street sign. Although everybody is happy and smiling, Gill's fans are oblivious to the sign's historical significance.
Aside from colonial-era Gurkha soldiers from India and Nepal, most locals don't realize Indian contributions to Hong Kong society, Gill laments. For example, a Parsi merchant founded Hong Kong's iconic Star Ferry, and "Mody Road" honors Hormusjee Naorojee Mody, an entrepreneur who co-founded the University of Hong Kong.
Gill says he feels like an ambassador for all of Hong Kong's Asian minority residents, not just local Indians (or specifically in his case, Punjabi Sikhs). "Hong Kong people don't know very much about our culture, and through TV, I'm able to tell them more about our society, what we do, what we like, the differences and similarities between the cultures or religions," he says.
Despite Gill's long family history in China and his obvious popularity with the majority Cantonese population, he was unable to obtain a Hong Kong passport for his wife, Gurinder Kaur, who is a permanent resident and has lived here for more than 20 years.
"I'm proud to say I'm a Hong Konger first, and my family's origin is from India," he says, though he's disappointed about his wife's passport rejection. He recalls her bitter words: "You always tell people you are a Hong Konger, but then I applied for the HKSAR passport and they gave me nothing."
Early in 2011, she sacrificed her Indian passport for the application, so that she could sidestep the UK visa hassles that force her constantly to transit between Hong Kong and Scotland where their youngest son was born. The boy suffered medical complications-spastic diplegia and hyperactivity; now benefiting from the UK's free healthcare, he is enrolled in a special needs primary school.
Gill is a British citizen. His British passport is a legacy of a pre-handover colonial policy to ensure British National Overseas passport holders would not be left stateless upon Hong Kong's return to China. Most of Gill's family moved from Hong Kong, but he remained devoted to his home. He will move to the UK for at least three years so his wife can obtain residency. Then he hopes to return to Hong Kong.
Gill is actually the third generation in his family to live on Chinese soil. His grandfather moved to Shanghai with a British merchant. His father was born in Shanghai, and amid turmoil following World War II, the family fled to Hong Kong. Gill was born in Kowloon.
He helped screenwriters to craft many of his television roles from his experiences growing up in a traditional Punjabi Sikh family. Since Gill began work with TVB, he has also helped bring in a number of South Asian Hong Kong residents fluent in Cantonese. The greater variety of actors helps the local entertainment industry to represent the city.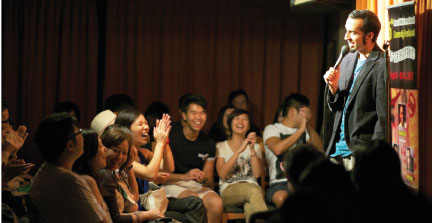 Vivek Mahbubani is a bilingual comedian who won competitions for Hong Kong's funniest person in English (2008) and in Chinese (2007) at TakeOut Comedy Club. He says the purpose of his standup comedy is simple - to make people laugh. But bridging different cultures could be an unintended positive consequence.
Some Han Chinese Hong Kong entertainers over the past decade, have occasionally utilized shoe-polish to darken their skin and have spoken with broken Chinese to play ethnic minority roles. The practice (known as "black-face") lampoons ethnic identity. It is considered extremely offensive in Western nations.
Gill entered showbiz on a lark. Now, his pending departure seems like a cruel joke. Up until Correctional Services colleagues enrolled him in a TVB talent contest, Gill says he never paid much attention to the local entertainment industry. He went on to win the contest, dressed in goofy outfits, dancing and singing Cantopop songs. During his final competition, he stripped his shirt to reveal the letters "TVB" shaved in his thick chest hair. Afterwards, he began receiving acting job offers. He retired from corrections and entered showbiz.
His recent three-night standup performance featured jokes about career obstacles in his old job. Sitting in his TST restaurant, Gill admits that his career with government reached a plateau after the 1997 handover. He couldn't read and write Chinese, and his outspokenness made him unpopular with senior officers. "I know that my evaluation was written in red pen-everyone else's was written in blue pen. I knew I had no chance to be promoted," he says.
Growing up, Gill says he knew racism existed in Hong Kong, but he never felt like a victim. "Racism is everywhere in the world. It all depends on each human. Hong Kong people are nice. If you know how to speak Mandarin and Cantonese, then they would think we are family," he says.
While in the school, he once fell in love with a Chinese girl, Mei. Gill told the story during his standup performance. He joked how Mei didn't like his long hair and turban. The turban is part of his faith, Sikhism. To win the girl's favor, he cut his hair. His mother was devastated. The childhood romance flourished briefly, until his parents discovered it. Then, they decided it was time for Gill to marry in traditional Punjabi fashion - that meant an arranged marriage with a girl from India. His mother showed three photos. He chose his wife, and the rest is history.
Gill has used comedy to protest the injustice facing his wife. Elsewhere in Hong Kong, standup comedians poke fun at society's inherent quirks and faults. Since Asia's first exclusive comedy venue opened nearly six years ago in Soho, TakeOut Comedy Club has become a haven for local and expat comedians.
"Laughter breaks down barriers. We're not serious, but we still educate people by talking about life," says Jami Gong, the founder. He opened his first club 10 years ago in New York City's Chinatown. Western-style of standup comedy is still in its infancy across Asia, he says, but it's starting to boom, with new comedy clubs opening across the region. TakeOut Comedy organizes regular Chinese language shows in Kowloon and Shenzhen, and hosts shows in Macao and the Philippines.
Gong is a Chinese American comedian, born in New York. Some of his jokes play off audiences' general knowledge or stereotypes about Chinese Americans. "Growing up as an Asian (in America), I'm able to twist truths into laughter," he says. "I talk about how, if I'm president of the United States, then there will be some major changes - the White House will be called the 'Yellow House'; Tiger Balm mandatory in all first aid kits; dim sum - especially chicken feet - will be served in all school lunches; my VP would be Jackie Chan."
Most of TakeOut's regular local comics are expats, but there is a small group of Indian comedians now performing regularly. Vivek Mahbubani is one of the more successful homegrown acts to emerge recently. He performs both in English and Cantonese. Mahbubani, 30, was born and raised in Hong Kong and attended a local school.
"A lot of people, when they see me perform, they say 'Oh are you trying to send a message of harmony?' I'll be honest: I have no message. I just want you to laugh. That's it," he says. I'm not some ambassador trying to bring world peace; however, that may be a byproduct. When people are exposed to (my standup), they might think, 'Oh wow, I've never been exposed to that idea before.' If that happens, good."
Speaking with China Daily over a bowl of noodles after his performance in Takeout Comedy's 900th show, he talks about his comedy, how he identifies as a Hong Konger, and how he's involved with NGO outreach, mentoring underprivileged, ethnic minority kids. "The Equal Opportunities Commission, and Unison, and other organizations like to work with me because they consider me a good example of someone who blended into Hong Kong both linguistically and personality-wise."
Mahbubani says learning Cantonese language is the key to effective social integration. Evident in his standup routine is a clear irritation that locals mistakenly expect he cannot speak Cantonese. One of his jokes plays with his language fluency and local racial slurs. His bit involves store clerks noticing him and complaining to each other that they don't want to speak English to the "gwailo" (i.e. Mahbubani).
The word "gwailo" translates to "ghost man" or "foreign devil" and has been used to reference white men since the 16th century. Mahbubani tells the audience how he walks straight to the store clerks and gives them a language lesson, speaking in Cantonese. The correct slur would be "Aacha," he says, before he proceeds to further deconstruct the derogatory words onstage. Evidently, the term "Aacha" is meant to imitate how Cantonese speakers think Indians sound. It is also the Hindi word for "yes/okay."
Expats at TakeOut address other examples of discrimination from daily life. African American comedian Earl Young joked about Darlie toothpaste, which was formerly known as "Darkie." The brand name changed in 1985, but its Chinese name, "Black Person Toothpaste," remains the same (and popular) in Hong Kong today.
Mahesh Mansigani, a British Indian comedian poked fun at people's false racial preconceptions in the airport. He says he is sometimes mistaken for a Muslim and receives extra scrutiny from security worried about religious extremists. But as a Hindu, he ponders what would an extremist Gandhi do? "A hunger strike? Turn this plane around, or I'm not going to eat the in-flight meal," he says with a laugh.
The comedians, along with a few other expats joined Mahbubani and another Hong Kong-born Indian, Sunil Khiatani, onstage during a recent "All-stars show" at TakeOut. Out of the three ethnic Sindhis in the lineup, Khiatani says his routine (which also features jokes about being an IT nerd) is most inspired from traditional Indian Sindhi culture. He was born in Hong Kong and grew up in a traditional family.
"It's tough. To make people laugh, I have to be on the same page as them. Some of the Indian jokes I tried to do when I first started, they wouldn't understand," Khiatani says, "In some ways I think that they learn more about Indian culture through my act." He has been on stage at TakeOut Comedy since 2008.
One of his jokes relates to his own arranged marriage a few years ago. He explains how Hindus believe their hands are sacred and should be used to eat in place of utensils. During his wedding, guests took turns feeding him pieces of cake, and he mused at the variety of flavors lingering on their fingers. One even tasted like Marlboro cigarettes.
After the show, one member of the audience came up and said he loved Khiatani's food joke - the man had just returned from a holiday in India and observed a similar lingering taste on his own hands. Khiatani's reaction? "If people come and see my comedy, and then go to India and understand a little more of what I was saying, that's heartwarming," he says. "Maybe they will want to discover other aspects of the culture."
(HK Edition 12/13/2012 page4)