Riding on advantages to regain global competitiveness
Updated: 2012-12-07 06:47
By George Ng(HK Edition)
| | | | | | | | | |
| --- | --- | --- | --- | --- | --- | --- | --- | --- |
|   | | Print | | Mail | | Large Medium  Small | 分享按钮 | 0 |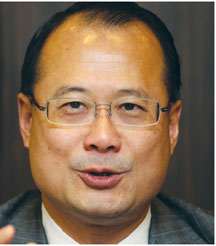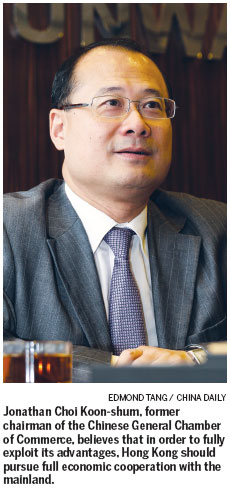 Despite the seemingly endless political wrangling that has plagued Hong Kong for months coupled with the frustrating facts and figures that have spawned pessimistic forecasts for the long-term, a prominent business leader argues eloquently in an exclusive interview that there are bright prospects ahead for Hong Kong. George Ng reports.
The premise for Jonathan Choi Koon-shum's optimism, who is former chairman of the Chinese General Chamber of Commerce (CGCC), rests on the condition that leaders and the people of the city put together their efforts to exploit Hong Kong's advantages fully to develop the local economy.
Over the past five years, Hong Kong has lagged far behind Singapore - its archrival in the region - in terms of global competitiveness, with Singapore clinging to the second or third place in the ranking, while Hong Kong is sticking to the ninth or 11th spot, according to the annual Global Competitiveness Index compiled by the World Economic Forum.
Most recently a survey by CPA Australia suggests that Hong Kong is fast losing its edge to Singapore as the regional headquarters hub in Asia. The survey, conducted in October 2012 among 254 senior accountants and financial professionals based in Hong Kong, reveals that 59 percent of the respondents prefer Singapore as their corporate regional headquarters, compared with the 22 percent who cast their votes for Hong Kong. High rent, high cost of living and air pollution stood as the city's three principal detriments, acting as barriers to companies seeking locations to establish regional headquarters.
Shanghai is likely to overtake Hong Kong to become China's most competitive city, claimed China Institute of City Competitiveness, a Hong Kong-based non-government organization, in a report released on December 5.
Adding to these unfavorable figures are the seemingly endless political wrangles over issues from social welfare, the wealth gap, environmental protection to the housing shortage.
These frustrating news reports, backed up by negative statistics, have led some doomsayers in the city to predict a gradual decline of the Pearl of the Orient.

Jonathan Choi, chairman of Hong Kong-based Sunwah Group, who held the helm of the century-old Chinese General Chamber of Commerce over the past four years and who was its youngest chairman ever, vigorously rebutted this pessimistic notion in an exclusive interview.
While admitting that we have a lot of negative headlines everyday when we take a glimpse at the newspapers, he was quick to note "these are not the whole picture". "Many people now wonder: is Hong Kong losing out, is Hong Kong being marginalized, is the Pearl of the Orient losing its luster? I don't think so. I am optimistic about the future of Hong Kong."
"Hong Kong is a place that still enjoys lots of advantages, with the most significant one being the fact that the city practices capitalism while being part of China," Choi claimed. Being part of China, Hong Kong is backed up by a domestic market of 1.3 billion people. "That's a very huge market," he stressed.
On the other hand, being a capitalist international financial center, Hong Kong is as well known as London and New York. "As a result, we enjoy the advantages of both," he said.
So how can Hong Kong fully exploit its advantages?
Pursuing full economic cooperation with the mainland should be the main direction, "otherwise we will find no way out", he asserted, noting that "we are now in an Asian century, with the Chinese mainland becoming the focus of the region".
Hong Kong has been closely cooperating and integrating with Guangdong province on the economic front in recent years. In the future, he contends, the city should promote closer cooperation with the neighboring province, particularly its three new special economic zones-Shenzhen's Qianhai, Zhuhai's Hengqin and Guangzhou's Nansha. Hong Kong should also seek closer cooperation with other mainland cities, Choi said.
But just working with the mainland is not enough to help Hong Kong command a competitive edge globally. The city should also take full advantage of its position as an international platform, by boosting its participation in global economic activities, he continued.
To this end, Choi and the CGCC have been proactively promoting the inclusion of Hong Kong into the ASEAN-China Free Trade Area (ACFTA).
"Over the past several years, I have aggressively promoted the idea of Hong Kong's accession into the ACFTA to the Ministry of Commerce and The Hong Kong and Macao Affairs Office of the State Council," Choi revealed.
These efforts have yielded positive results, with the central government flagging a go-signal. During his visit to Hong Kong in August 2011, Vice-premier Li Keqiang pledged the central government's support for Hong Kong to participate in free trade areas as a separate customs territory. And the HKSAR government has conveyed to ASEAN its desire to join the ACFTA trade block.
Gaining accession to the ACFTA may not bring huge additional benefits to Hong Kong immediately, since local businesses have long established their production bases in the Pearl River Delta and Yangtze River Delta regions. But it will boost Hong Kong's global presence and help strengthen the city's status as a major platform for international economic activities such as transshipment, trade settlement, fundraising and asset management, Choi opined.
This coincides with Hong Kong's positioning as an international financial center, a trading center, and a shipping and logistics center as designated by the central government in its 12th Five Year Plan.
The central government's support, meanwhile, is another edge Hong Kong enjoys over its rivals in many aspects. For example, the central government will be more comfortable keeping Hong Kong as the principal offshore yuan business hub. It is to be preferred over other cities for the sake of the nation's financial security, Choi reckoned.
To exploit Hong Kong's advantages, fully, Hong Kong needs to build an ample talent pool. "We should welcome overseas talents as well as mainland talents," the business leader suggested in response to concerns about the insufficient talent supply in the city.
The talent pool is dynamic: talents will come as long as the soft environment and hard environment are satisfactory, he believes.
"Of course, we also need to improve the quality of our education to train our own talents," he added.
(HK Edition 12/07/2012 page4)