CE appeals for more citizen input
Updated: 2012-12-07 06:44
By Timothy Chui(HK Edition)
| | | | | | | | | |
| --- | --- | --- | --- | --- | --- | --- | --- | --- |
|   | | Print | | Mail | | Large Medium  Small | 分享按钮 | 0 |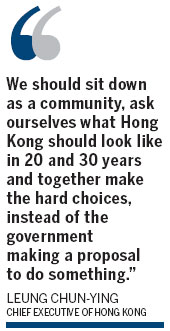 Leung fears youth could abandon Hong Kong if problems unresolved
The Chief Executive on Thursday revealed two proposals aimed at improving the quality of life in Hong Kong with providing more affordable housing in the short term, bigger flats in the long term and cleaner air within a year.
Leung Chun-ying, preparing for his inaugural policy address on January 16, called on citizens to provide more guidance and suggestions for solving the city's problem of urgent shortage of affordable housing, rather than leaving the administration to follow only government-led initiatives.
"We must sit down, look at the map of Hong Kong, include the bodies of water around Hong Kong, and ask ourselves, 'in 20 years' time, when our children have their own children who are teenagers, how should the shoreline of Hong Kong look?'," Leung told a gathering of local and overseas media at the Foreign Correspondents' Club on Thursday.
"If we cannot, in the space of two or three decades, generally increase the living space in Hong Kong, the best and the brightest of the next generation will leave us. We will have lost our competitiveness to attract and retain overseas talent. We will also have lost our competitiveness in retaining our own local talent," he warned.
"We need to have an adequate land supply not just to meet new demand ... but also to give people more elbow room in their living space, also in their work space."
The city is in the grips of an affordable housing shortage, including space for senior citizen's homes and student hostels, while urban streets are crowded and business space cramped.
"I think Hong Kong people are finally coming to terms with the fact that when it comes to land use planning ... we have to make choices. Nine times out of 10, we have to make hard choices. We have to make hard choices, for example, whether to keep parts of our countryside or to use the land for housing," he said.
"We should sit down as a community, ask ourselves what Hong Kong should look like in 20 and 30 years and together make the hard choices, instead of the government making a proposal to do something," Leung said, adding, "If we can make that first step in that right direction, I think our engineers and professionals will deliver."
Speaking on short term measures, Leung pointed out he realigned the priorities of six government departments and designated two government bureaus to take responsibility for the planning and development of land to provide more housing units during his first few months in office.
"We are seeing more units being pre-sold, we are seeing new plans being made," Leung said.
He added, the government would stand behind its decision not to cross the line and introduce measures to cool the non-residential property market. He underlined, however, that the government will maintain demand-side management of residential properties, through measures such as the Buyer's Stamp Duty which applies only to non-residents.
The ultimate solution must be laid to create more supply through the private and public sectors.
"It's a slow process, but we are seeing a light at the end of the tunnel," he said.
Leung also said another priority for the administration over the next five years would be air quality.
"Of course, there are other environmental issues, but the key will be air quality and the focus of our work will be roadside air quality. Within the next 12 months you will probably see government initiatives dealing with commercial vehicles which form the main source of air pollution on roadsides," Leung said, adding emissions from power generation and marine traffic will also be tackled.
tim@chinadailyhk.com
(HK Edition 12/07/2012 page1)