Aiming higher than before
Updated: 2012-11-30 07:59
By Ming Yeung(HK Edition)
| | | | | | | | | |
| --- | --- | --- | --- | --- | --- | --- | --- | --- |
|   | | Print | | Mail | | Large Medium  Small | 分享按钮 | 0 |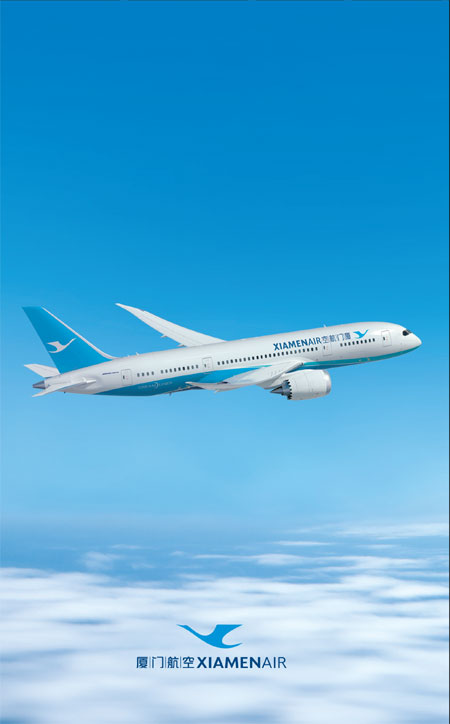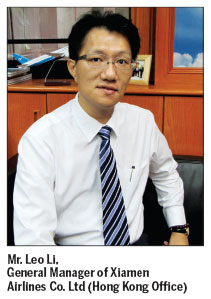 As Xiamen Airlines expands its fleet of aircrafts, upgrades its services and extends its list of international destinations - the award-winning airline continues to grow from strength to strength. Ming Yeung reports.
When an egret is about to take off, it retracts its neck and extends its legs far beyond the tip of their short tail - deliberately taking its time - looking unintentionally as if it is going to perform a dance. Then it spreads its graceful wings and soars up in the sky.
Xiamen is the home of egrets, and for this reason the "flying egret" is often used to describe the city's economic boom. It can also be used to describe the remarkable growth of Xiamen Airlines.
Founded in 1984 and based in Xiamen, the airline - the first one operated in the course of modern enterprise in China - adopted an egret logo to be its company trademark. The humble and placid characteristic of the egret fits perfectly with the carrier's progressive expansion, placing safety as its utmost importance and as a peaceful gesture to Taiwan.
Thanks to its excellent safety record, the airway has been awarded the 'Jinyan Cup (1995-1997) and Jinying Cup (2004-2006) for Air Safety'- awards for setting the highest safe flight standards in China - three years in a row respectively by the Civil Aviation Administration of China.
Speaking of their secret to be one of the most profitable airlines - holding a record of a 26-consecutive-year profit in China - Felix Guan, deputy general manager, attributes it to their strict and meticulous budget controls.
"We never waste a single penny," Guan remarks. "Every item has to be precisely listed out. We don't want the purse-strings to be loosened so easily. The budget-control team has been doing all they can to maximize the flight efficiency. "
Guan says the company owes a lot to its employees - including frontline staff and technicians - who have shared its vision for decades. "Even though we are a regional airline, our management is first-class".
Having been in charge of publicity activities, Guan understands that nothing is more powerful than "word of mouth". Passengers distinguish a good airline from bad by its services in handling emergencies.
Instead of endless promotional campaigns, the carrier would rather invest in building a strong team. Their management trainee scheme aims to nurture dedicated employees who serve the company with one heart and soul.
Apart from its devoted staff, the strategy of using all Boeing aircrafts has saved the company a great deal of money on operation and maintenance. "Over 90 percent of our fleet are Boeing 737s and a small amount of Boeing 757s," Guan says. "In the future, we may purchase (more) Boeing-787s".
The fast expansion of high-speed railways on the mainland as well as a growing presence of budget airlines do impact traditional carriers like Xiamen Airlines, admits its general manager, Leo Li. But they would rather see the trend in a positive light.
"Different airlines with different pricings are catering for different customers. Not all passengers would choose budget airlines because they are cheaper. By maintaining our brilliant service standards, we won't lose our faithful customers," Li says confidently.
Meanwhile, with the middle-class Chinese burgeoning, Li believes "the pie only gets bigger" as the wealthier Chinese continue to interact with people from around the globe. While budget airlines and high-speed railways have snapped up a number of short-haul leisure travelers, Xiamen Airlines is doing its best to serve frequent business travelers or those prefer to travel with fewer restrictions.
Egrets are clever birds. They typically stand still and watch for unsuspecting prey to pass by. Then, with startling speed, the egrets strike with a jab of their long neck and bill.
Having officially become the 19th member of SkyTeam - a global airline alliance providing access to an extensive network of destinations - on Nov 21 , Xiamen Airlines knows it's high time to go far and beyond to remain successful in this competitive industry.
Joining the alliance means a full face-lift both in hardware and software. Leo Li reveals that the company has purchased six 787 Dreamliner airplanes to join its fleet.
With two B787 airplanes ready to be in use by 2014, Xiamen Airlines will launch direct flights to Europe and America from Fujian, a foothold of the company.
By the end of 2015, another four Dreamliners will join the company, bringing the total number of aircrafts up to 136, to support the airline's aggressive expansion plans.
Yearly passenger volume is expected to reach 30 million in 2015, a jump from the 2010 global ranking to 20th having previously been at 44th.
Xiamen Airlines passengers can now choose to fly to nearly 1,000 destinations in 186 countries covered by SkyTeam's network.
To match up to the SkyTeam slogan, 'Caring more about you', Xiamen Airlines implements the new 'SkyPriority' service. This provides superior transit and check-in procedures to high-end customers, allowing them to enjoy the hospitality of 500 airport lounges all over the world. Consistency of service is of paramount importance, Felix Guan stresses.
Also in line with the upgrade, the airline's egret logo has been modified to be more stylish and easily distinguished by western customers. Like an egret, Xiamen Airlines aims higher and ready to fly high without limitations.
"Xiamen Airlines brings added value to SkyTeam's customers and member airlines, as traffic continues to boom," says Michael Wisbrun, SkyTeam's managing director. "SkyTeam will also continue to add value to Xiamen Airlines as it implements its ambitious international growth strategy, most notably from when the new Dreamliners enter Xiamen Airlines' fleet."
(HK Edition 11/30/2012 page6)