What does CPC congress bring to HK?
Updated: 2012-11-22 05:54
By Eddy Li(HK Edition)
| | | | | | | | | |
| --- | --- | --- | --- | --- | --- | --- | --- | --- |
|   | | Print | | Mail | | Large Medium  Small | 分享按钮 | 0 |
The 18th National Congress of the Communist Party of China (CPC) marked a successful transition of China's State leaders. As a member of Hong Kong's business circle, economic issues are of course my first concern. How would the new leaders change their Hong Kong-oriented policies? What are the influences on Hong Kong's economy? These questions are of concern to the people in Hong Kong.
The other day, I did an exclusive interview with CCTV to share my opinions on the economic effects the congress brings. From my point of view, we can get a general idea from the report delivered by Hu Jintao, especially the Hong Kong and Macao related part. The 400-word report involves all significant points for Hong Kong's future development, indicating that the primary focus of the central government is on economic development, followed by people's standard of living, the implementation of democracy and social harmony.
Nowadays, everything seems to be politicized in the city. These political divisions are seriously affecting Hong Kong's economy and the quality of life. Recently, a small group of people even bragged about "de-Sinolization", advocating less influence of the mainland and holding back the SAR government by instigating a line of demarcation between Hong Kong and the mainland.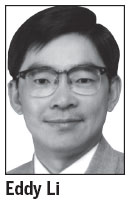 The central government is determined to support the HKSAR government mobilizing all sectors of the society for economic development. Hu's report aims to reduce conflicts and further promote Hong Kong's development and prosperity. Actually, this has always been the main stream popular will in the city. However, the focus of attention in Hong Kong has been shifted away to "political disputes" due to weak government governance and obstruction of opposition politicians.
These politicians will never stop making waves. But the government can take active steps to earn popularity by making tangible arrangements for Hong Kong's development. Instead of depending merely on giveaways, the government must tighten long-term economic policies to increase employment and improve life qualities.
Hong Kong and the mainland have a close relationship. In Beijing, Shanghai and Guangzhou alone, there are currently more than 500,000 Hong Kong people living and working there. With support from Beijing, the future is even more promising. The mainland can be a giant market of resources, financial funds and talent for Hong Kong. Hong Kong should further expand cooperation with the mainland. Isolationism is definitely not in accord with the public will.
As the mainland prospers, more and more mainlanders visit Hong Kong for assorted activities, including listing their companies on the stock exchange, doing business, tourism, shopping, improving their education and buying houses. These are normal trends that will bring Hong Kong lots of business opportunities to all industries. There is no need to set us against the mainland just because of occasional frictions while ignoring the positive effects.
Since the mid-1980s, the mainland has always been Hong Kong's most important business partner. So far, there are 56,000 Hong Kong companies in Guangdong. Besides, More Hong Kong young people are studying or living in the mainland. As at last October, 11,000 students from Hong Kong had attended school or entered into research projects at 205 mainland colleges and universities. That figure is still increasing.
I believe that the central government will take constant measures to help Hong Kong's economic development, and we have to grasp the opportunity. Take the internationalization of yuan for instance. The US QE3 has weakened the US dollar, indirectly raising the value of yuan-related investment products. As Hong Kong does not impose any foreign exchange control, it naturally becomes the best pilot area for offshore yuan settlement.
If Hong Kong gives full play to its advantages, it will greatly benefit from the domino effect created by the yuan business and many other supporting plans by the central government, stabilizing Hong Kong's position as an international financial center.
The author is vice-president of the Chinese Manufacturers' Association of Hong Kong.
(HK Edition 11/22/2012 page3)