Dangers on a train
Updated: 2012-11-20 07:13
By Hazel Knowles(HK Edition)
| | | | | | | | | |
| --- | --- | --- | --- | --- | --- | --- | --- | --- |
|   | | Print | | Mail | | Large Medium  Small | 分享按钮 | 0 |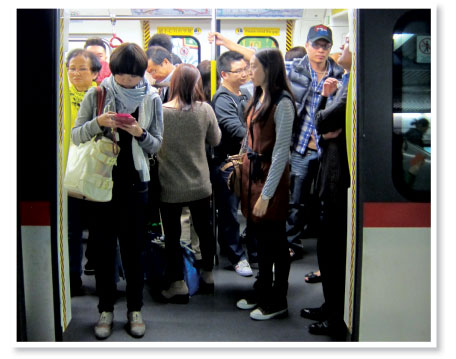 Busy carriages packed with commuters and shoppers make it easier for perpetrators of sexual assaults to hit, run and evade capture. Photo By Red Door News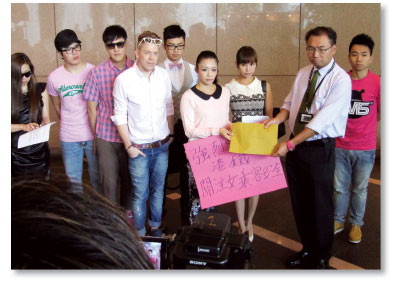 Actress JuJu Chan (4th right) was compelled to begin a campaign for women-only carriages after she was groped by a fellow commuter at Admiralty station last month. The incident left her feeling angry, upset and determined to speak out, she says. Photo Provided to China Daily
A young woman is spearheading a campaign for women-only carriages on the MTR network after she was molested by a stranger - but not everyone sees segregating the sexes as the best way to keep female travellers safe, writes Hazel Knowles.
It was 6 o'clock on a busy Friday evening. The MRT train arriving at Admiralty station was packed with commuters making their way home. Among them was actress and singer JuJu Chan.
Like many young women on the platform, Chan had her phone in one hand and carrying her purse in the other as she jostled with fellow commuters as she made her way from the train to the platform.
What happened next caused her to stop dead in her tracks. From the throng of strangers around her, a hand reached out, made contact with her right hip and then very deliberately squeezed it tightly.
"I was shocked and turned around. I wanted to grab whoever was responsible," recalled Chan, a martial arts expert. "But there were so many people. I had no idea who had grabbed me. He may have well already rushed off."
As an actress Chan was used to receiving attention - sometimes unwanted - but being assaulted on the MTR while making a short journey left her feeling angry and determined to do something about it.
"Like many people in Hong Kong, I rely on the MTR. It is the most efficient and fastest way to get around especially during the rush hour," said Chan.
"You can take a taxi but it can take take hours to get from one place to other in rush hours. Often I have no other choice than the train.
"I was very upset but I was also very angry. I am a strong woman who knows martial arts and feel like I can protect myself. But in this situation I felt helpless.
"I was also concerned that this kind of thing was happening to women who are weaker than me: young women, like high school students in uniforms, who don't know what to do and don't speak up. That's why more and more perverts are doing this. They know no-one is going to catch them."
Concerned, Chan did exactly what the transport police and the MTR advocate in its "Don't Be a Silent Victim, Report Indecent Assault" campaign, and reported the crime.
The police promised to view security footage to try to identify the person who assaulted her. However, Chan was told it would be difficult to do so because of the volume of people on the platform and because the angle of the camera may not have captured the criminal act.
Five weeks on from the assault, the perpetrator is still at large and there appears to be little chance of catching him.
Official police figures show there were 152 reported cases of indecent assault on Hong Kong's trains and stations in the first 10 months of this year, compared to 167 in 2011 and 151 in 2010. There has also been 93 cases of sneek "up-skirt" photography so far this year, a rise from 78 in the whole of 2011, and 91 in 2010.
However, Chan believes the number of assault is far higher, with many women choosing to remain silent because they don't know how to react if they are assaulted in a crowded train and because they feel the crime is not one taken seriously.
This is something Chan says she discovered in the days that followed her attack. After the assault was publicized, she received a stream of messages of support, many from men saying it was wrong and they would hate it to happen to any woman they knew.
"Many women contacted me and told me they'd had this kind of experience before too. But some told me it happened all the time and it was common and we just had to accept it," she said.
"That made me so mad. I thought 'How can any woman accept being molested so casually?'"
Determined not to accept indecent assault as one of the pitfalls of travelling by train in Hong Kong, Chan, instead, chose to spearhead a campaign aimed at getting the Mass Transit Rail Corporation (MTRC) to take action by introducing women-only carriages which would allow women to travel without fear of being assaulted.
On October 16, Chan along with friends and other artists submitted a 500-signature petition to the MTRC headquarters, requesting women-only carriages so women could travel around Hong Kong feeling safe.
Similar schemes already exist on public transport networks in Tokyo, Indonesia and Taiwan. Seoul has also recently begun a pilot project with women-only cars.
On its website, Tokyo Metro says it introduced women-only cars primarily for the purpose of preventing groping and other problematic behaviour on its trains.
But not all women feel separating the sexes is the answer to this problem. Some feel it will only lead to women who choose not to travel in the carriages and then suffer assault being blamed for taking the risk, in the same way women who wear flimsier or sexier clothes are often blamed.
Although Angie Ng agrees with Chan that sexual assault is not treated seriously in Hong Kong, she is of the opinion that segregating the sexes in different carriages is not a long-term solution.
Instead, she feels, society needs to be educated so victims in cases of sexual or indecent assault are not left feeling they were to blame.
"Sexual assault is not a big news, unless it involves a celebrity, in which case it becomes an entertainment news and seen as a special case rather than a social problem," said Ng.
"The culture needs to change so that sexual violence is taken seriously by everyone in society and victims are not blamed."
Ng, a PhD student and social researcher, speaks with experience having been the victim of sexual assault several years ago.
She is also one of the organisers of the "SlutWalk" march to be held in Hong Kong on Sunday (November 25) which is aimed at raising public awareness around the issues of sexual assaults and to encourage the practice of blaming victims.
"I experienced sexual assault in Hong Kong years ago and was blamed by people I eventually told," said Ng.
"Like others I blamed myself If sexual violence was taken seriously, people would be more inclined to rush to help the victim instead of ignoring or blaming them."
Security on the MTR network is looked after by the Railway Police District and supported by the MTRC.
Both the Railway District Police and the MTRC say they are committed to preventing assaults on MTR and organise joint campaigns aimed at encouraging victims to come forward.
A Railway District Police spokesperson said as part of its crime prevention strategy, campaigns with leaflet and souvenir distribution were carried out at various railways stations on a regular basis to raise public awareness.
"Crime prevention posters with a specific theme of sexual offences are also displayed in various areas of railway stations," said the spokesperson, adding that it also engaged and sought views from women concerns groups on this situation.
In a statement to the China Daily, Kendrew Wong, media relations manager for MTRC, said the corporation was committed to provide a safe and reliable railway system and comfortable travelling environment for its passengers.
"We have been working closely together to prevent and combat crime within the network and we review the effectiveness of the relevant measures from time to time," said Wong.
"As part of efforts to raise passenger awareness, the MTR and the police have produced posters, including the recent one titled 'Don't be a Silent Victim, Report Indecent Assault' which are displayed in all MTR stations on a rotational basis starting last year to encourage victims of indecent assault to report offences."
Wong said the MTR had explored the possibility of women-only compartments, despite it not being common in railways around the world. However, it had no plans to introduce such a system.
"As most MTR train compartments have an open design, compartments for designated usage would reduce the flexibility of passenger flow between the carriages and would also affect the emergency escape arrangement, making it more difficult for staff to manage passenger flow in the carriages," Wong said.
The response has angered Chan who feels it is just another example of how indecent assault is not taken seriously.
"To me that seems like an excuse. The trains going to LoWu have first class carriages which are separate from the rest," said Chan.
"How come those cars are safe and don't have an emergency evacuation problem? That doesn't make sense. They (the MTRC) are just making excuses because they have other projects and don't have the budget to spend on women-only carriages.
"The MTRC talks about safety. Safety should always come first but a lot of women do not feel safe on the trains.
"I know women-only carriage is not a priority for the MTRC, but if they are serious they could do something. The situation is getting worse and the MTRC appears to show no concern or care about this issue and it makes me angry.
"The least they could do is put up signs similar to those saying do not drink or smoke in the MTR carriages and stations telling them they will be fined."
Angie Ng is similarly unimpressed with the response of the police and the MTRC's current public awareness campaigns urging victims to speak out. She believes an effective campaign should be directly not at victims, but on the potential perpetrators warning them that such crimes will not be tolerated.
"They need to get rid of those signs on buses telling victims not to be silent and replace them with warnings to potential perpetrators about police and legal action against them, and about concrete punishment," said Ng.
In the meantime, Chan plans to continue her campaign and says she is contacting women's group throughout the city to build support.
"I know people think if you dress more sexy then you will get more attention, but a lot of times the girls being molested on trains are students in uniforms," she said.
"I will continue to raise my concerns and get other women to join me to show something needs to be done. I will still be using the MTR as I have no other choice, but now I will be much more aware, especially during rush hour."
(HK Edition 11/20/2012 page4)