Scary Business
Updated: 2012-10-23 07:29
By Hazel Parry(HK Edition)
| | | | | | | | | |
| --- | --- | --- | --- | --- | --- | --- | --- | --- |
|   | | Print | | Mail | | Large Medium  Small | 分享按钮 | 0 |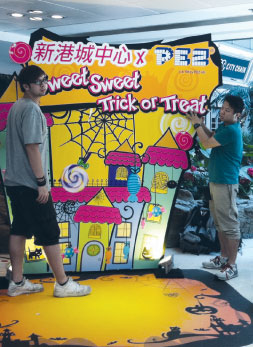 The spirit of Halloween. A Ma On Shan shopping mall gets ready for Halloween with a trick-ora-treating display. Photos by Red Door News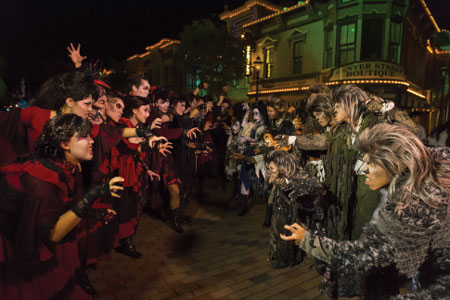 Hong Kong Disneyland is appealing to young adults with a battling vampire and werewolf themed Haunted Halloween.

Despite aiming its nightly Halloween Bash at young adults, Ocean Park still finds time to entertain young Halloween fans with its less scary Pumpkin City Quest.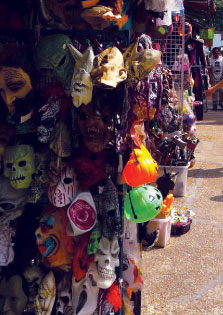 Shoppers check out the scary costumes on sale in Sai Kung. Just a decade ago, Halloween party-goers had a much more difficult job in finding costumes.
Halloween now eclipses Chinese Mid-Autumn Festival in HK as businesses seize opportunity to make scary amounts of money from this Western festival, writes Hazel Parry
When anthropologist Joseph Bosco moved to Hong Kong from the United States more than 20 years ago, Halloween was a bit of a non-event; a Western festival celebrated by the mainly American expatriate community, which passed largely unnoticed sometime after the Mid-Autumn Festival.
"You might find a few costumes in a small section at Toys R Us, but that was about it," said Bosco, an associate professor from the Department of Anthropology at the Chinese University of Hong Kong.
Fast forward those 20 years and the picture today is very different. Pumpkins, jack-o'-lanterns, ghosts, ghouls and monsters are everywhere this month. Restaurants offer specially-cooked up spooky dishes, shopping malls are decked out in Halloween decorations, bars invite customers to get into the spirit by dressing up, toy shops hosting Halloween parades, while ghosts, vampires and werewolves take center stage as the main attraction at theme parks.
"Travel on the MTR over the next week and you see families with little kids dressed up in costume on their way to Halloween events, which I don't remember seeing at all when I first got here," said Bosco.
The event has become so popular it now eclipses the Mid-Autumn Festival, prompting Hong Kong Tourism Board (HKTB) to declare the city as Asia's Halloween Capital and run special promotions in the six week run-up to the main event, to entice visitors from short-haul markets such as Chinese mainland, Taiwan, South Korean and the Philippines.
"I think people see it as being cosmopolitan. They know foreigners do this and want their kids to see it and participate in it and somehow be linked to this worldwide culture; the same way they do for Christmas," said Bosco.
"But what is surprising is that it has become so popular given that ghosts are not something you play around with in Chinese culture."
Bosco said it was clear the event had a very different meaning to people in Hong Kong compared to those in North America where the festival, which had its roots as a harvest festival, was very community related.
"In America, there is a sense of neighbourliness to Halloween. Your kids you go out and collect candy from neighbors. Later on, you reciprocate by giving candy to the next generation of kids," he said.
"That is not present at all in Hong Kong. There are places with expats where the kids go out trick-or-treating but mostly, from what I can see it, has been transformed into Halloween themed parties."
For businesses in Hong Kong, however, it is more than just an excuse for a party. It is a month-long money-making opportunity at a time of year which has traditionally been a quite time sandwiched between the summer and Christmas.
These businesses have learnt from the experience of the countries like the United States, there are scary amounts of money to be made from the Halloween appeal. A survey carried out last month for the National Retail Federation in the US projected that Halloween spending there could reach HK$62 billion this year with seven out of 10 Americans planning to take part in celebration. In the United Kingdom, Halloween is now the third highest spending festival, after Christmas and Easter, with around HK$3.7 billion spent on the event last year.
Allan Zeman, the chairman of Lan Kwai Fong Holdings Ltd, says businesses in the popular bar strip - often credited with introducing Halloween to Hong Kong - can expect to make around 25 percent more on Halloween.
"It is more popular now than the Mid-Autumn Festival and has become a kind of national holiday," he said.
"It's everywhere in Hong Kong. People really love it. They come out and stay out later. It is just a fun time."
"Going back 20 years or so, it was very different. Halloween was an American holiday and the British expats here didn't understand it because it has never really been their holiday," Zeman said.
"I grew up in Montreal, trick-or-treating every Halloween. I remember about 25 years ago, we had this idea and thought wouldn't it be good to dress up and have a Halloween Party in Lan Kwai Fong.
"That first year a lot of expats got dressed up and we spooked out the restaurants and bars in Lan Kwai Fong.
"The second year I noticed some of the Chinese customers had got dressed up and by the third year, the number was even more.
"As the years went by, people started to line up to get into Lan Kwai Fong and every year more Chinese dressed up. Now I would say the Chinese outnumber the expats on Halloween in Lan Kwai Fong. They really love it.
"Halloween has even been transported to China. We opened Lan Kwai Fong in Chengdu three years ago and at our first Halloween we had to hire 65 students and literally dressed them up.
"Last year we ran Halloween for four days and over that period 150,000 people joined us. Everyone got into it. It is becoming huge in China."
The potential appeal the event has in China and throughout Asia is also something the Hong Kong Tourism Board (HKTB), Ocean Park and Disneyland are aware of. All three have been marketing Halloween in China and other Asia markets such as Taiwan and the Philippines.
This year, the HKTB set aside HK$4 million to promote Hong Kong as the place to celebrate Halloween in Asia, teaming up with 30 local partners including shopping malls, restaurants and theme parks to offer special promotions.
"Compared with other Asian destinations, Halloween celebrations in Hong Kong are relatively more established," said an HKTB spokesperson.
"Our city's festive ambience, together with is wide-ranging Halloween activities......jazzes up the entire city with party fun and excitement for a whole month, making Hong Kong Asia's Halloween capital.
"We believe that such widespread fun-filled ambience holds special appeal to young visitors in various short-haul markets, especially Chinese mainland, Taiwan, South Korea and the Philippines."
Ocean Park's chief executive Tom Mehrmann says around 10 per cent of the 750,000 expected visitors at the theme park in the five-week run of the park's Halloween bash are expected to come from southern China, up from 7 percent last year.
The park's visitor figures for October have rocketed since it introduced its Halloween Bash in 2001, with visitors now paying up to $280 per person to be frightened at the nightly event that runs from September 21 to Halloween night.
"October is now huge. It is like a summer month," said Mehrmann. "The reality is when we first introduced Halloween in 2001, we had around 250,000 visitors in October. We will see triple that number this October.
"In the first year we had one haunted house and about 30 people making it happen. In my first year here (2004), we had three haunted houses and probably about 100 people involved. Since then, I have watched it grow exponentially. This year, we have eight houses, 15 shows and 1,500 people making it all happen.
"The market is hungry for this event. It likes this event, so we will continue to let it evolve to meet what the guests are looking for."
Hong Kong Disneyland introduced its Haunted Halloween in 2007 and like Ocean Park targets the extra attractions at young adults, this year using 500 extra temporary cast members to deliver the theme of vampires and werewolves battling it out for control of the park.
According to Wendy Chu, Hong Kong Disneyland's marketing director, the event is also growing in popularity with corporate guests which have increased six-fold compared to last year.
"It is evident that companies welcome a specially-themed ambience, such as Disneyland's Haunted Halloween, that they can leverage to deliver a unique experience to their employees, customers and other stakeholders," she said.
While declining to give exact attendance figures, Chu said the park management were optimistic about visitor numbers and that the events was one of the key programmes of the park's calendar.
Ocean Park's Tom Mehrmann is positive the appeal of its Halloween Bash looks set to continue - as long as the attractions are updated and kept fresh and culturally relevant for the "very sophisticated market". This, he says, is a lesson, the park learnt very early in its Halloween experience.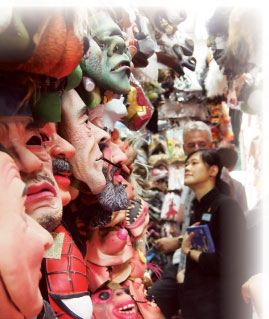 Halloween costumes and mask on sale in Central's Pottinger Street.
"When I first joined the company, we were doing very Western-based ghosts like the ones you would find in Hollywood movies, such as Dracula and Frankenstein," he said.
"We found guests reacted in an amused sort of way but without surprise or fright. But we did get some very good feedback on a Chinese bride and groom we featured who were very popular.
"It was then we realized to be culturally relevant to the market, we had to abandon the Western approach to goblins and ghosts and work with local ghost stories.
"That was the huge turning point. It changed the whole nature of the event. Today, from everything I am hearing in the industry, we are now the largest Halloween party in the world for theme parks, in terms of attendance, the number of attractions on offer and the number of ghosts on the street."
The idea of Halloween evolving to better fit Hong Kong's culture is something Joseph Bosco finds interesting as an anthropologist.
"Halloween is still quite new and driven by commercial outfits which tend to be influenced by Western people or with Western experience," said Bosco.
"I am looking forward to seeing how it will transform over the next few years, or decade, into something more authentically local."
How the event will evolve in future, is likely not to be a consideration of the many thousands who will dress up next Wednesday night to haunt the streets, bars and restaurants of Hong Kong.
Likewise its past will be of little interest, with most not knowing or caring about the true origins of this festival which is linked to both Christian and pagan festivals.
"It's a wonderful form of escapism," said Mehrmann. 'It creates a social interaction, it creates a connection. People tap into their base emotions to let off steam and just have fun.
(HK Edition 10/23/2012 page4)