Elderly should be able to live in dignity
Updated: 2012-10-17 06:29
By Victor Fung Keung(HK Edition)
| | | | | | | | | |
| --- | --- | --- | --- | --- | --- | --- | --- | --- |
|   | | Print | | Mail | | Large Medium  Small | 分享按钮 | 0 |
Whenever I see old men or women scavenging dustbins for old newspapers or cans (and selling them to put food on the table), my heart aches. "The elderly should be looked after properly and given a sense of security." This motto has been observed in Chinese civilizations for thousands of years. Hence, it's extremely sad to learn that about one-third, or 290,000, of Hong Kong's elderly are living below the poverty line.
The Hong Kong Council of Social Service (HKCSS) released a report on Oct 14, showing that 32.7 percent of people aged 65 or older in the city were in financial hardship in 2011 - up from 32.5 percent the previous year. Anyone with an income of HK$3,500 or less a month is considered to be living below the poverty line, according to the council.
This line is drawn arbitrarily. The government responded to the HKCSS report by saying it plans to set up a Commission on Poverty, whose first job is to set a credible poverty line, which will be used for evaluating government poverty relief policies. It's good to know that the government is taking Hong Kong's poverty situation seriously.
The Mandatory Provident Fund, a quasi-pension plan, was introduced not long ago. Many old folks might not be able to save much in the fund to allow them to live a comfortable life when they reach 65. The HKCSS has proposed a universal pension scheme for Hong Kong citizens. The suggestion, however, has never reached a consensus among various stakeholders. Many employers fear they may end up being the ones who would be responsible for contributing to the pot.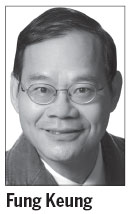 As the old Chinese saying goes, "well water in the next village is too far to help put out the fire next door", an immediate relief for the elderly should materialize while the debate on a universal pension plan continues. The relief is a proposed old-age allowance of HK$2,200 a month, doubling the current allowance.
Unfortunately, the relief has yet to get the green light as some opinion leaders and political parties insist there should not be a means test. What's wrong with a means test? The government plans to raise the limit of assets owned by old folks to HK$192,000 from HK$186,000. The test will ensure that money will go to those elderly who are in financial hardship and that government resources are diverted to those in need. Aged millionaires don't really care whether they get the HK$2,200 a month or not, do they?
It's hoped that those opposing a means test will soon shut up and come to their senses. The principle is simple and easy to understand. Rich old folks shouldn't get the allowance. Old folks who don't have much income or many assets should receive the new allowance so that they can live a decent life. I don't want to see old people scavenging dustbins for worthless items on street corners or dark alleys. For God's sake, Hong Kong prides itself on being a "world city". Let's walk the walk.
One idea government officials and bankers should enthusiastically consider is offering "reverse loans" to the elderly living in their own apartments, the mortgages of which already have been paid off. This is a straightforward financial concept. The elderly "surrender" (or mortgage) their flats to banks or financial institutions established by the government in return for a monthly allowance. They would have cash to spend and when they pass away, their flats will be "collected" by the banks or the government-funded financial institutions. This "reverse loan" concept should be widely promoted among the elderly. The cash they receive every month would greatly enhance their quality of life.
The elderly, after contributing to Hong Kong's prosperity for dozens of years, deserve to spend their "sunset" years in dignity. They have earned their right to live happily.
The author is coordinator of the B.S.Sc in financial journalism program at Hong Kong Baptist University.
(HK Edition 10/17/2012 page3)