Smartphones, foolish waste
Updated: 2012-10-05 07:31
By Doug Meigs(HK Edition)
| | | | | | | | | |
| --- | --- | --- | --- | --- | --- | --- | --- | --- |
|   | | Print | | Mail | | Large Medium  Small | 分享按钮 | 0 |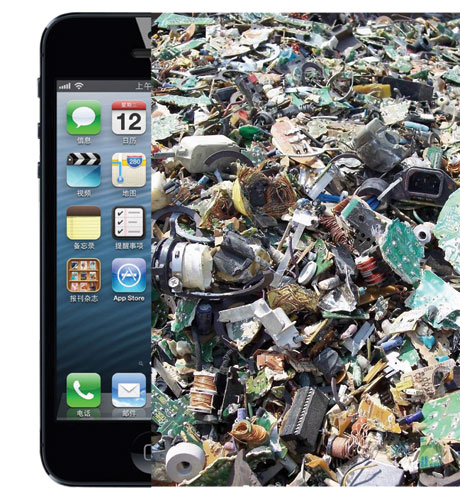 It's called planned obsolescence, the practice among manufacturers intended to force consumers to replace their products every couple of years. While that makes vibrant markets, it also contributes to an growing problem of electronic waste. Doug Meigs reports.
Dennis Moore joined a massive crowd surging into Hong Kong's official Apple Store, when the brand new iPhone5 went on the market here on September 21. He inched toward his new phone, following the tide of consumers in line before him. At last, holding his new toy in hand, he pulled an older iPhone from his pocket. Holding one phone in each hand, he compared the two.
The new iPhone is taller, and thinner. But the most important change in the view of environmentalists, is that the new phone uses a different electrical port. What will happen to all the accessories for previous iPhone models, that would become obsolete, creating an explosion in e-waste? "I already know about the differences. A redesigned plug doesn't really bother me. There will be adaptors, and people will get used to it," Moore said. He admitted to being a diehard Apple fan, since purchasing an iPhone3 in 2009. He bought subsequent annual releases, and had been planning to buy the iPhone5, as soon as he could get his hands on one.
People looking at the sleek new phones weren't thinking about e-waste. Likewise, Moore isn't worried about becoming a contributor to the growing global problem, "I hand them down in the family, to my sons-in-law, because my daughters already have iPhones," he said.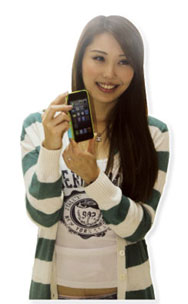 Apple's release was just another touchstone in a globalized consumer culture, embracing new-and-improved gadgets for the sake of fashion and convenience. Unfortunately, sophisticated mobile technology isn't designed to last. Mobile providers throughout Hong Kong advertise "free phones" with a one or two-year contract, adding to the short longevity of the average smartphone.
During the weeks following the iPhone5's debut, China Daily explored the impact on Hong Kong's supply chain.
The Hong Kong iPhone5 release attracted the usual brand acolytes, along with smartphone accessories producer Sunny Sun, who traveled from Guangdong province, with photographers, a female model, and new plastic cases (which his company, HamiMelon, manufactured to fit leaked specifications of the redesigned iPhone). Sun's model posed for photographers to snap close-ups of her iPhone5, with HamiMelon's logo showing on the case. All the while shoppers spilled out of the IFC Mall store.
Sun's company is one of many producing smartphone accessories throughout the Pearl River Delta. Their industry had to completely overhaul iPhone product lines because of modifications to the new size. But Sun isn't complaining.
"This is a great business challenge because (Apple) changed the plug, adaptor, and other accessories. In the coming fourth quarter and the next few years, it will help the larger market for Apple-related products in China," he told China Daily with a big smile.
He is one of the indirect beneficiaries of "planned obsolescence", which forces consumers to replace their devices every year or two. The business strategy involves designing products so they breakdown after a prescribed time, or become incompatible because of upgrades and design changes.
Planned obsolescence has been a manufacturing reality since the early 20th century at least, when an international consortium of light bulb manufacturers conspired to limit bulb duration to 10,000 hours, and nylon stocking producers hired chemists to design weaker fabrics, that would tear easier and require more replacements, generating more sales.
German filmmaker Cosmia Dannoritzer spent much of the past five years exploring the relationship between planned obsolescence and electronic waste for a documentary titled The Light Bulb Conspiracy. She recently passed through Hong Kong on an arts fellowship sponsored by the Goethe Institute.
Her film (released in 2010 and still showing at festivals) includes a reference to Apple's design of iPods' self-encapsulated battery that "officially" cannot be changed at Apple stores, which forced consumers to buy new units after the warranty period. The same battery design appears in subsequent iPhones, though unofficial repairmen can replace batteries in Mongkok's Sincere Centre in Hong Kong. Meanwhile, the design is increasingly evident in a growing number of Apple competitors, for example, HTC introduced a similarly enclosed battery in its new line of "HTC One" phones.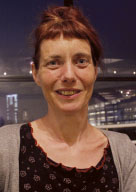 Filmmaker Cosmia Dannoritzer, who made a documentary titled The Light Bulb Conspiracy, spent much of the past five years exploring the relationship between planned obsolescence and electronic waste. Photos by Doug Meigs / China Daily
Dannoritzer is working on a follow-up documentary about export of e-waste to Africa and developing nations. While working on The Light Bulb Conspiracy, she visited Ghana to document middlemen exporting Europeans' discarded televisions, refrigerators, old computers, old phones, etc, under the guise of "secondhand goods".
Instead of going into resale or safe recycling channels, the discarded devices fill giant dumpsites, where children and impoverished residents scavenge for metal scraps. Slum residents break old computer chips, screens and plastic casings to extract small amounts of precious metals, such as copper or gold. She witnessed workers melting plastics and metals without protective clothing or masks, exposing themselves to lead and mercury poisoning and other health risks.
"We have so many electronic appliances in our lives, and after we put them in the trashbin, we rarely think about what happens to them later," she told China Daily.
Over the summer, the European Union began implementing tightened restrictions on second-hand exporters who disguise their e-waste dumping. Hong Kong doesn't have any such legislation, yet. The local green group Friends of the Earth (FOE) hopes the new Legislative Council (LegCo) session will act quickly to remedy that void.
FOE extensively researched local e-waste and has been lobbying LegCo members. Michelle Au, an environmental affairs officer with the group said, "During the last meeting of the previous Legislative Council's environmental panel, members urged the government to speed up the legislation and also asked the government to impose a tax on the electronic appliance importer and distributor." The proposed fee would fund subsidies for officially contracted e-waste recyclers. Au said that green e-waste recycling is not a viable business venture without government subsidies.
"The definition of recycling from the government means that waste is collected by the recycler and sold, but how to tackle that is a problem, since the government doesn't have any monitoring," she said, adding that 80 percent of local e-waste is exported.
Hong Kong exported 51,000 tons of e-waste produced in 2010, according to the most recent Environmental Protection Department (EPD) figures. Local recyclers supposedly processed 10,000 tons.
Compared to bulky electrical appliances, smartphones actually contribute only a minuscule portion of e-waste tonnage worldwide. The devices, however, are packed with lithium, gold, neodymium, rare earths and precious materials. Recycling companies are salivating at the prospects of "urban mining" of discarded phones.
On the eve of the iPhone5 release, a global minerals company GTSO Resources issued a press release stating: "The impending release of Apple's iPhone 5 is set to unleash an onslaught of mineral-rich e-waste into the marketplace," with all the millions of newly outdated cables and accessories, an added bonus.
GTSO Resources is in the midst of acquiring green e-waste recycler Global Cell Buyers, which operates a website listing different prices for hundreds of specific models of broken smartphones. Site users print free online shipping labels and receive cash in exchange for mailing old phones.
Locally, planned obsolescence benefits retail stores and grassroots vendors hawking inexpensive iPhone cases around the city. Sham Shui Po is one of Hong Kong's prime destinations for phones, computers and accessories.
In the days after the iPhone5 debut, Sham Shui Po's hawkers gradually were updating stock with official and unlicensed phone cases, at green metal stalls crammed along either side of Ap Liu Street. One pony-tailed hawker took a moment from his customers to explain the fate of outdated cases.
"Except the first and second generation of iPhone, all the cases are still selling here," he said. "It doesn't really matter if they have new models coming out. The most important thing is that we stocked up and people keep coming back to buy. If not, there are ethnic minorities who will buy our old stock and export to their home countries."
A few blocks from where he stood, along Yee Kuk Street, a group of Middle Eastern men were working in a television repair shop. The store was overflowing with widescreen TVs that they said are destined for Afghanistan, Pakistan and Iran. Up and down the street, the scene repeats. A group inspecting a mountain of washing machines told China Daily that the Chungking Mansions is the place to go for bulk used phone purchases destined for the Middle East and Africa.
The Chungking Mansions in Tsim Sha Tsui is an amalgam of hostels, Indian restaurants, and touts peddling knock-off watches and hashish. Tucked into the labyrinthine corridors of the first floor, Sonny Grewal is one of the Chungking Mansion's many phone wholesalers dealing in new and secondhand phones.
Every day, Grewal sits behind a glass counter chatting with buyers. He said that Apple's release of a new iPhone triggered a downshift in the price structures of competing brands. He said the result is more sophisticated mobile phone technology in the developing world.
"When I started in this business about three years ago, I was selling simple mobiles with only texting," said the Hong Kong-born resident of Indian descent. Most of my buyers are African. They come to place an order and export the phones themselves. The African people are improving their technology, too."
During his first year of operation, he gradually began stocking more sophisticated phones at customer requests. Currently, Grewal said his most popular smartphone is the Galaxy III (which Samsung released worldwide in the summer of 2012).
Some NGOs are trying to minimize Hong Kong's e-waste in a way that benefits the city's poor. Caritas runs a computer recycling program that accepts 50,000 computer donations per year with drop-off points around Hong Kong. Volunteers at the NGO train youths to repair the computers, which are then donated to underprivileged residents.
Caritas dismantles irreparable computers (about 90 percent of all donations) before selling the e-waste to government-approved recyclers, said the computer workshop manager Lau Lu-keung. The NGO also collects cameras, phones and other digital devices from individuals, universities and companies.
"I think many more smartphones will be donated through our centers," said Lau. "In the past year, we began to see HTC, Samsung and newer phones coming to us."
The St James Settlement has a similar workshop based at EcoPark in Tuen Mun, where the NGO salvages and/or dismantles washers, refrigerators, and other household appliances donated through 16 collection points across Hong Kong. The NGO began working with the EPD's "Waste Electrical and Electronic Equipment (WEEE)" pilot project in 2003 and expanded its efforts at the WEEE Recycling Center, in Phase-II of the EcoPark in Tuen Mun since 2010.
Tuen Mun is the headquarters for its project, called "WEEE GO GREEN," currently operating near full capacity, processing 280 tons per year - a tiny fraction of Hong Kong's total e-waste.
Speaking from a warehouse, surrounded by crates stacked with huge televisions, Site Manager Mak Fung-chi appealed to the city's consumers: "Before shoppers buy (a smartphone or other high-tech appliance), we would really want them to think twice if they truly need the newest model." If the purchase is unavoidable, he urged residents to donate their old appliances to WEEE GO GREEN, so the program can safely recycle or reuse the e-waste.
Mak acknowledged that they have tough competition. After all, the NGOs rely entirely on donations of appliances. They don't offer any small cash payments, which less-environmentally concerned recycler-cum-exporters use, to amass premium electronic garbage from the open market.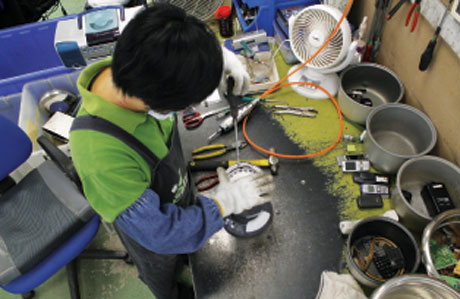 Discarded smartphones, though only a minuscule portion of e-waste tonnage worldwide, are packed with various precious materials. But dismantling them without protection leads to health risks.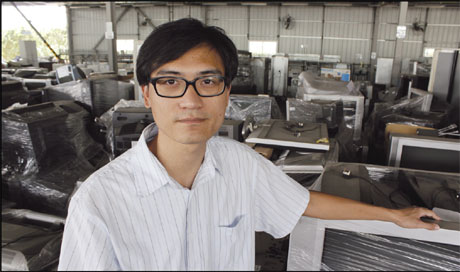 Mak Fung-chi, manager of an NGO workshop recycling e-waste in Tuen Mun, hopes everyone could think twice before buying the newest model of smartphone.
(HK Edition 10/05/2012 page4)