HK universities should open arms to mainland students
Updated: 2012-09-28 06:52
By Victor Fung Keung (HK Edition)
| | | | | | | | | |
| --- | --- | --- | --- | --- | --- | --- | --- | --- |
|   | | Print | | Mail | | Large Medium  Small | 分享按钮 | 0 |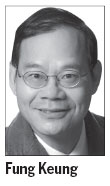 The University Grants Committee released a report on Sept 23, stating that 83 percent of the 10,770 non-local students studying in local universities are from the mainland, 12.5 percent from other parts of Asia and 4.5 percent from the rest of the world.
Several academics criticize the predominance of mainland students among the so-called non-local students who are pursuing academic qualification in local universities, contending that it would not help local universities to climb the world ranking ladder, as only students outside Hong Kong and the mainland are counted as international students, the percentage of which is an evaluation criteria in the global university ranking tabulations.
These academics argue that the existing percentage of mainland students among non-local students is out of proportion. They suggest universities beef up their efforts to make local campuses truly international and culturally diverse.
But these academics know too well that it is easier said than done.
I see nothing wrong with local university campuses swamped with Putonghua-speaking mainland students. In fact, it is a plus for Hong Kong. Imagine the fierce competition mainland students face in fighting for a place in Hong Kong universities. Only the cream can get a place at one of the eight government-funded universities (including Hong Kong Institute of Education).
These students are intelligent and serious in their studies, as most teachers can testify, setting good examples for Hong Kong students many of whom have no clue why they are in college. The Hong Kong students don't cherish the opportunity as much as mainland students do. After graduation, many mainland students choose to work in Hong Kong, contributing to our economic prosperity.
On the other hand, I fear many overseas students will choose to return to their native lands to work once they finish their studies here. Some academics say we should attract more international students (not from the mainland) to live up to our wish of turning Hong Kong into an international education hub. But the reality is cruel.
Academics argue that many overseas students are attracted to Hong Kong because of our cultural link to the mainland. These academics are engaged in self-deception. If overseas students are fascinated by Chinese culture and language, they would apply to study at Beijing University, Tsinghua University or Fudan University. What are they coming to Hong Kong for if they can experience Chinese culture first-hand on the mainland?
Honestly, why would an overseas student pick a Hong Kong university to do his undergraduate studies? Americans can choose one of the hundreds of good quality universities in the US. Give me one good reason why American young people should choose Hong Kong University of Science and Technology instead of California Institute of Technology. By the same token, British kids would choose to go to London University instead of the Chinese University of Hong Kong or University of Hong Kong.
High school graduates in the Netherlands, Spain and Czech Republic probably have never heard of the five other second-tier Hong Kong universities. There is very little incentive for foreign high-school leavers to come to study in Hong Kong. The best local universities can do is attract a number of Southeast Asian students who may want to come here because we offer better quality of life and better teaching. Let us forget the dream of turning Hong Kong into an international education hub. The best we can do is probably making Hong Kong an Asian education hub.
Having said that, I don't mean our university education cannot be internationalized. The way forward is to boost the exchange-student scheme to lure more foreign students to come to spend a year in one of our local universities. Currently we already have 4,000 foreign exchange students on our campuses. The number should be enlarged. Local students can mingle with them, learn their cultures and languages.
A similar number of local students also go overseas to spend a year in foreign universities. The experience is invaluable because the students can broaden their horizons as well as acquire an international perspective. That's important and useful in safeguarding Hong Kong's standing as an "international city". The government should invest more in expanding the exchange-student scheme, both inbound and outbound.
Meanwhile, we should welcome mainland students with open arms. Local students would benefit from mainland students' competitive spirit and eager-to-learn attitude.
The author is coordinator of the B.S.Sc in financial journalism program at Hong Kong Baptist University.
(HK Edition 09/28/2012 page3)