Assure students a high-quality MNE
Updated: 2012-09-04 06:57
By Ho Lok-Sang (HK Edition)
| | | | | | | | | |
| --- | --- | --- | --- | --- | --- | --- | --- | --- |
|   | | Print | | Mail | | Large Medium  Small | 分享按钮 | 0 |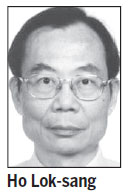 It is truly unfortunate that student and parent groups have resorted to a hunger strike as a means to pressure the government into withdrawing the Moral and National Education (MNE) curriculum. Most of the demonstrators and strikers have a noble motive: brainwashing is to be detested and has no place in education.
Some of those who object to national education claim that what is needed is citizenship education, not national education. Certainly citizenship education is needed, but shouldn't students face the fact that they are, after all, Chinese nationals? As Chinese nationals, there are specific things about China and about the rights and obligations of Chinese national citizens that students need to learn.
I of course also agree with many of those who demand the retraction of MNE to the extent that national education must not be brainwashing. In fact, any attempt to brainwash can only be counterproductive. As educators, we want students to develop the ability to apply critical thinking, wish them to pursue truth humbly and live truthfully. For this reason, I detest any examination or assessment of students' emotions as part of the assessment for the success of the curriculum. Students must not be graded in regard to their values and emotions, because then students would have an incentive to seek higher ratings by distorting their representation of values and emotions and thus be dishonest.
As educators, I don't want them to be hypocrites and to pretend that they are patriotic. I would only hope that they would care for others, care for the development of the nation, and work towards a better future for China (but not exclusively).
The main objection against the curriculum guide, which was approved by the Education Bureau in April this year, is that it put too much emphasis on values and emotions, instead of simply helping students to face the fact that they are Chinese nationals. But this should not undermine the worth of a well constructed and well delivered curriculum on moral and national education.
I agree that brainwashing needs to be countered, but also contend that brainwashing is often subtle and takes on people without their being aware of it. Rather than brainwashing or indoctrinating students, moral and national education should counter brainwashing by equipping students with the analytical capability and encouraging students to seek and to speak the truth every time.
My colleague at the forum organized by the Hong Kong Tertiary Education Policy Forum over the weekend, Prof. C.Y. Cheng made the point that people are constantly being brainwashed one way or the other. This is probably a more or less accurate depiction of the reality. We are all subtly being influenced by various value systems. But as educators we should not condone brainwashing. I wish students would learn to be more aware of the implicit culture and value-laden messages constantly bombarded on them by advertisements. I wish students would learn to see through the often biased reporting and opinions that pervade our local newspapers and media.
Indeed, newspapers that constantly accuse others of brainwashing are themselves brainwashing the public in subtle ways. I pity those students on a hunger strike who are so bent against brainwashing, and yet they are so vulnerable.
In short, I am all for a well conceived and well delivered MNE curriculum and against a poorly conceived and poorly delivered one. I have described the MNE as a unique opportunity for Hong Kong to play a part in the further advancement of the motherland. But that is possible only if students and parents and teachers are ready to take up the challenge.
It will be a pity if they prefer to shun the responsibility and the challenge of learning more about the nation of which they are a part. They all need to be more proactive, and joining the committee recently formed by the SAR government to oversee the implementation of the MNE curriculum is an important first step. Boycotting the committee and demanding the withdrawal of the curriculum will not help the cause of fighting brainwashing.
Learning to face the facts, and making sure that the MNE is guided by Hong Kong's core values of respect, tolerance, reason and justice, will assure us of a high quality MNE. The stakes are simply too high for us to err.
The author is director of the Centre for Public Policy Studies, Lingnan University.
(HK Edition 09/04/2012 page3)