Press freedom vs hegemony
Updated: 2012-08-28 05:49
By Ho Lok-Sang(HK Edition)
| | | | | | | | | |
| --- | --- | --- | --- | --- | --- | --- | --- | --- |
|   | | Print | | Mail | | Large Medium  Small | 分享按钮 | 0 |
In recent years, it has been popular to talk about the "hegemony of real estate developers". That was a term coined by Alice Poon in her book Land and the Ruling Class in Hong Kong. I have no intention of going into that debate here. I will point out that while the huge income and wealth disparity indeed has much to do with the slow pace of land development, which causes a resultant increase in property prices and rents. This has more to do with a government policy that failed to release sufficient land for development. It is not the result of deliberate and concerted actions by developers to slow down development.
In this article, I would rather refer to the phenomenon of "press hegemony". I was pleased to see an article in Asia Weekly that pointed out succinctly the ruthless and unprofessional practices of much of the local media. Reporters seem to have long forgotten that news reporting should simply be finding and presenting the facts accurately. Investigative reporting to uncover issues that deserve attention is great, but highly opinionated reporting deviates from the role of news reporting.
Readers should be left to form their own opinions. Any opinions expressed should be restricted to the editorial or commentary pages. But then even here the "best practice" approach should allow diverse opinions to be made available to readers. Editors must not censor opinions or authors that they deem to be disagreeable.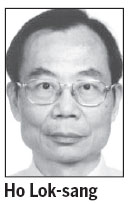 Like many academics concerned about developments in Hong Kong, I have from time to time been interviewed by the media. And to my chagrin, the outcome was often most disappointing. I cannot, of course, blame the editor or the reporter for clipping only very short segments out of a long interview, given that air time is very tight. But often times the message that I wanted to deliver was not reported while what I had to say was often clipped to fit the story of the report. For this reason I prefer direct broadcast to pre-recording. Only then can I ensure that my time invested into the interview was put to good use.
Press freedom is considered one of Hong Kong's most prized "core values". Press freedom exposes power abuses, limits gross injustices, and facilitates the free flow of information and ideas. All this contributes to a better Hong Kong by building trust, facilitating mutual help, and bringing about effective public governance. But press freedom does not mean that reporters should arbitrarily intrude into the private lives of public figures.
According to Jia Xuanying, the author of the Asia Weekly commentary, some local media have made it their duty to uncover any misdeeds by public figures. Of course everybody is supposed to follow the rules, and those in public office should be held accountable. Still, the assertion that "an illegal structure is an illegal structure," while valid, fails to make the distinction that some illegal structures are relatively innocuous, while others are dangerous; some illegal structures do not breach the permitted plot ratio, while others do. Illegal structures are not all the same.
Instead of critically debating complicated public policy issues with an open mind, the public debate degenerates into a witch hunt. In a sense then the public debate is hijacked by the hegemonic press to assertions of misdeeds. Any misdeed, no matter how trivial, becomes a matter of gigantic proportions sufficient to discredit the individual thoroughly and even the government as a whole. Meanwhile the public falls into deep anxiety and is "brainwashed" into distrust.
If the boss of the press imposes censorship, and disallows any columnist to express views different from his own, he is actually contravening press freedom, and not defending it. Press freedom does not mean that the boss of the press can do anything he wants. Dictating his views to columnists and cleaning out those who insist on stating their own views is hegemonic.
Press freedom is basic to the democratic spirit, and truly deserves a central place among Hong Kong's core values. But press freedom must be predicated on professional ethics. Even public figures have the right to privacy. The top stories relating to press freedom in recent months concern the companies of media magnate Rupert Murdoch, including the News of the World. It was revealed that the News of the World regularly hacked the cell phones of celebrities, royalty and members of the general public. On July 21, 2012, Murdoch was compelled to resign as a director of News International. Clearly press freedom does not mean that reporters and their bosses can infringe the rights of others.
Hong Kong people should rise up and say no to a press that willfully sets out to manipulate them. Hong Kong as well as the world will be far better under a regime for true press freedom, independent, and grounded on professional ethics.
The author is director of the Centre for Public Policy Studies, Lingnan University.
(HK Edition 08/28/2012 page3)