Savage beasts
Updated: 2012-08-25 05:40
By Elizabeth Kerr (HK Edition)
| | | | | | | | | |
| --- | --- | --- | --- | --- | --- | --- | --- | --- |
|   | | Print | | Mail | | Large Medium  Small | 分享按钮 | 0 |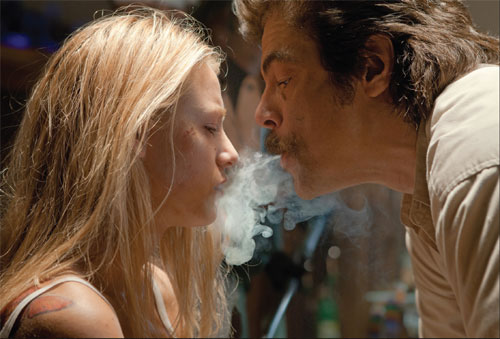 O (Blake Lively) is only beginning to understand the true menace that is Lado (Benicio Del Toro).
Stone gets back to his gonzo roots with a mostly satisfying SoCal neo-noir thriller. Elizabeth Kerr reports.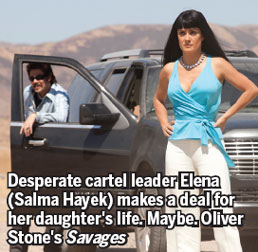 What makes a savage? How is that defined in the 21st century? Things were easier in Stone Age but the idea of savagery is now a moral judgment. Is a widow willing to do anything to protect her only surviving child a savage? How about a drug dealer that puts a great deal of his profits into clean water projects in the developing world? A woman who chooses, with nary a whiff of coercion, to enter into romantic relationships with two men? What happens if those men are friends? Such is the basic set-up of Savages, a noir thriller with a lot of sunshine whose glare blocks out the violence and rot lying just beneath the surface.
In smoky (yes, that kind of smoke) southern California, ex-army grunt Chon (Battleship and John Carter's Taylor Kitsch proving he can actually act), tree-hugging chemistry genius Ben (Aaron Johnson, Kick-Ass) and their mutual girlfriend O (the ironically named Blake Lively) are living high, quite literally, on the hog due to the ultra-awesome, dude, weed that Ben has engineered. All is well in their local operation until rival Mexican drug cartels, each desperate to hold onto their shrinking market shares, get wind of the super-pot. Partnership negotiations between Elena (Salma Hayek) and Ben implode and before you can say, "Bong" O is kidnapped. A brutal war of attrition erupts between the well armed Mexicans, the chief weapon being Elena's psychotic right hand Lado (Benicio Del Toro), and the inexperienced, in the ways of gang violence, Ben and Chon. It doesn't end well.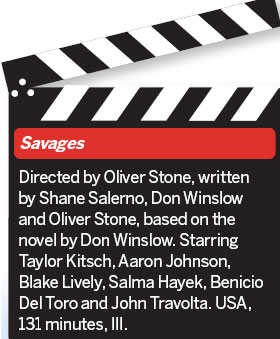 Or at least it doesn't in Don Winslow's spare and gripping novel. Fans of the book will be furious with the sneaky ending that seeks to satisfy them as well as mainstream audiences that demand "happy" endings. It's a studio cop-out one wouldn't expect from director Oliver Stone that very nearly erases the goodwill engendered up to that point. Maybe Savages should have been released in the fall when people are less demanding of joy. Worse, the last minutes take the punch out of the message to that point. Talk about shooting yourself in the foot, Ollie.
But what the film of Savages lacks in Winslow's minimalist nuance (and conclusion) it more than makes up for in in-your-face, gory, fever dream visuals - the latter, not the former, being Stone's forte. Elena's insecurities stemming from her age and her sex in the cartel world are glossed over, as are the peculiarities of the kids, O in particular, that make their three-way relationship work so convincingly. Who the titular savages are is a murky determination in the book, less so here. Nonetheless, Stone is in his Natural Born Killers wheelhouse here; he displays more on-screen energy than he has in years and gets a zinger of a performance out of John Travolta as crooked DEA agent Dennis. The self-righteous finger-pointing quietly ramps up the tension every bit as much as Chon and Ben's arrogance in believing they can roll with the big boys. You know the tipping point is coming. What you don't know is how brutal the fallout will be. And really, any movie with Hayek giving someone a verbal spanking in Spanish is worth the price of admission.
Savages opens in Hong Kong on August 30.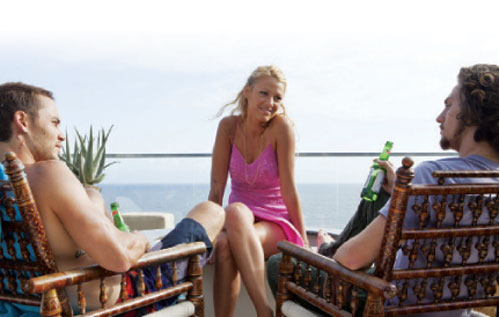 Chon (Taylor Kitsch), O (Blake Lively) and Ben (Aaron Johnson) have a relationship that proves to be their Achilles heel.
(HK Edition 08/25/2012 page4)