Ip decries campaigns based on tensions
Updated: 2012-08-10 06:57
By Kahon Chan (HK Edition)
| | | | | | | | | |
| --- | --- | --- | --- | --- | --- | --- | --- | --- |
|   | | Print | | Mail | | Large Medium  Small | 分享按钮 | 0 |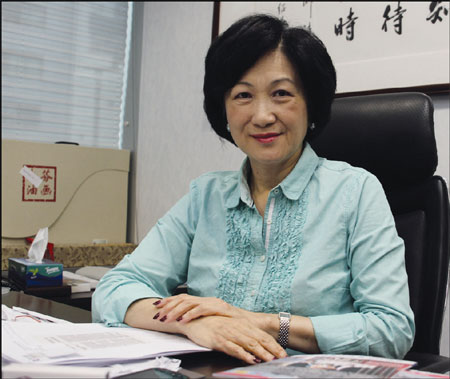 LegCo candidate Regina Ip Lau Suk-yee says she is one of those 'pragmatic harding working people who can produce results rather than just shouting and screaming and throwing bananas'. Kahon / China Daily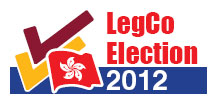 Legislative councillor Regina Ip Lau Suk-yee has slammed opposition parties for playing what she called the "core value card" in the current election, to create an impression of crossborder tensions between Hong Kong and the mainland.
Ip is leading the pack in the 2012 battlefield. One-fifth of respondents to a tracking poll picked Ip as their favorite, among 14 tickets running for the seven seats representing island voters.
She argued that she believes middle class voters will recognize her effort in founding the New People's Party.
Ip went on that the city's professionals would not be ready to trade business interests for politics in 2020, and she couldn't predict when the functional constituency would cease to be a part of the legislative body.
The comeback as a LegCo candidate of the former secretary for security in 2008 was a massive success. Her vote tally of over 60,000 was on par with the Democratic Alliance for the Betterment and Progress of Hong Kong.
Once more, the candidate for Hong Kong Island constituency says she is working to win the votes of the middle class.
"Since I have been back, I have done nothing except spend my own money to build my think tank, and then my party, and have helped several young people win elective office," she said. "The middle class believes in a merit-based society. If you work hard, you go up. I think I am a good example of that."
The island is known for its large pool of middle class voters who generally favor the opposition. Among them, the Democratic Party vows to "rebuild" the city's core values. "I expected a lot of parties will play this card," Ip said.
Despite some underlying tensions across the border, she compared that to tensions between the coast and the heartland of the US. "As a member of one nation, I would not want to send a message that accentuates the differences in a negative way," she said.
While the middle class places great value on human rights and freedoms, she believes upward mobility and education also matter. "We are the pragmatic hard working people who can really produce results, not just shouting and screaming and throwing bananas," she said.
As the city approaches the promised date for universal suffrage, Ip said she hopes a stronger mandate for the elected leader will build a stronger connection between the legislature and the government. "If the Chief Executive is elected by universal suffrage, he or she will have a much more powerful mandate, which will support his agenda," she said.
Set-up of the LegCo beyond 2020, however, will be a bigger dispute. She agreed there is "a lot of injustice and unfairness" in the election of functional councillors, but rather than an one-off abolition, the legislature might only be able to reform them by 2020.
"Not everyone likes standing on the street, shaking hands with people and having no privacy at all. We have not moved to that stage when you have a lot of Wall-Streeters, lawyers, who want to give up practices and enter democratic politics," she said.
Without a crystal ball, Ip said she was unable to tell when these function seats could retire from their mission of balanced representation. "But I will try to create the condition for democracy to flourish by encouraging young educated people to take part in politics," she said.
Having briefly declared interest in running for the top office in March, Ip said it was too early to decide whether to challenge Leung Chun-ying in 2017. "I am a few years older than CY (Leung). It will depend on the state of my health at that time. Likewise for him," she said.
Other lead candidates of Hong Kong Island include Hui Ching-on, Sin Chung-kai, Lo Wing-lok, Christopher Lau Gar-hung, Christopher Chung Shu-kun, Ng Wing-chun, Cyd Ho Sau-lan, Wong Kwok-hing, Kenneth Chan Ka-lok, Ho Kar-tai, Jasper Tsang Yok-sing, Miriam Lau Kin-yee and Avery Ng Man-yuen.
kahon@chinadailyhk.com
(HK Edition 08/10/2012 page1)