E-stitching the fabric of torn lives
Updated: 2012-08-03 06:48
By Doug Meigs (HK Edition)
| | | | | | | | | |
| --- | --- | --- | --- | --- | --- | --- | --- | --- |
|   | | Print | | Mail | | Large Medium  Small | 分享按钮 | 0 |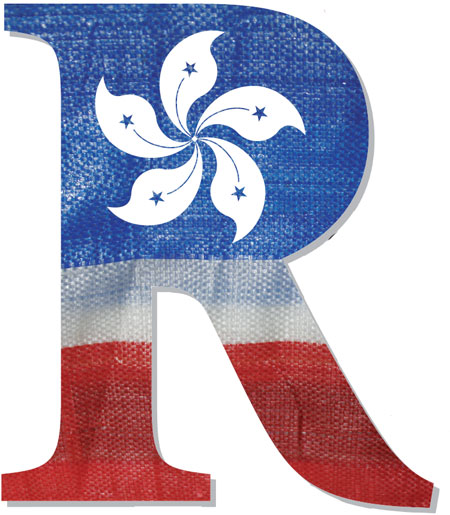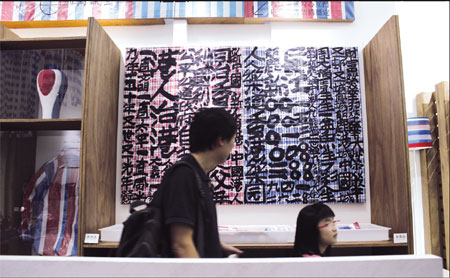 Artwork by Hong Kong artist Stanley Wong, aka "anothermountainman" is on display at the social enterprise retail outlet selling red, white and blue merchandise. Doug Meigs / China Daily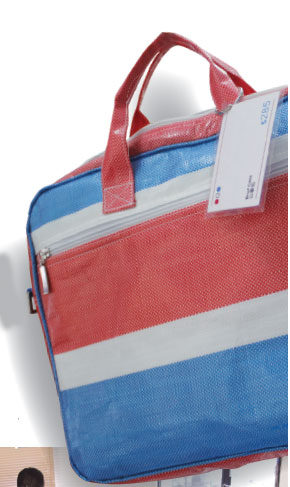 New Life Psychiatric Rehabilitation Association has sold red, white and blue merchandise for five years. Stanley Wong's design contributions are part of a re-branding effort. Doug Meigs / China Daily

An artist has once again re-envisioned Hong Kong's iconic "red, white and blue" plastic fabric. His new line of merchandise helps people recover from mental illness to reintegrate into the mainstream of society. Doug Meigs reports.
On a recent rain-soaked morning, 42-year-old Stanley Wong sat in a backroom surrounded by mountains of bright red, white and blue fabric, preparing for a public crafts workshop. He wore thick black goggle-like spectacles. His salt-pepper hair was buzzed short with mustache and goatee neatly trimmed. He dressed in plain colors, grey shirt and black pants.
When Wong looks at Hong Kong, he sees a patchwork of red, white and blue plastic fabric. The woven polyethylene/polypropylene subtly pervades all strata of local society.
For more than two decades, Wong has explored Hong Kong's relationship with the iconic woven plastic using his pseudonym "anothermountainman." He traveled the world taking documentary photographs and published a book reinterpreting the importance of the innocuous material.
"Everywhere (in Hong Kong) is red, white and blue," said Wong, a veteran advertising professional-turned-artist. "The character and personality of this material is part of the city. It's tough, durable, and possesses a 'never give up' attitude."
New Life Psychiatric Rehabilitation Association has embraced Wong's belief. The mental health organization opened a new boutique shop, known as RWB330 (short for red-white-blue 330), earlier this summer amid the bouquet-laden storefronts of the Prince Edward Flower Market.
The store opening coincided with the launch of a RWB330 brand of merchandise. Wong designed the new product line for New Life. There are fashionable shoulder totes, t-shirts, tissue box covers and other items retrofitted from the quotidian tri-color fabric. People recovering from mental illness, under the association's supervision, have made each item by hand.
Wong's passion for the tri-color cloth began by chance. In 1988, he was visiting London for the first time, working on an advertising assignment. While exploring the shops of London's upscale Soho neighborhood, he discovered a mundane red, white and blue bag whose expensive price tag gave him a jolt.
"As a Hong Kong or Chinese person, I thought this belongs to us, but we never see it as something of value; then someone from overseas looks at it differently, appreciating it?" he mused. "We never care about what we have. I realized the importance of local relevancy from that moment."
The woven plastic fabric was first produced in Japan in only blue in the 1960s. The production technology later migrated to Taiwan, where the three-color mesh emerged, before factories on the Chinese mainland began producing it. Plastic sheets of the same type now come in a variety of colors and patterns.
Woven red, white and blue has become affectionately known as the Burberry of Hong Kong. The utilitarian bags hold special significance for many families. They would pack the bags with loads of gifts for relatives on the Chinese mainland. Even the bag was a treasured present in the decades preceding the nation's more recent economic good times.
Today, cheap plastic roller luggage has gradually replaced the woven bags crisscrossing the Shenzhen border stations. But the old bags are retained for daily use around the city, lugged around by elderly ladies, manual laborers and street sleepers.
Sheets of the raw material once covered the huge development projects that grew to become colonial Hong Kong's modern skyline. Such tarps still protect exposed beams, broken windows and idle machinery at scattered sites throughout the city (though green mesh netting has replaced the material on most large building projects), and throngs of tourists continue to haggle for knock-off handbags and trinkets beneath the all-weather protection of the plastic fabric at Mong Kok's Ladies Street Night Market hawker stalls.
Traditional red, white and blue bags sell at corner hardware stores for HK$10-20 dollars. Folding easily, they occupy storage space in most local homes. Wong said the sturdy fabric seems so commonplace that it's almost invisible to many residents.
During the past few decades, the all-purpose material has inspired major fashion labels (ranging from Comme des Garons to Helmut Lang and Louis Vuitton), all of which created red, white and blue products that have sold for top dollar. Meanwhile, Canto-pop stars Anita Mui and Sam Hui both famously donned custom-made costumes of red, white and blue to embrace the fabric's local identity.
Wong's work for New Life has helped to advance the fashion trend. Although his merchandise is moderately pricey - the most expensive item, an intricately stitched double-sided shoulder bag sells for HK $1,180 - his efforts were purely philanthropic, with all proceeds funneling back into funding for New Life's programs.
New Life's newest product line continues to challenge preconceived notions of the fabric itself while also challenging prejudices against individuals suffering mental illness.
The RWB330 store in Prince Edward is unique as the only shop almost exclusively dedicated to red, white and blue products. The storefront also sells a small collection of accessories crafted out of used fabric by local designer Prudence Mak (creator of Chocolate Rain), and New Life's products are also available through various partner vendors, for example, local retailer Goods of Desire (G.O.D.).
New Life manages 33 different service units, ranging from residential care, halfway houses, vocational training facilities, and social enterprises employing those who are in recovery.
"A lot of people in recovery are still very young, so they need a job after they have been treated and are about to go back into the community. We are a sort of midway point," said Virginia Li Choi-fung, business advisor to the NGO's social enterprises.
New Life oversees 19 separate but interconnected social enterprises operating at every stage in the supply chain from production to retail. There is an organic farm, restaurants, a themed Teresa Teng Caf in TST, and factory workshops producing crafts, leather goods, and a team making red, white and blue products on the third floor of New Life's sprawling multipurpose residential care facility in Shek Kip Mei.
About 60-70 percent of New Life's patients suffer from schizophrenia. Some of the cases are severe. Others are mild. Care recipients at all stages of recovery are hired for jobs fitting their skills. The supervisor at the RWB330 store in Prince Edward, for example, was formerly a successful business executive who suffered a severe depression after losing his fortune during the Asian Financial Crisis.
"Our social enterprise model is unique in Hong Kong," Li said. "We train people who are in recovery and at the same time we are hiring them into the workforce. By doing this, we are actually incurring more operating costs, but we see that as essential in our business, because some of those people need a lot of time to adjust."
New Life has a long history in Hong Kong. The NGO began in 1965. About five years ago, it started selling red, white and blue merchandise made by people recovering from mental illness. Li joined the non-profit organization three years later.
She has spearheaded the ongoing re-branding campaign. "In the past we were like most of the charity organizations in Hong Kong," she said. "We just sold whatever we could, trying to make some money." Previous sales appealed to customers' sense of charity, but Li believed there was a better way to service patients under the care of New Life.
"If we can do something well and sell the product in the commercial world, not just by relying on customer's goodwill, then it makes the (craftsmen) happy and confident that they can produce a product that people really use," she said. "Now we are seeing how we can upgrade our products, leveraging outside parties to increase our (commercial) value to the public."
Before the re-branding, New Life's sales of red, white and blue trinkets were okay, Li said, but she saw room for improvement. She also wanted to shore up market share before any more for-profit competitors interposed themselves on New Life's niche.
That's where Wong came into the picture. He and Li had worked together in the advertising industry in the '80s. She had followed Wong's artistic success and asked if he would design the new product line.
Wong, years before, had gained the reputation of "Mr. Red White and Blue" after a series of red, white and blue poster shows. He later crafted an entire living area installation from the fabric for various local art venues and museums, the Hong Kong Book Fair, ArtHK, and he represented the city at the 2005 Venice Biennale before traveling onward to Canada and London exhibitions.
A German businessman had previously asked Wong to open a shop like the RWB330 store. He rejected the foreign deal because he didn't want his artwork exploited financially; however, when Li called, Wong said he agreed immediately. He was aware of New Life's work with the fabric, and he liked their mission.
The new Prince Edward store now displays some of his earlier acclaimed artworks: chandeliers made from red, white and blue fabric, pottery electronically carved out of giant stacks of the plastic sheets and his graffiti homage to the King of Kowloon written in red, white and blue.
Store staff dress professionally in all-black uniforms. Each employee wears a nametag and pin that carries the numerals "330". Li said the number is a rough homonym for the Cantonese pronunciation of "body mind and soul," three areas in which New Life strives to help clients rehabilitate.
"Many of our visitors ask about the artwork here. 'Is it for sale?!' I have to tell them 'no, but the bags are!'" said Sandy, a friendly RWB330 salesperson and New Life client in recovery. Her favorite part of the job is chatting with shoppers.
One year after graduating from Form Five in secondary school in 2000, Sandy suffered a schizophrenic breakdown that kept her unemployed and at home. She sought New Life's help in 2005. She was a cashier at another New Life social enterprises shop before beginning work at the RWB330 store.
Some of the patients under New Life's supervision have worked in its social enterprises for several years. One 54-year-old woman named Pui-wan said she has been there for 14 years. She is known to be one of the factory's best seamstresses and takes many of the more complicated sewing tasks.
Monday through Friday, nearly 25 colleagues surround her making bags, working around piles of fabric that stretch down a long common table. They work eight hour per days with a one hour lunch break and two 15-mintue breaks. Some of her colleagues are taking medication. Each has a different specialty skill, along a smooth assembly line, with fingers busily stitching or pushing fabric through sewing machines at nearby desks.
"It's good to be here, away from conflict or arguments at home," said Pui-wan, who lives off-site with her family. "I enjoy it, working under the air conditioning, talking with friends."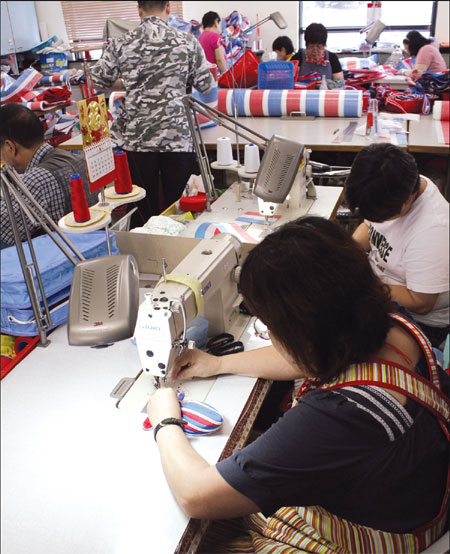 People recovering from mental illness are employed to create various items from the iconic fabric. They work in a multi-purpose facility in Shek Kip Mei. Doug Meigs / China Daily
(HK Edition 08/03/2012 page4)