Disenabling the disabled
Updated: 2012-07-26 07:04
By Guo Jiaxue(HK Edition)
| | | | | | | | | |
| --- | --- | --- | --- | --- | --- | --- | --- | --- |
|   | | Print | | Mail | | Large Medium  Small | 分享按钮 | 0 |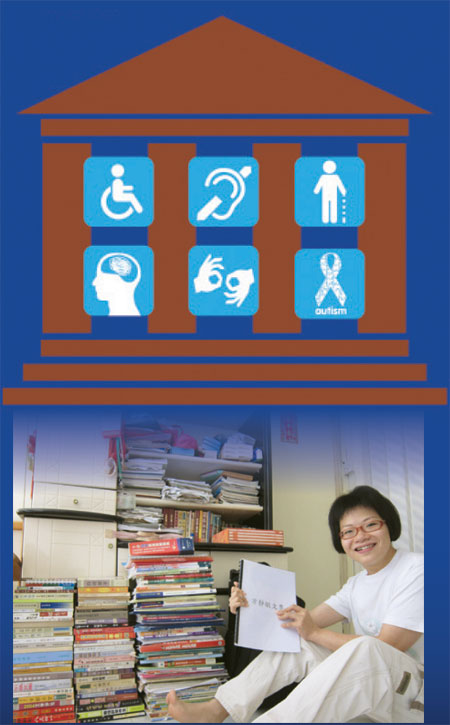 Fong Zing-man holds a collection of her essays and poems. She loves writing and dreams of studying Chinese in university. Guo Jiaxue / China Daily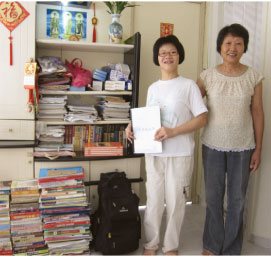 Fong Zing-man (left) and her mother stand in front of the girl's bookcase. A study suggested that flexible university recruitment processes and selection criteria should be introduced in Hong Kong. Guo Jiaxue / China Daily
The new DSE in city may set the dreams of many disabled people of obtaining higher education far beyond reach. Guo Jiaxue explains.
It was a long night 24 years ago for the woman giving birth, at the age of 37, to her first child. Her pain was intense. She could feel herself losing strength, and no longer able to push. She knew there were three people around her in the delivery room, one pushing, one pulling, another shouting orders. The woman could hear the three shouting and discussing among themselves. "The baby's heartbeat is almost gone, we are losing her," someone listening through a stethoscope shouted.
At 1:35 the next morning, the doctors pulled the baby girl out. Both the mother and baby girl survived the difficult delivery.
Yet, it would not be until 15 days later that the mother saw her baby for the first time. The experience was a shock. The tiny little body was black all over and could not move, the result of severe lack of oxygen to the brain.
"I was so disappointed," she recalled. She was told that her little girl could be in a persistent vegetative state for her entire lifetime. "Like a rotting tree, part of its root is already dead," the doctor explained to her.
"But when I was looking at her, holding her little hand, she was a beautiful baby, cute, smiling. It was just her arms and legs that could not move," said the mother, now 61. The woman's eyes were still sparkling and gentle, filled with strong maternal love, as she recalled that day.
She didn't give her up. For the following years she has brought her baby travelling all over the country to doctors. Childhood was extremely difficult for both the mother and the girl. There were many acupuncture sessions. "Hundreds of needles every day, but she never cried."
Sitting next to her mother, 24-year-old Fong Zing-man suddenly broke her silence and said, "From black all over the body to being able to sit here and talk." She sat at a table in her home in a remote public house at the west corner of Tuen Mun. Outside the window was a hill. Over the hill, the Shekou port of Shenzhen sits just across the sea.
Fong spoke word by word, much slower than people normally speak. Her words were slurred, seeming to emanate from deep down in her throat. Still, every syllable was effortless. The observer could see her right arm was a little tight. Her left ankle twists outwardly, making it difficult for her to walk. Her medical diagnosis was spastic quadriplegic cerebral palsy due to severe birth asphyxia and neonatal meningitis. She doesn't need regular medication, but physical exercise is essential. Two steel cookie bins filled with water are her exercise devices to train her arm muscles.
The heartbreaks and the hardship haven't stopped Fong from dreaming. She loves writing and she wants to study Chinese in university. But she realizes her university dream is unattainable, no matter how hard she studies.
Learning was never easy for Fong, because of her disability. She learns more slowly than normal students, especially when it comes to writing and memorization.
"Just the word mommy she learned thousands of times, she always said mi ni," the mother recalled of Fong's days as a toddler. But diligence can make up for one's handicaps. Fong was willing to spend the time and effort. The hardworking girl was still able to climb the education ladder all the way up to high school, just one step away from university.
However, just three years ago when she was in Form 5, she started to suffer periodic, severe headaches, particularly when she was trying to memorize mathematical formulas and doing complex calculations.
"I couldn't study too much. After doing homework for a while, my head hurt so much that I couldn't help rolling on the floor," Fong said.
The doctor explained that it was a kind of brain overload and advised her to give up math. She took the advice. Now the headaches have been gone for half a year, but so has her dream.
If she were attending the old Hong Kong Advanced Level Examination, commonly known as the A-level, as the university entrance exam, she could still bypass math by selecting other subjects. But under the new public exam, Hong Kong Diploma of Secondary Education (DSE) introduced this year under the new 334 education system, four core subjects must be taken and certain minimum requirements are need to be achieved to pursue a bachelor's degree. Math is one of the four.
"The new system has in effect reduced their chances of getting into universities," said Tam Chi-ho, vice-chairman of the Alumni Association at Fong's school, Hong Kong Red Cross John F. Kennedy Centre Alumni Association.
He had a bold suggestion, exempting Math requirement for students like Fong, who have medical reasons for not studying Math, and using other subjects as admission criteria. Similar special arrangements should also apply for disabled students with language difficulties because high proficiency in both English and Chinese is strictly required for university admission. "They should have a fair opportunity to fight for university," he added.
In fact, even an exemption may still not be enough to allow Fong admission into a bachelor's degree course. She holds grade level 3 in Chinese and Liberal Studies and Level 2 in English, in the DSE. The results were released last Friday. Her English doesn't meet the minimum requirement. Besides, in the highly intensified university entrance competition, she would need to score higher than the minimum standard to be accepted for enrolent.
Tam's proposal may appear to be asking a lot, considering how hard it is to get into a university in Hong Kong. But, would it make it more reasonable if Fong were graded the highest level in Chinese? What if it were not Fong. What if a skilled writer was facing the same situation? What if it were a math genius with autism, barely able to speak, not to mention passing both language exams? Should we still shut them outside the door to the places where university education may be obtained?
Just months ago, a study suggested that flexible university recruitment processes and selection criteria should be introduced in Hong Kong.
The author Louisa Mitchell finds that university admission in Hong Kong has been surprisingly rigid. It is quite the opposite of the world trend while the world-class universities are embracing diversity and equal opportunity.
A strange complaint from a NGO called Community Business caught Mitchell's attention last year. The NGO was trying to hire some well-educated disabled people with university degrees, but later realized it was too difficult. "Where are those people, they could be easily found in the US or Europe, but why not in Hong Kong?" Mitchell wondered.
She spent four months last year researching how Hong Kong's universities recruit, admit and support students with disabilities.
It was shown that in Hong Kong, only 3.4 percent of people with disabilities have taken a university degree program. The report suspected that the actual number could be even lower, as many people refused to disclose their disabilities.
"I am not suggesting a relaxation. Academic standards should not be compromised," she told China Daily, "But there are some people with mental or learning disabilities, who are brilliant in some subjects but not quite so in others. Flexible criteria should be considered, such as, if they are really brilliant in some subjects, they shouldn't have to be that good at other subjects."
Hong Kong's integrated education policy adopted for primary and secondary schools has not been adopted for universities, her research showed. She advised universities in Hong Kong to widen recruitment and actively encourage individuals with disabilities to apply, and to introduce flexible selection criteria and assessment methods.
She's particularly worried about the high requirements for language ability.
In order to attend university under the current system, a student must be highly proficient in both Chinese and English language as well as in mathematics and liberal studies. "This means that an outstanding mathematician who is not proficient at both English and Chinese may never make it to one of Hong Kong's universities. The requirement to speaking multiple languages can be particularly problematic for students with special learning disabilities and generally for students with disabilities," the report said.
Maria Wong, former principal of Hong Kong Red Cross John F. Kennedy Centre, now a freelance consultant on education for students with physical and multiple challenges, is concerned about the essential admission criteria to universities. She told Mitchell that the four core subjects, including English, Chinese, mathematics and liberal studies, may "pose unnoticed difficulties to people with dyslexia, dyscalculia and brain damage that affect spatial relationships". "The needs for experiential learning are somehow unfair to youngsters facing access barriers of all kinds. On the other hand, their talents in other areas such as arts or physical education would not be given place for consideration. For students who rely heavily on information technology, their strengths in this area were only recognized prior to the new admission criteria."
Mitchell added that she could feel that many university staff are "incredibly willing and enthusiastic" to offer help on this issue. "Students really rely on their good wills," she said, "But I understand what's really needed here is government policy and money."
Fully aware of the reality, Fong doesn't really depend on any sort of exemption or flexibility. During the summer vacation after taking DSE, Fong picked up math textbook at home. "Two hours every day. So far it's OK for me. I am very happy," she told China Daily. The girl is getting set to challenge math again. "I have a thought, if I can extend for one more year, maybe I have enough time to pick it up and I can still attend next year's DSE."
"To study Chinese has always been my dream. I won't give it up." she said.
You may contact the writer through guojiaxue@chinadailyhk.com
(HK Edition 07/26/2012 page4)