CY Leung enters the fray
Updated: 2012-02-24 07:36
By Kahon Chan (HK Edition)
| | | | | | | | | |
| --- | --- | --- | --- | --- | --- | --- | --- | --- |
|   | | Print | | Mail | | Large Medium  Small | 分享按钮 | 0 |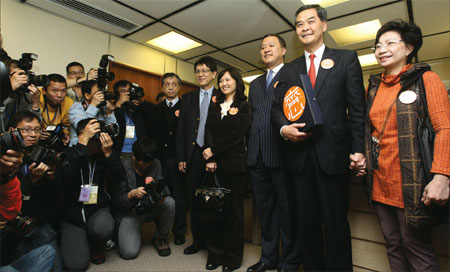 Chief Executive candidate Leung Chun-ying (2nd right) and his wife Regina Tong Ching-yi (right) smile at the press as he holds papers confirming his candidacy for the city's top job at the Hong Kong Registration and Electoral Office on Thursday. Leung won 292 nominations from the 1,200 member Election Committee. Edmond Tang / China Daily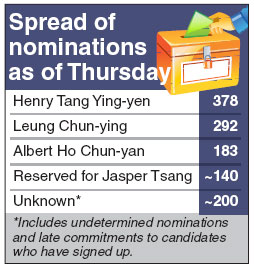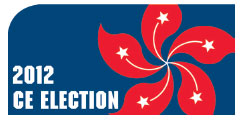 Popular choice for CE trails embattled rival Henry Tang for support among electors
Former Executive Council convener Leung Chun-ying became the third official candidate in the competitive Chief Executive election on Thursday. Leung's nomination papers were signed by 292 members of the 1,200 member Election Committee, leaving less than 340 uncommitted electors for the remaining hopefuls to fight over.
CY Leung was welcomed by applause from his campaign staff as he returned after filing his papers. The public opinion poll front runner had been tipped to acquire about 200 nominations, but the actual count was close to 300 and his campaign office says it's expecting new nominations to arrive before next week's deadline.
One of Leung's notable supporters from the Electoral Committee is Arthur Li Kwok-cheung. The former secretary for education is also the younger brother of David Li Kwok-po, a banker who runs the campaign office for Leung's rival, Henry Tang Ying-yen.
Leung captured majority support from the sectors for agriculture and fisheries (57 out of 60), architectural, surveying and planning (25 out of 30) and import and export (12 out of 18). The labor sector, which has handed no nomination to Henry Tang, also made a substantial endorsement for CY Leung (29 out of 60).
Wong Kwok-kin, the lawmaker from the Hong Kong Federation of Trade Unions (HKFTU), said about 20 fellow members have thrown their support behind Leung. Cable TV reported that over 30 members from the Democratic Alliance for the Betterment and Progress (DAB) have also endorsed Leung.
It came as no surprise that Leung failed to earn much support from the commercial sectors (only 4 out of 36). Leung promised that the interests of all 7 million citizens will be well looked after under his administration when asked about the lack of endorsement from the city's ultra rich who are overwhelmingly behind rival Henry Tang.
"I will continue exchanges with everyone with a humble attitude," he said. "Through communications, tolerance and sincerity, I will clear any misgivings about my approach to governance."
Leung is the third qualified candidate to enter the Chief Executive election, following Albert Ho Chun-yan and Henry Tang. Altogether they have frozen 853 nominations of the 1,200 electors, leaving a tight space for Regina Ip Lau Suk-yee and LegCo President Jasper Tsang Yok-sing to enter the race.
According to RTHK reports, about 140 uncommitted electors from the DAB and HKFTU are now considering whether to back Jasper Tsang to enter the increasingly crowded race, while others might have already handed nominations to one of the other three candidates without disclosure.
Regina Ip told China Daily that her campaign is not yet a hopeless battle. "(The number of nominations Leung secured) was expected, because he has worked hard for many more months than I have."
She is still seeking nominations from the medical and legal sectors and a meeting was scheduled on Friday with the seven voters from the latter. Eric Cheung Tat-ming, a law professor from the University of Hong Kong, confirmed that the meeting will take place soon.
Cheung said his principle is to throw his support behind the most marginal candidate to keep the election as competitive as possible. He said both Jasper Tsang and Regina Ip are acceptable for that reason.
Henry Tang remained in the shadows on Thursday, then late in the day released an internal speech titled "we will not give up". He told his campaign staff that despite "unprecedented attacks" that he had been characterized as "cruel and ruthless", his rival will not win the election because the public could feel the bite of tactics that are "nasty" and "going too far".
Tang also called the campaign a "war over Hong Kong's core values" and pledged to recover from the low popularity ratings in a short time. As the scandal rocked Tang, he was polled last among all potential candidates in a recent public opinion poll.
Meanwhile, the House Committee has not released government documents by late Thursday regarding the West Kowloon design competition in 2001. New documents, planned to be disclosed today, were touted as providing further evidence of Leung's failure to make disclosure in a conflict of interest case.
kahon@chinadailyhk.com
Andrea Deng contributed to the story.
China Daily
(HK Edition 02/24/2012 page1)