Disney goes to war
Updated: 2011-11-30 07:13
By Doug Meigs(HK Edition)
| | | | | | | | | |
| --- | --- | --- | --- | --- | --- | --- | --- | --- |
|   | | Print | | Mail | | Large Medium  Small | 分享按钮 | 0 |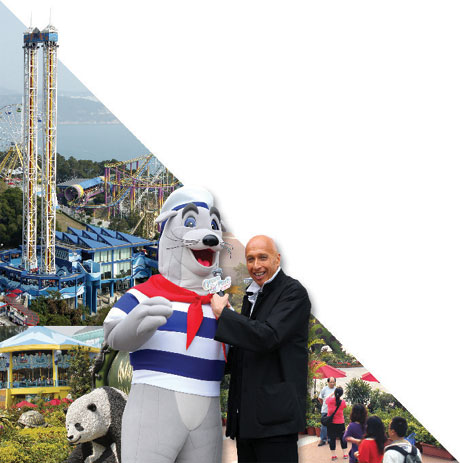 Allan Zeman, chairman of the board at Ocean Park since 2003, has helped the theme park to reinvigorate its competitive place in the city. Provided to China Daily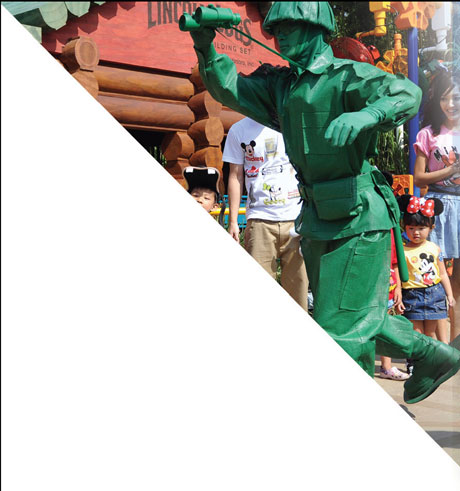 An actor playing a Toy Story plastic soldier poses for photo-ops at Hong Kong Disneyland. Provided to China Daily
Hong Kong Disneyland opened the first stage of a new expansion in an increasingly difficult struggle against a homegrown rival, while more theme parks sprout up across the mainland. Doug Meigs reports.
Plastic toy soldiers have marched out of cinema screens, straight into Hong Kong Disneyland. These denizens of film animation are part of Disney's newest local attraction - Toy Storyland.
Their shouted commands can by heard in Cantonese, Mandarin and English as the life-sized toy soldiers patrol "Andy's backyard" searching for photo-ops.
Playfully militant soldiers make a fun allegory. Mainland's amusement park industry is waging war (for tourist dollars) and Hong Kong Disneyland faces an uphill battle.
Toy Storyland opened to the public on Nov 17. The new attraction is the first installment in a HK$3.6 billion expansion, which will increase the land area of the world's smallest Disneyland's by 23 percent (to 126 hectares). The next two themed sections are Grizzly Gulch, scheduled for a 2012 opening, and Mystic Point, slated for opening in 2013.
Another Disneyland will soon crowd the market. Construction began in April on the new Disney theme park in Shanghai. The mainland's first Disneyland is scheduled to open in five years. Figures from the Shanghai Disney Resort website show the park will be three times the size of its Hong Kong counterpart.
Hong Kong Disneyland has suffered disappointing attendance records and earnings results since opening in 2005 on Lantau Island. Attendance fell by nearly 1 million guests during its second year of operation, and Legislative Council members have often criticized the government's investment in the park.
Meanwhile, a major renovation continues at rival Ocean Park, tucked along the mountainous shores of southern Hong Kong Island. Ocean Park is amid a HK$5.5 billion staggered redevelopment that broke ground in 2006. The homegrown theme park-cum-menagerie added a new three-storey aquarium and rainforest in 2011. Before completion in 2012, Ocean Park will unveil a host of additional new rides and a polar animal exhibit. The park's new "Thrill Mountain" opens to the public on Dec 9.
Adrian Wong, a 22-year-old Ocean Park fan (and Hong Kong resident), visited both Disneyland and Ocean Park on consecutive days when Toy Storyland had just opened. Wong said a friend from Malaysia was in town, and since the friend grew up watching Disney films, he wanted to experience Disneyland. Wong said he was under-whelmed by the new Toy Storyland, which he described as a bit small. "The thing with me is when I usually go to theme parks, I go for the thrill rides. I'm an adrenaline junkie and Disney is more family-oriented," Wong said.
Wong suggested visiting Ocean Park for its roller coasters the next day. "The Hong Kong Disneyland is a bit overrated, and too expensive. Ocean Park is a better value with more stuff to do. But my Malaysian friend still liked Disney better," he said.
Local patronage is important to both parks, but mainland tourists are absolutely essential. Disneyland and Ocean Park scramble to capture Chinese tourism dollars flooding into Hong Kong (especially during Golden Week holidays). Since 1997, the number of mainland tourists has skyrocketed by more than 20 million, according to the Hong Kong Tourism Board. The tally also represents a much higher proportion of the SAR's total tourist figures - 67 percent of all Hong Kong tourists came from the mainland in 2010, compared to only one-fifth of visitors in 1997.
Between 1997 and 2010, the total number of mainland tourists jumped from 2,364,223 to 22,684,388 visitors.
The current demographic split of Hong Kong Disneyland guests is 44 percent from the mainland, with roughly 30 percent coming from local residents, and roughly 20 percent from oversea markets, said a Disneyland spokeswoman.
Wong and his Malaysian friend joined Disneyland's typical throngs of parents, kids, group tours, little girls dressed as princesses and the dating couples.
Long lines at peak hours required a wait of nearly an hour for the two new thrill rides, RC Racer and Toy Soldier Parachute Drop. From the highest vantage point on either ride, visitors caught a glimpse of construction on the next two expansion phases. The cranes and constructions crews appeared like miniature toys in the distance. The two rides dropped thrill-seekers almost 30 meters. They squealed all the way back to the toy's-eye-view of costumed toy mascots, a roving interactive robot and giant talking Rex-the-dinosaur and Woody-the-cowboy statues.
Subsequent expansion phases - Grizzly Gulch and Mystic Point - will be exclusive to the Hong Kong park for at least five years. Toy Storyland itself is borrowed from the Paris Disneyland in Paris, and the Hong Kong park's other sections - Fantasyland, Adventureland and Tomorrowland - are all adapted from the original Disneyland in California.
In other parts of Hong Kong Disneyland, outside of Toy Storyland, the rest of the park was conveniently decongested. A father from the Philippines marveled at the short lines while waiting for a raft to Tarzan's Treehouse during the opening weekend. His wife and two small children (not yet big enough for the new thrill rides) joined him. "The line for 'It's a Small World' was almost totally empty. I didn't realize the Toy Story area just opened," he said.
A gate attendant at the main Disneyland entrance said the park wasn't busier during the weekend. "Compared to the Golden Weeks, it's not so busy. Perhaps not so many people know Toy Storyland has opened," she said.
Another staffer working the turnstile at Autopia, a slow-moving car ride, said: "It might be a little busier today, but only in the afternoon, when the guests are done playing at Toy Storyland."
Leading up to the opening of the new attraction, Disneyland's overall performance had gradually improved. Attendance rose 13 percent year to year, between October of 2009 and 2010; however, the park still lost money - HK$720 million in 2009-2010, an improvement from HK$1.32 billion lost during previous year. Revenue was HK$3 billion in 2010. A spokeswoman said Hong Kong Disneyland would reveal figures in January for the recent fiscal year ending October.
Hong Kong has considerable stakes in both Disneyland and Ocean Park. The government provided oceanfront property free of charge to build Ocean Park in 1977. The former garden and petting zoo eventually evolved into a modern theme park, and it became an independent statutory body with a government-appointed board of directors in 1987. Today it remains an independent nonprofit company. Disney, on the other hand, is a for-profit enterprise. Hong Kong Disneyland also received free government land. Taxpayer investment in the company amounts to a 52 percent stake in the park. The Walt Disney Company owns the rest of the shares. Disneyland and the Hong Kong government began discussing an expansion plan to "realize benefits of the long-term investment" in 2007.
Ocean Park Chairman Allan Zeman said increasing numbers of better theme parks are good for the Chinese amusement park industry. Zeman has served as chairman of the board at Ocean Park since 2003, appointed by former chief executive Tung Chee-hwa. Zeman took the post when the park was losing money, with many Hong Kong people speculating that incoming Disneyland would sink Ocean Park. Zeman had previously earned a fortune working in Hong Kong's garment industry in the 1970s.
"With regard to other theme parks and attractions in Hong Kong and across Asia, we feel that they are actually complementary to, rather than competing with, Ocean Park as they will collectively offer more options for tourists," Zeman said. "Moreover, we even see collaboration opportunities with other attractions, which are mutually beneficial. We introduced the World Attractions Fun Deals program in 2009, which offers reciprocal admission discounts to guests visiting Ocean Park and 19 partner attractions, including zoos, aquariums and themed attractions from the Chinese mainland, Macao, Thailand, Singapore, Taiwan, US, Canada and Korea".
He noted recent statistics to support his optimism. The park has set a new attendance record for the seventh time in eight years, having welcomed 5.9 million guests during the fiscal year ending in June. That's a 16 percent increase from the previous fiscal year, while the past nine consecutive months have also set new attendance records.
Numbers show that the increasingly competitive landscape isn't hurting Ocean Park. Then again, Ocean Park benefits from a dominant market position predating Disney's arrival in Hong Kong, a city that has long enjoyed a reputation as a popular tourist destination regardless of its amusement parks.
A Disneyland media representative doubts that Shanghai's Disneyland will cut into attendance in Hong Kong. "We believe the China market is large enough to support multiple parks," she said, noting that US has a smaller population than China, but still supports Disney branded resorts in both California and Florida.
Shanghai Shendi Group (an entirely State-owned joint venture investment company) holds 57 percent of shares of the Shanghai Disneyland development, with the Walt Disney company holding the remaining shares. Plans envisage the world's "most interactive" Disney castle, a main street modified to the Chinese culture and other localized features not yet fully revealed to the public.
"People visit Hong Kong and Shanghai because each city has its own unique character and its own tourist attractions," the Disney spokeswoman said. "Similarly, Hong Kong Disneyland has its own unique character and attractions that will continue to make it one of HK's leading tourist destinations - just as the Shanghai Park will also have its own unique characteristics and attractions."
Disney's competition isn't always licensed. An amusement park in Beijing - the Beijing Shijingshan Amusement Park - gained international notoriety after foreign media reports of the park's blatant disregard for international copyright. A Japanese television news crew visited Shijingshan in 2007. The crew exposed park management denying any use of Disney characters, while elsewhere in the park, the crew recorded a daily parade of trademarked cartoon mascots; visitors played Midway games to win Disney stuffed toys, and an iconic Disneyland-style castle hovered over the horizon.
Rumors of the 25-year-old Shijingshan's closure circulated last past summer. Instead of closing, the State-owned park has embarked on a massive overhaul and expansion. A recent visitor to the park told China Daily that he didn't notice Disney-themed mascots in the park.
Just across the Hong Kong border, ample theme park competition also thrives in Guangdong province. Shenzhen features a wide range of attractions, from the Windows of the World, filled with miniaturized global landmarks, to more traditional theme parks dedicated to thrill rides or water park attractions. A two-hour train ride to Guangzhou can take Hong Kong visitors to Chime-Long Paradise's elaborate circus, roller coaster, safari and alligator facilities.
New theme park development continues across China, though expansion has slowed nationwide, said Andrew Lee, the Hong Kong-based executive director of the International Association of Amusement Parks and Attractions (Asia Pacific). He dismissed any suggestion that Guangdong theme parks might be taking visitors away from Hong Kong's Ocean Park or Disneyland.
"The industry is still expanding but at a more cautious rate," he said. "While the number of theme parks in China continue to grow, Hong Kong can be a complementary destination or part of the puzzle to the tourism growth of (the larger Pearl River Delta) region."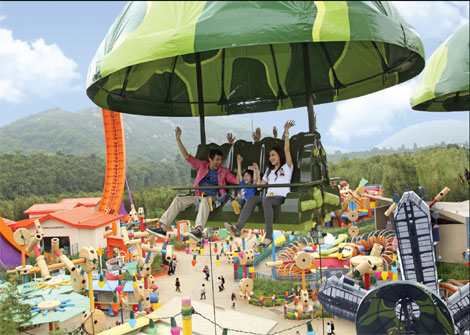 Toy Soldier Parachute Drop, one of two new thrill rides in Disneyland's Toy Storyland expansion. Provided to China Daily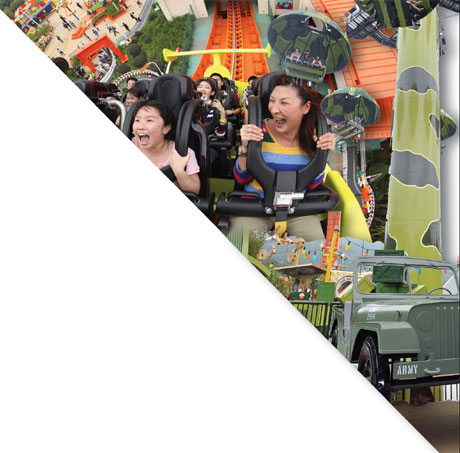 RC Racer, one of two new thrill rides in Toy Storyland expansion. Provided to China Daily
(HK Edition 11/30/2011 page4)