Fresh green taste of asparagus with sweet tender sea scallops
Updated: 2011-10-15 06:54
By Maggie Beale(HK Edition)
| | | | | | | | | |
| --- | --- | --- | --- | --- | --- | --- | --- | --- |
|   | | Print | | Mail | | Large Medium  Small | 分享按钮 | 0 |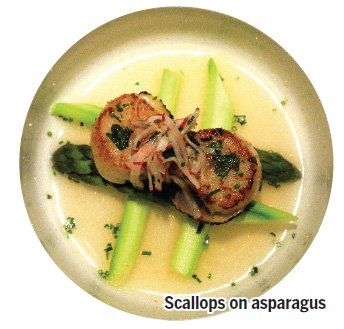 Although the taste is very similar - most folks cannot tell the difference - scallops change gender throughout their lives, with white roe indicating males and orange roe indicating females.
As marine molluscs scallops are high in protein and a good source of important minerals including magnesium, phosphorus and potassium. They are also a good source of vitamin B12. The body needs vitamin B12 to make and repair DNA, make red blood cells and maintain a healthy nervous system.
Scallops always require minimal cooking, even less than most other seafood. They can be steamed, poached, deep-fried, pan-fried, stir-fried, baked, grilled, barbecued, and even eaten raw (if top sashimi grade). It's always better to undercook them, leaving the centre still translucent, because they will continue to cook in the retained heat after being removed from the pan. An added plus are the shells, naturally oven-proof the (cleaned) shells can be used over again and they are lovely vessels for presenting all sorts of foods; from a simple potato salad to the most attractive Coquilles San Jacques.
Even people who are not fond of seafood generally, can enjoy the naturally sweet flavor of scallops, mainly because of their texture which is soft but not jelly-like.
Always make sure the scallops are free from grit and remove the tough ligament that attaches them to the shell. If you cannot get fresh scallops use frozen.
To make scallops together with another fine delicacy; asparagus, takes just a few minutes to prepare and cook.
Prepare the asparagus by snapping the stem - you will find this quite easily as the stem changes texture as you bend it, allowing the hard part to snap off. Discard the hard part (or put it into your veggie stock pot). Heat 1 Tbsp sunflower oil in a heavy non-stick frypan over medium heat until hot but not smoking, then gently fry 10 asparagus, turning occasionally, for 5 minutes. Transfer with a slotted spoon to a plate.
In the same pan with the same oil plus 1 Tbsp oil, fry 4 large or 8 small scallops sprinkled with white pepper and a little salt, turning over once, until browned and just cooked through, 4-5 minutes total. Transfer scallops with tongs to another plate as soon as they are cooked.
Remove the pan from the heat as you carefully add 1 glass dry white wine and 1 tspn wine vinegar to the pan (watch out as the mixture may spatter, a spatter-guard is good to use at times like this), put pan back on the heat and boil, scraping up any brown bits, until liquid is reduced by half, about 1 minute. Add any scallop juices accumulated on the plate and bring to a simmer.
Reduce heat to low and whisk in 1 Tbsp butter, a little at a time, until incorporated. Add the asparagus and heat through, about 1 minute. Check for seasoning, it may need salt.
Serve scallops topped with the asparagus and sauce. Or, as many modern chefs do, reverse the order and put the scallops on top. Either way they are delicious.
Coquilles San Jacques; take 4 whole sea scallops cut in half horizontally and 6 button mushrooms sliced, and sautee them together in 1 Tbsp oil plus 1 Tbsp salt-free butter with 1 chopped onion for 4 minutes. You can add 1 tspn of simple curry powder if you like. Place them in the shells.
Mix well 1 tspn plain flour, 3 Tbsp white wine and 1 Tbsp thick cream, check seasoning and cook gently for 1 minute until it thickens, pour over the scallops in their shells and add 3 Tbsp mashed potatoes along with 2 Tbsp grated Gruyere cheese and 2 Tbsp breadcrumbs as a topping. Flash under the grill until the cheese bubbles. Coquilles Saint-Jacques is most often eaten as a first course, or as an appetizer, but can be used as a delicious seafood main course.
(HK Edition 10/15/2011 page4)