Controversial dolphin study goes ahead
Updated: 2011-09-21 06:51
(HK Edition)
| | | | | | | | | |
| --- | --- | --- | --- | --- | --- | --- | --- | --- |
|   | | Print | | Mail | | Large Medium  Small | 分享按钮 | 0 |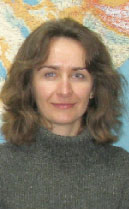 Olga Shpak, the marine mammal scientist who studied beluga whales in the Okhotsk Sea in Russia for four years in a survey commissioned by Ocean Park in Hong Kong.
Ocean Park is pressing ahead with controversial research into bottlenose dolphin populations in and around the Solomon Islands, but insists it will not capture wild mammals from the area.
Animal welfare groups were outraged last year when it emerged that the park had entered discussions with the Solomon Islands government about funding a dolphin population survey with a view to importing wild-caught dolphins if the population was found to be sustainable.
The park agreed to fund a $100,000 study and is said to have discussed importing around 25 bottlenose dolphins from the Solomon Islands depending on the findings.
Following an outcry over the project and the subsequent controversy over the proposed import of beluga whales from Russia, Ocean Park Chairman Allan Zeman confirmed that the park was no longer considering importing dolphins from the Solomon Islands.
However, in response to questions from the China Daily, Ocean Park's public affairs director, Una Lau, said a population study would go ahead even though she said the park had no intention to import from the Solomon Islands either now or in future.
She said: "Ocean Park is still committed to assist with the understanding about the bottlenose dolphin population, not only in the Solomon Islands, but elsewhere in the Western Tropical Pacific and South East Asia in order to support the conservation of this species.
"This region is also known for its tuna fisheries, where dolphins are still a significant by-catch. In addition, these coastal habitats are changing rapidly with over exploitation and urban development, due to human population growth and potentially due to climate change.
"With little or no data about the bottlenose dolphin species and populations in many of these areas within the region, it is important to gather information upon which marine conservation action plans can be built."
The study will be conducted by Leszek Karczmarski of the Swire Institute of Marine Science and Associate Professor at Hong Kong University, she said, and evaluated by independent marine mammal experts.
However, Lau insisted: "We have no intention of collecting and are simply fulfilling our conservation mandate, which begins with good assessment of population status and conservation ecology research."
The Solomon Islands part of the project had not yet begun, as a new government was still settling in, Lau said. The governments of several island states and other countries would also be approached for cooperation.
Samuel Hung, chairman of the Hong Kong Dolphin Conservation Society, said: "I am encouraged to learn that population studies on dolphins in Solomon Islands are still going ahead by Ocean Park. But I am concerned about the motive behind it.
"I have to stress once again that I am against any import of bottlenose dolphins to Ocean Park from a wild stock, and I hope that the intention of funding such study by Ocean Park is not to pave the way for future acquisition, but just simply to conserve the wild population of bottlenose dolphins in the Solomon Islands."
Currently, a debate is raging in the Solomon Islands over the proposed export of 25 bottlenose dolphins to an undisclosed location on the mainland, which has reportedly already been approved by the government.
Hung said: "It is very important that these dolphins will not go to the mainland in the first place, and more importantly will not end up in Ocean Park through so-called animal laundering.
"I certainly hope that Ocean Park will not have any tie to these mainland aquariums and get a hand on their dolphins, either through direct purchase, indirect loan, or collecting semen from these dolphins for future captive breeding program.
"This would further encourage other aquariums to purchase more bottlenose dolphins from the Solomon Islands and in that region. And as a leader in the industry in this region, Ocean Park should exert their influence and try to persuade their peers on the mainland not to import those dolphins, until their own sustainability study is being conducted by independent scientist."
Asked about the export of dolphins to the mainland, Lau insisted: "Ocean Park has no connection nor stake either directly or indirectly with this export."
(HK Edition 09/21/2011 page4)