Between the devil and the deep blue sea
Updated: 2011-09-21 06:51
By Simon Parry (HK Edition)
| | | | | | | | | |
| --- | --- | --- | --- | --- | --- | --- | --- | --- |
|   | | Print | | Mail | | Large Medium  Small | 分享按钮 | 0 |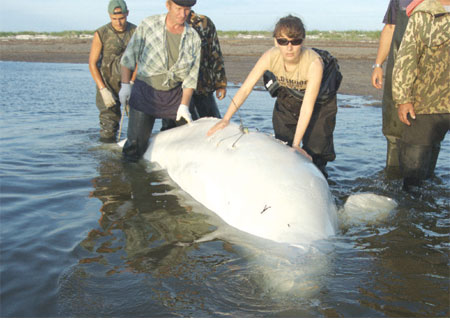 Marine mammal scientist Olga Shpak (center) helps to tag a beluga whale at Chkalova Island on the Okhotsk Sea in Russia, where Ocean Park considered importing wild-caught beluga whales. Photos by Red Door News, Hong Kong
The marine mammal scientist who spent four years conducting a study into beluga whales in Russia's Okhotsk Sea says the decision not to import them to Hong Kong may do more harm than good to the near-threatened species. Simon Parry reports.
Few people in the world know and love beluga whales as well as Olga Shpak. The marine mammal scientist has devoted years of her life to studying and understanding the species in the icy waters of the Okhotsk Sea in Russia. And few people are as disappointed as Shpak by the decision not to import wild-caught belugas to Hong Kong for Ocean Park's new Polar Adventure attraction - something she believes will do more harm than good not only for the six whales in question but for the species in general.
"This decision is nothing to do with science," she said in a phone interview with the China Daily from Moscow. "It's about politics, and to me it is just incredible."
Shpak, more than most people who supported the import, has good cause to feel crestfallen by the events of recent weeks. She spent four years conducting a study commissioned and funded by Ocean Park into the sustainability of beluga whales in the Okhotsk Sea.
That study, verified by a panel of independent international experts, concluded that 29 beluga whales a year could be removed from the part of the sea she studied over the next five years without adversely affecting the population.
When Shpak flew to Hong Kong for her first ever visit in June and was shown the giant tank being prepared at Ocean Park for the six beluga whales, currently in a holding facility in Russia, it must have seemed only a matter of time before they were on their way to Hong Kong.
"I have to say I really liked what I saw," she said. "I've seen different facilities in different countries and Ocean Park is a nice facility. It looks like the same level as the high-standard facilities in the United States. It looked a rich environment for the belugas."
On Aug 29, however, the tide turned decisively against the import. With opposition to the import continuing from animal welfare groups and a coalition of groups preparing within days to stage a protest outside Ocean Park, the park's Chairman Allan Zeman and his executives decided to abandon the project.
The biggest losers, as Shpak sees it, will be the beluga whales. "I am a little bit surprised that public opinion went this way, because I have seen how many visitors come to Ocean Park," she said. "I saw how popular it is and the educational side of it. So to me it is surprising that public opinion was so critical.
"The park is popular and you can see from the dolphin show that people want to see animals in the park. It's not my business but I believe what has happened is more about politics than a real reflection of the situation."
The decision, she argues, is bad not just for the six belugas once bound for Ocean Park but for the near-threatened species at large because, she said, if wild-caught whales do not go to overseas aquariums, it increases the chance of them being harvested by local fishermen.
"The population is doing well at the moment," she said. "It is increasing and there is huge overfishing and locals keep saying there are more and more belugas, so the situation in the area is not good for belugas.
"It makes me cry that when they harvest belugas, they sometimes kill them and just throw them back into the sea. I don't want to dramatize the situation but that is what happens.
"What is most disappointing (about Ocean Park's decision) is that more animals will be harvested? Will the public be more satisfied with this? Unfortunately this is how the world works."
Shpak said that a limit was already set by Russian officials on the number of beluga whales that can be harvested by locals and captured either for scientific research or for public display. Reducing the number that went on public display meant more beluga whales would be harvested.
In recent years, no requests had been made by fishing communities to harvest beluga whales but this year, as their perceived numbers rose, requests had been submitted by local fishermen, she said.
"Beluga whales that are not sent to dolphinariums are simply being given to locals to harvest and welfare organizations do not talk about this," Shpak said.
Shpak was especially critical of the suggestion put forward by Jean-Michel Cousteau, son of the famous oceanographer Jacques Cousteau, that the six beluga whales Ocean Park was considering importing released back into the wild.
"I would be totally, totally against it," she said. "There is no way the animals would survive. For young animals to be extracted (from the wild) and after one year or so in captivity to be transported back to the wild, what will they do?
"Do they know how to catch fish? Will they rejoin their group? These animals have spent one year or two years in captivity. There is no way this would happen.
"Belugas migrate at around this time of year and it is highly unlikely the whales would find their adult relatives, and it will be cold for them at migration time. How can a biologist suggest this? They would certainly die."
Cousteau's argument was in reality more broad-ranging than a simple appeal for the release of the beluga whales back into the wild. In a letter to Ocean Park Chairman Allan Zeman seen by the China Daily, he summed up the core objection of animal welfare groups to putting the magnificent creatures into captivity in the first place.
"Marine parks and aquariums claim to educate, but in reality they teach people that the capture and exploitation of these intelligent and complex creatures is acceptable," wrote Cousteau, who is president of the California-based Ocean Futures Society.
"They send a message that the whole of nature is ours to exploit, for a reason as frivolous as sheer entertainment. That's why many scientists and experts, such as my late father, Jacques Cousteau, and myself oppose all captivity of marine mammals.
"It is time that we humans, as a species, have outgrown the need to keep such wild, large, complex, intelligent and free-ranging animals in captivity, where their behavior is not only unnatural, it can become pathological."
Cousteau argued: "In captivity, whales can't even echolocate (find their way around using sound). They live in a world of sound, and confining them between walls and glass is like blindfolding a person - putting them in a jail and expecting to learn something about them. I find it distressing to think that people can continue to treat animals in such a way."
Jill Robinson, founder and executive director of Animals Asia which campaigned against the import of the beluga whales to Ocean Park, said: "While we believe that the right decision has been made in terms of the Beluga whales, there is the rather bitter taste of acknowledging that the six belugas slated for the park now have a fate unknown.
"I think that Jean-Michel Cousteau's request that Ocean Park explore the options of releasing these cetaceans back into the wild, considering that they originally held an option on bringing them into Hong Kong, would be the rational and right decision to take.
"The truth is that no-one really knows the success of such an exercise but, if tagged and monitored, these mammals can be part of a scientific study which will potentially benefit the conservation and welfare of the species into the future."
Robinson believes that despite the uncertain fate of the six beluga whales, the decision not to bring them to Hong Kong had achieved a bigger objective for beluga whales and other sea mammals.
"We stand behind our original protests acknowledging that the import of such marine mammals sends a negative message to the public and to other aquaria that it is perfectly acceptable to remove threatened, free-ranging animals from their family members and social groups, and to place them in an artificial environment contrary to their physical and psychological needs," she said.
"All aquaria lack the size and means to manage such cetaceans appropriately. The stress of capture and confinement, forcing them to adapt to an entirely alien environment a fraction of the size of their range, unnatural surroundings and proximity of humans and other species, as well as their artificial diet, cannot be justified in terms of any perceived educational message at all."
There is no doubt that both Robinson and Shpak in their very different ways have the interests of beluga whales at heart. As the arguments over Ocean Park's decision persist, however, the truth about how best to conserve and protect this extraordinary species remains as unclear as the inky depths of the Okhotsk Sea where they swim free.
(HK Edition 09/21/2011 page4)