Smoking's last gasp saloon
Updated: 2011-09-07 06:15
By Simon Parry(HK Edition)
| | | | | | | | | |
| --- | --- | --- | --- | --- | --- | --- | --- | --- |
|   | | Print | | Mail | | Large Medium  Small | 分享按钮 | 0 |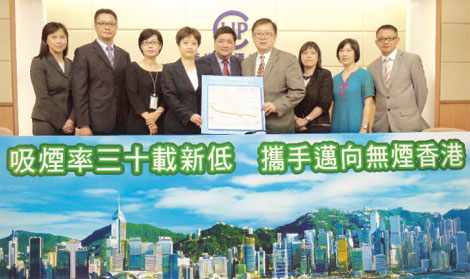 Dr Raymond Ho, head of the Department of Health's Tobacco Control Office (5th left), announces in August Hong Kong's lowest smoking figures in 30 years. With him are officials and professionals engaged in promoting smoking cessation, standing in front of a poster showing a slogan for Hong Kong to be a smoke-free city. Photo by Red Door News, Hong Kong
Hong Kong is on the verge of becoming the first place in the world in modern history where less than one in 10 adults smokes. If it achieves it, health experts internationally will be watching closely to see if the city can effectively eradicate the habit altogether, reports Simon Parry.
Imagine a city where smokers were once everywhere but are now almost extinct; a place where more than one in five adults once smoked but where now there are so few smokers left that shops no longer stock cigarettes, lighting up is a social disgrace, and the habit dies a sudden, quiet death.
That city might well be the Hong Kong of the near future, experts believe, after the city in August recorded what may already be the world's lowest rate of smokers at just 11.1 percent of the adult population. Today, just 3 percent of women and 19.9 percent of men smoke.
With the quirky exception of Bhutan, where smoking is officially banned as bad for Buddhist karma, nowhere in the world are smoking levels so low. Hong Kong's male smoking rate compares to 35 percent in Singapore, 48 percent in Vietnam, 33 percent in both the US and Germany and 51 percent on the Chinese mainland.
The figure is all the more remarkable when you consider that three decades ago, nearly one in four of all Hong Kong adults smoked. But recent years have seen a precipitous decline in smoking rates in the city that have taken the war against tobacco to a potentially decisive phase.
Punishing tax rises, the expansion of no-smoking areas and a host of initiatives to help people quit have seen a drop in the number of smokers to the point where experts like Judith Mackay believe Hong Kong is on the verge of an "end game" in its battle to curb smoking.
"Hong Kong is in a very interesting position," said Dr Mackay, senior advisor to the World Lung Foundation and the World Health Organization (WHO), who has worked closely with the Hong Kong government on tobacco control over the past three decades.
"There are a couple of places including Hong Kong beginning to look at what we are confidently calling the end game.
"New Zealand has set a target of 5 percent and has pledged to get there by 2025. But Hong Kong has been challenged by the WHO to be the first place in the world to get into single figures so that's what we are trying to do."
Reaching single figures means more than just numbers. It represents a potential tipping point - a level at which a critical mass of smokers no longer exists - that could change the whole dynamic when it comes to social tolerance of smoking.
"We don't know what will happen we get down to single figures," said Dr Mackay. "Do you get an absolutely hardened core of smokers who cannot quit, or do you actually find that the societal norms change and there is even perhaps a quicker drift down?
"We simply don't know and there's no experience in the world that can help us with that. These truly are unchartered waters."
For Dr Mackay - who began her campaign against smoking in 1984 and was once named by the tobacco industry as one of the most dangerous people in the world - the change in Hong Kong over the past three decades has been astonishing.
"There has been a sea change," she said. "When I started with this work, you could smoke anywhere in Hong Kong. There were massive billboards, advertising on TV, advertising on the radio and ubiquitous marketing and promotion.
"There were no smoke-free areas. You could smoke in cinemas, on buses, you could smoke anywhere. This has just been an incredible public health move.
"Some people would regard 30 years as an unacceptable length of time to get these things done but if you look at the history of public health epidemics, it takes you anything from 50 to 100 years to go from identification of the problem to really getting on top of it. Smallpox went on forever. Even polio we haven't got on top of."
Hong Kong has one curious sociological trait in its favor in battling smoking, according to Dr Mackay: A combination of relatively low male smoking rates similar to those in western countries, and extremely low female smoking rates in common with Asian countries.
Much credit, however, is owing to both the pre-handover colonial government and the current administration for pursuing vigorous anti-smoking initiatives over the years, she said, with efforts in the past four years being particularly effective.
"What Hong Kong has done most recently is introduce the whole smoke-free areas initiative plus the fact we have had tax increases - it's as simple as that," said Dr Mackay. "Plus we are now seriously beginning to introduce assistance with quitting for smokers."
However, she insisted there was no room for complacency. "The tobacco industry has predicted we would never get down into single figures, so we are out to prove them wrong," she said. "But what that does mean is that there is no easy route from now on.
"We have got to keep up all our momentum and defences and attack, to use warlike terms. There must be no sense of complacency or sitting back and thinking 'Really good figures. We've done it and everything's fine'."
Dr Mackay said it was "inevitable" there would be a backlash from the tobacco industry and pointed out how they had launched actions in jurisdictions around the world to challenge moves towards smoke-free areas.
"We got our smoke-free legislation in just in time," she said. "If we tried to do it two years later, we'd have had years of seeing it challenged through the courts."
Dr Raymond Ho Lei-ming, head of the Hong Kong Department of Health's Tobacco Control Office, said if Hong Kong succeeded in bringing smoking levels down to under 10 percent of the adult population, it would be a significant landmark.
"We are trying to set a new cultural norm," he said. "When we set up law enforcement and give out HK$1,500 tickets for breaching smoking laws, we are not thinking of it just as a punishment.
"We think most people are law abiding in Hong Kong and it is just a matter of educating the public and also the smoking offender so they comply with the law. Once we do that I think there will be a new norm or movement to strive for a smoke free environment.
"Once we get to below 10 percent, it is difficult to find a 'buddy' or someone to support you in your habit. We know cigarettes are offered by buddies. That factor may drive numbers down to a lower level even more quickly."
Asked if he believed a day would come when the sale of cigarettes would be outlawed in Hong Kong, Dr Ho said: "That would depend on society and whether we reach a consensus. There are talks of 'end games' here and overseas.
"New Zealand wants to be smoke-free by 2025. Finland wants to go smoke-free by 2040 and in Singapore they were thinking of changing the law so that after a certain age - if you are born after 2000 - you are not allowed to be sold cigarettes.
"So there are different plans of end games but really you have to look at the individual situation of the jurisdiction and the cultural acceptance of banning it outright."
One of the most important recent developments has been the introduction of city-wide smoking cessation services with free medication and anti-smoking aids, said Dr Ho. Hong Kong was also pioneering a mobile acupuncture service for people trying to quit.
"We don't know how effective acupuncture is as a smoking cessation approach," he said. "Generally speaking, giving up smoking is not easy. The success rate after six months or even one year is only around 40 percent. People usually have to try a few times.
"We want to assess whether acupuncture helps Chinese people to quit. It has been assessed previously on Western populations. We want to see how good the method is on the Hong Kong Chinese population. We started this project in April 2010 and we are collecting data to see how effective it is."
Other measures - some of them in force in other jurisdictions - are being looked at, including the possibility of banning smoking within three meters of public buildings, at taxi and minibus stands and in al fresco dining areas.
The government is also looking at a requirement for plain packaging for cigarettes, the adding of numbers for stop-smoking lines on packets and a ban on displays of cigarettes so they are kept in shuttered cupboards out of sight of shoppers.
Those tactics could be pivotal in determining whether Hong Kong makes the leap from a low-smoking to a no-smoking city. "We still have just over 650,000 smokers," pointed out Dr Ho. "We have more to do if we are to bring the numbers down further."

(HK Edition 09/07/2011 page4)