Life in a fishbowl
Updated: 2011-08-24 08:51
(HK Edition)
| | | | | | | | | |
| --- | --- | --- | --- | --- | --- | --- | --- | --- |
|   | | Print | | Mail | | Large Medium  Small | 分享按钮 | 0 |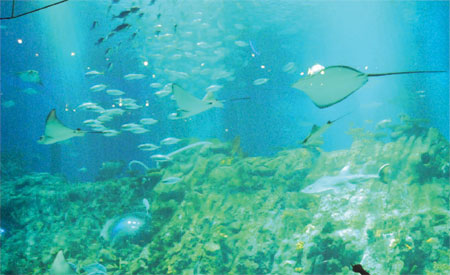 A view from an aquarium at Ocean Park. From next year, beluga whales may be on show in a giant new aquarium as part of the Polar Adventure attraction. Photos by Red Doop News, Hong Kong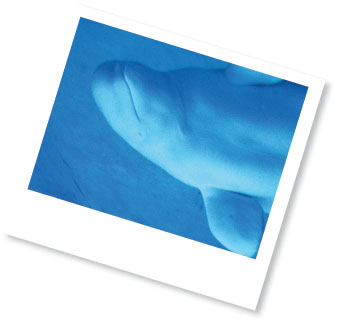 A beluga whale. Renowned for their intelligence and friendly expressions, six of the near-threatened animals are currently being held in a marine facility in western Russia.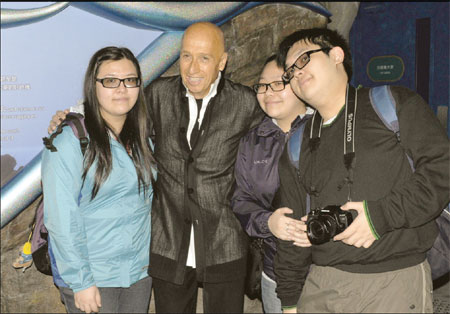 Ocean Park Chairman Allan Zeman (2nd left) with visitors to the theme park and aquarium.
Six wild-caught beluga whales have spent the past year in a holding facility in Russia, ready to be flown to Hong Kong, while a giant tank is being built for them at Ocean Park, Simon Parry reports. Does this mean animal welfare groups have lost their fight to stop the import of the near-threatened species?
Their location is being kept secret and few people have access to them - but they must be a magnificent sight. In a marine facility in western Russia, six wild-caught beluga whales from the Okhotsk Sea swim back and forth, ready to be flown to a new home in Hong Kong.
Thousands of miles away, an activist campaigning against their import to Hong Kong sees what he describes as "a huge tank" about 10 meters deep at the construction site of Ocean Park's new Polar Adventure section, big enough to accommodate the six whales and up to 14 more besides.
The belugas, it seems, are coming. Two other major developments appear to be making imminent the controversial import of the near-threatened whales to Hong Kong, a move fiercely opposed by a coalition of animal welfare groups.
Firstly, independent scientists have verified a sustainability study funded by Ocean Park which concluded up to 29 beluga whales a year can be taken from the Okhotsk Sea - and secondly, an opinion poll on the import of belugas to Hong Kong has returned largely favorable results.
With preparations so advanced and both scientists and the public largely in support, the campaign to stop belugas being brought to Ocean Park appears doomed and their import to the Polar Adventure section before it opens in 2012 all but inevitable.
But in an interview with the China Daily, Ocean Park Chairman Allan Zeman insisted the transfer of the belugas was not a foregone conclusion and said he would still consider importing non-wild-caught belugas from other facilities if they could be found, or even abandoning the project altogether.
"We are still on the fence," he said. "We haven't made any decisions. We are not in a rush to do anything.
"We just want to make the right decision and that is the most important thing to me We won't (go ahead) unless we are 250 percent convinced it is the right thing to do."
With the availability of captive-bred belugas worldwide extremely limited, however, and the countdown to the opening of the Polar Adventure attraction ticking down, the option of importing wild-caught animals from Russia may be the only one.
Revealing for the first time that wild-caught beluga whales earmarked for Hong Kong are already in a holding facility in western Russia, the park's Executive Director for Zoological Operations Suzanne Gendron said the six whales were among a group of 13 captured in 2010.
The belugas were not caught specifically for Ocean Park but were among a group of whales that would have been caught anyway, she said. Annual collections have been conducted in Russia since the early 1990s and the global demand for belugas is such they would be sold elsewhere if not to Hong Kong.
"There are belugas that were collected last year that we have an opportunity to acquire should we make that decision - but that decision is still open-ended," Gendron said.
Declining to name the facility or its exact location, Gendron said she had personally seen the belugas and was "pleased" with the conditions in which they were being held while a final decision on them was taken by Ocean Park.
"They have a large space and the facility is monitoring their blood just like the rest of us do with our animals," she said. "They are healthy and they are doing well. (The holding tank) is spacious and well over any international standard for keeping animals."
Animal welfare groups opposing the import have long suspected that Ocean Park already had beluga whales in a holding facility ready to bring to Hong Kong and is pursuing what is now an 11th-hour campaign to try to stop the transfer.
A letter to Zeman sent earlier this month by a coalition of high-profile groups including Animals Asia, the Society for the Prevention of Cruelty to Animals and the Human Society International, called for the whales to be returned to the wild.
"We appeal you to organize the release of these whales back into their natural habitat and to commit to not capturing any marine mammals from the wild for display at Ocean Park in future," said the letter.
"The welfare issues involved in capturing, transporting and confining a wild animal such as a beluga whale to a restricted tank or pool cannot be justified on the basis of potential education benefits to the general public.
"Indeed, in viewing these animals at Ocean Park, the general public would learn that removing animals from their natural habitat for the entertainment of humans is acceptable and that an animal displaying signs of stress is normal. This is not a message that we can afford Hong Kong's public, particularly its children, to learn."
The letter points out Ocean Park's corporate social responsibility policy states that it strives to deliver the highest standards of animal care.
"Removing beluga whales from the wild (and) placing them in a holding facility prior to transporting them to Hong Kong is detrimental to their quality of life and does not provide these animals with the highest standards of care."
A response by Ocean Park Chief Executive Tom Mehrmann said releasing cetaceans held under human care back into the wild was "not recommended".
"Very few reintroductions are successful," he said, citing recent well-intentioned but disastrous attempts involving dolphins.
Referring to their possible air transfer of belugas to Hong Kong, Mehrmann said: "Any beluga whales would be transported in water with foam support so that they are neutrally buoyant and comfortable.
"Truck and airplane cabin temperature and airplane cabin pressure are carefully and safely maintained. Veterinary and husbandry staff (would) accompany the animals throughout the entire transportation process."
Mehrmann's letter gave a robust response to the claims by the animal welfare groups that wild-caught beluga whales and other cetaceans suffered from poor life quality and reduced life expectancy in captivity.
"Based on recent research by the Alliance of Marine Mammals and Aquariums, the estimated median lifespan of dolphins in human care is now nearly double that of dolphins in the wild," it said.
"Similarly, Association of Zoos and Aquariums (AZA) documentation indicates that beluga whales live long lives in zoological parks and aquariums as well. The annual survival rate of the beluga whales in the care of AZA accredited facilities is over 96 percent."
Stressing the educational value of the Polar Adventure section, Mehrmann said: "The animals to be featured are iconic species that represent their respective regions, will be compelling for our visitors, and help raise public awareness about the need to mitigate global climate change."
Zeman was emphatic that the belugas are being brought to Hong Kong for education rather than entertainment. "We're not even thinking about entertainment," he said. "They are not going to be jumping hoops. They are there to be studied so people can understand belugas and study them and see how we can conserve them.
"Irrespective of whether we go ahead with the import or not, we are setting up a very strong research center not just with Ocean Park but with world-renowned scientists to study belugas and their conservation. It's part of our mission We're going about things the right way. We are very responsible."
Samuel Hung, chairman of the Hong Kong Dolphin Conservation Society, described the claims that dolphins and belugas live longer in captivity as "absolutely ridiculous" and said animal welfare group would continue to press Ocean Park to abandon the import of wild-captured belugas.
It was Hung who was shown around the site of the Polar Adventure facility on Saturday where he said he was told by Mehrmann the 10-meter-deep tank - which he said was similar in size to the Ocean Theatre - could hold up to 20 belugas but would in realty only hold up to 12.
Several hundred visitors at a time would be able to watch the belugas in their tank from an amphitheatre-style seating area in "presentations" rather than shows, Hung said he was told during the tour of the facility which he said looked about six months from completion.
Ocean Park has not released details of a public opinion survey it commissioned from the Polytechnic into people's attitudes over the import of beluga whales but the results are understood to be largely favorable.
A majority supported the introduction of threatened animal species to Ocean Park and respondents were almost equally split on whether beluga whales from sustainable sources should be imported - around 46 percent in favor compared to 47 percent against.
Some 80 percent of respondents approved of keeping animals in zoos and aquariums while a similar ratio viewed animal exhibits at Ocean Park as a positive contribution in terms of protecting the environment.
A more detailed and carefully scrutinized public opinion survey is now being commissioned from the University of Hong Kong's Public Opinion Programme to examine people's attitudes to the beluga import more closely.
At his meeting with Ocean Park officials, Hung was assured no final decision had yet been made on the import of the belugas from Russia. "It is hard to believe but after talking to Allan Zeman I think he is genuine in saying he is prepared to walk away from it," said Hung.
"My initial feeling was that they have to go ahead irrespective of what we say. When you look at the sheer volume of the tank, you feel they must have made a decision to go ahead.
"But I have to give the benefit of the doubt to Allan Zeman and believe that he would like to do the right thing. We still have an opportunity to work together to stop this."
Already, a group of opponents of the import of beluga whales are planning a protest at the entrance to Ocean Park on Sept 4. Meanwhile, animal welfare groups are preparing to respond to Mehrmann's letter about the lifespan of cetaceans in captivity.
Zeman has meanwhile agreed to work with Hung on the University of Hong Kong survey, this time with questions scrutinized beforehand by opponents of the import of the belugas to ensure they elicit an accurate picture of people's views on the issue. The findings could be pivotal.
Meanwhile, Ocean Park insists, the global search for non-wild-caught belugas will continue. "If we are going to do it, we want to exhaust every possible means first," said Zeman who insisted the decision would still go either way.
"If we had made the decision, I could have brought the belugas in yesterday or tomorrow," he said. "They would already have been here in a secure place - but we haven't done that."
Whatever the decision, its impact on the six belugas in a marine facility in Russia will be academic. Their freedom was lost on the day they were caught in the wild,and the ongoing debate can only determine in which fish tank they see out the rest of their captive lives.
(HK Edition 08/24/2011 page4)