HK's advantage as a financial center
Updated: 2011-07-15 06:24
By Joy Li(HK Edition)
| | | | | | | | | |
| --- | --- | --- | --- | --- | --- | --- | --- | --- |
|   | | Print | | Mail | | Large Medium  Small | 分享按钮 | 0 |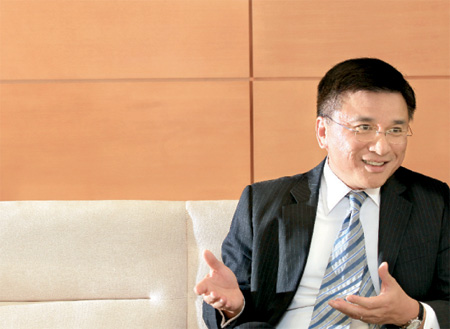 Hong Kong's development as a global trading center is set to evolve to its next stage with internationalization of the yuan. The treasury secretary, however, adds a note of caution, saying tight market regulation will be necessary to ensure that HKSAR is able to maintain its global standing and capitalize on the potential bonanza. Joy Li writes.
Indonesia, Malaysia, the Czech Republic, Russia - for the past two months K.C. Chan has maintained a rigorous schedule, traveling from place to place, raising awareness in the marketplace of Hong Kong's unique role on the global financial frontier.
The footprints along his path, and the road not yet traveled, help to shed some light on Chan's convictions and his mission.
"For me, Hong Kong's strength is definitely international connectivity. We must make sure we build on that strength," the city's secretary for financial services and the treasury told China Daily in an exclusive interview.
Time magazine, in an issue published in 2008, coined the term "Ny-lon-kong" for a cover story on globalization. The story declared that cities such as New York, London and Hong Kong are "linked by a shared economic culture", making them "exemplars of globalization".
"At that time, I said Time magazine had been so kind to Hong Kong and that it saw the potential for Hong Kong. New York is serving the US economy, London half of Europe. At that time, Hong Kong was the very distant third in terms of financial market size and importance," Chan said.
In terms of the economic hinterlands the three regional hubs and global icons serve, Chan's perception was not about being humble, but being realistic.
"These days I think Hong Kong is still trailing behind New York and London, but in 10 years, our vision is that 'Kong' should be equal with 'Ny' and 'Lon' thanks to China's rise, because we serve the world's second largest economy," said Chan, adding that it is not just Chinese investors, but a lot of international investors who come to Asia trying to raise funds through Hong Kong, which has made the city flourish.
In the 12th Five-Year Plan, a chapter is dedicated to Hong Kong, promising support for Hong Kong being an international financial center and, specifically, a testing ground for the yuan to go global.
Assuming a central role in the internationalization of the yuan, Hong Kong is developing an offshore yuan market at an impressive pace within a short period of time. Since July 2010, the signing of the revised clearing agreement for renminbi business in Hong Kong has helped to build steam for the development of an offshore yuan market. Yuan deposits in the local banking system surged sixfold, accounting for about 9 percent of the city's total deposits. Eighty-six percent of China's cross-border yuan trade settlement is done through Hong Kong. Yuan-denominated bonds, nicknamed "dim sum bonds", have grown virtually from zero to around 55 billion yuan in the past year.
"The reason that Hong Kong is a good offshore market is that we are quite sensitive to the national policy and we understand the role gradualism plays in mainland policy making," said Chan.
"From day one when we talked with the mainland about what Hong Kong can do on yuan internationalization, we expressed that we share the concerns about financial security. Now we think the risk can be managed and I believe this view is shared by many mainland policy-makers," said Chan.
Though the market is growing, there are groans about a developing bottleneck - Yuan funds raised in Hong Kong have yet to find a routine channel for repatriation to the mainland, where the higher returns await.
Some bankers expect a yuan foreign direct investment (FDI) rule to be the next major step towards yuan internationalization, rather than the current case-by-case approval that currently holds. That will facilitate Hong Kong's offshore market by stoking demand for yuan lending, yuan bonds and yuan initial public offerings.
Chan sees yuan FDI as an important task in the coming months, but "whether we have a systemized guideline of regulation will not bring a fundamental change".
"I don't think there is any fundamental policy hurdle at this point. I am looking at everything to work together, like a machine," said Chan, adding that it is also very important to get foreigners to switch to yuan in trade settlements.
In the first quarter of 2011, around 7 percent of China's cross-border trade was settled in yuan, a majority of which was done through Hong Kong banks.
"We need to increase the percentage of trade settlement in yuan," said Chan, who carried this theme in his recent overseas trips.
"When I met with people on the mainland, I tried to emphasize Hong Kong's international connections and give them our vision that Hong Kong is not only for Chinese investors and institutions, but also attracts a lot of international players as they can invest in the mainland market," said Chan.
"We are not only doing business in offshore yuan. That is not what we are after. What we are after is to improve Hong Kong and make Hong Kong more competitive, so that we can serve what we see China in 10 years," said Chan.
(HK Edition 07/15/2011 page4)