School policy on minorities called discriminatory
Updated: 2011-07-12 09:13
By Guo Jiaxue (HK Edition)
| | | | | | | | | | | |
| --- | --- | --- | --- | --- | --- | --- | --- | --- | --- | --- |
|   | | Comments() | | Print | | Mail | | Large Medium  Small | 分享按钮 | 0 |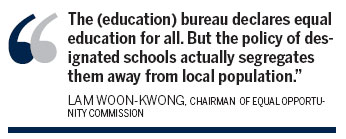 The Equal Opportunity Commission (EOC) has challenged the Education Bureau's current policy on ethnic minority education, saying that the policy has "largely failed", and possibly is "discriminatory".
The EOC released the report of a nine-month study on ethnic minority education in Hong Kong on Monday, revealing difficulties for ethnic minority students trying to learn the Chinese language and to pursue quality education.
"Most can only make high school, and start working when they turn 15," said EOC Chairperson Lam Woon-kwong.
The number of enrolled ethnic minority students shrank by more than a half from primary to secondary schools.
The chance of getting into college for them is only one seventh that of local Chinese students, Lam said.
Only 41 ethnic minority students are taking local degree courses in the 2010-11 school year, while the number of Chinese students is 16,515, according to the report.
That will also prevent ethnic minority families, mostly low-income, from moving upward, he added.
The EOC said it believes the limited Chinese language abilities of these students have been the major obstacle in their pursuit of educational advancement.
When attending primary schools, Chinese children are already able to read and write some Chinese, but ethnic minority kids have almost no knowledge at all.
Therefore, most ethnic minority students go to so-called designated primary schools.
These are English language schools that receive support from the Education Bureau for admitting non-Chinese-speaking students.
But in these designated schools ethnic minority students are exposed only to other ethnic minority students. It is of no help for them to learn Chinese, the EOC said.
After they complete primary school, poor Chinese test scores make it hard for them to be admitted to English secondary schools, usually Band 1 schools that require excellent scores in all subjects.
These designated schools, which the EOC believes should not exist at all, are however increasing rapidly in number.
The number of designated schools soared from 15 in 2007 to 28 this year, especially when Hong Kong has been forcing schools to be shut down in recent years.
Lam stated that the Education Bureau "largely failed" in ethnic minority education by reinforcing segregation rather than encouraging integration.
"The bureau declares equal education for all," said Lam. "But the policy of designated schools actually segregates them away from local population."
Lam said Hong Kong Unison, an NGO, charged that the policy represents not just a "failure" but that it more likely amounts to "discrimination".
The EOC said it doesn't rule out the possibility of going to court to push the Education Bureau to correct the problem, citing the Race Discrimination Ordinance that took effect in 2006.
It also proposed a package of nine recommendations to the bureau, including helping ethnic minority students to start learning Chinese in kindergarten, and developing an alternative Chinese curriculum that can accurately and fairly reflect ethnic minority students' Chinese proficiency for education and employment purposes.
guojiaxue@chinadailyhk.com
China Daily
(HK Edition 07/12/2011 page1)