Is there anything wrong with HK's economic structure?
Updated: 2011-07-12 06:47
By Ho Lok-Sang (HK Edition)
| | | | | | | | | | | |
| --- | --- | --- | --- | --- | --- | --- | --- | --- | --- | --- |
|   | | Comments() | | Print | | Mail | | Large Medium  Small | 分享按钮 | 0 |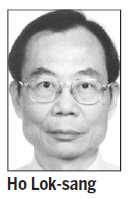 It is often assumed that the economic structure of Hong Kong is "excessively biased toward finance and real estate". Commentators would like to see more manufacturing in Hong Kong, and they believe that the "bias" is policy-driven. Without that bias, Hong Kong would be less "focused on real estate", its land costs lower, and the economy more diversified.
Many people are unhappy about the "hollowing out" of the Hong Kong economy, but this is really a natural development arising from market forces. During the 1980s Hong Kong's manufacturing activities migrated north to the Pearl River Delta area, before moving further inland and then north again.
Hong Kong's entrepreneurs are sensitive to market opportunities. They go where opportunity lies, and Hong Kong's land and labor costs have now risen to an extent that most traditional manufacturing activities cannot survive in Hong Kong.
Hong Kong has become more and more service-oriented, and trade and finance continue to be the main engines driving economic growth.
It is true that if Hong Kong's land and labor costs were lower, its economic structure would have been different. But why are Hong Kong's land and labor costs so high?
Hong Kong's land costs are high because land in Hong Kong is in high demand! Land is in demand for housing, for recreation, for commercial uses, for its financial industry. Additionally, Hong Kong people have indicated a preference to preserve its country and marine parks.
The inflow of capital from the mainland and from all over the world is yet another reason why Hong Kong's land costs are high. Given such high land costs, the only activities that can survive without subsidy are truly high value-added activities such as finance.
Of course we should always review our land policy. Should we create more land, or release more land from our land bank, for developmental purposes? We need to answer this question by carefully weighing the costs against the benefits. Yet there is no guarantee that even if we answer this question correctly that land costs would be noticeably lower.
The fact is that with an economy our size, and given our population as well as our desire to conserve the environment, there is no escape from high land prices - unless the economy is in deep recession, as in the aftermath of the Asian financial crisis. And with high land costs, all economic activities that cannot pay for such high land costs will be driven out.
I for one see no problem in Hong Kong focusing on what it does best, namely trade and finance. I also see a bright future in Hong Kong developing into an arbitration center, an education hub, and a center for testing and certification, etc.
Some people ask why Hong Kong doesn't follow Singapore's example, and retain a more significant share of manufacturing in the economy. But consider the fact that Singapore had about 670,000 foreign workers in 2006, which accounted for 29 percent of its labor force. To be like Singapore, Hong Kong would probably have to import one million workers. We most probably cannot find the space to accommodate this many foreign workers. Do we really want to follow Singapore's example?
Singapore does not have a legal minimum wage. But as of May this year Hong Kong's legal minimum wage took effect. The institution of a legal minimum wage that is higher than that of most manufacturing locations will make the dream of reviving manufacturing activities in Hong Kong even more remote.
Singapore does not impose any "off-limit" restrictions for development, as Hong Kong does with its country parks. We cannot say whether keeping "country parks" off-limit to development is right or wrong. The different policies represent different values. For example, Singapore is more tolerant of prostitution than Hong Kong and prefers to control it rather than outlaw the activity. Singapore also opened its first casino recently. Hong Kong has so far not seriously considered introducing the gaming industry.
So we can see that Hong Kong is not like Singapore because we think differently and we prefer our way of life.
But why is Hong Kong's land cost is so unaffordable? Is there something we can do about it?
We could cut off capital inflow, or we could make Hong Kong unattractive, but either way we would hurt ourselves more than we could possibly afford to.
So I would continue to keep Hong Kong attractive, but I would try to tax away a bigger part of the land rent to help finance a redistribution program to the poor and to the less well-off. Hong Kong presently is too generous with the land-rich class.
But Hong Kong must continue to focus on keeping and improving its status as a world class financial center, with excellent infrastructure, the rule of law, and strong corporate and public governance. Let Singapore go its way; we will go our way.
But we will be open-minded and will learn from Singapore and from elsewhere. We need to understand, however, that there are certain things that we will not do. But then values could change. When that happens, it will be another story.
The author is director of the Centre for Public Policy Studies, Lingnan University.
(HK Edition 07/12/2011 page3)