Building national identity is core of national education
Updated: 2011-06-25 07:19
By Joseph C.K. Yeung(HK Edition)
| | | | | | | | | |
| --- | --- | --- | --- | --- | --- | --- | --- | --- |
|   | | Print | | Mail | | Large Medium  Small | 分享按钮 | 0 |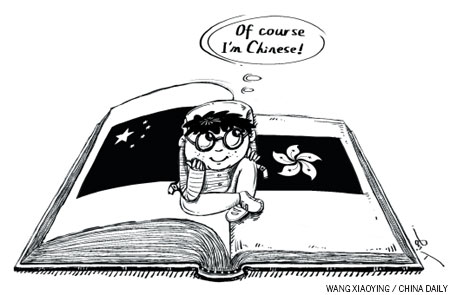 In the context of "one country, two systems", Hong Kong's national education should comply with international common practices and focus on helping Hong Kong residents, especially the younger generation, build national identity. National identity refers to citizens' identification with the sovereignty, political system, history, culture and economic growth of their motherland. It is a process where the citizens develop their identity.
French policies for strengthening national identity are mainly targeted at students and migrants; while the ubiquitous national education in the US has made Americans feel exceptional and proud of their country; Koreans are educated about their national pride from the first day they go to school. According to Alfred Marshall, a political economist, citizenship requires a direct sense of community membership based upon loyalty to a civilization and to the nation. Encyclopedia Britannica has defined civic identity as "a relationship between individuals and the nation, whereby the individuals stay loyal to the nation and enjoy the rights protected by the nation". In this sense, civic identity is an identity of freedom accompanied by responsibility. Therefore, national identity is a key dimension of national consciousness, and an important bond ensuring the survival and development of a nation.
In the "one country, two systems" framework, "one country" is the precondition and foundation for "two systems". Only when all people in Hong Kong appreciate "one country" and "Chinese sovereignty", respect "Chinese politics", embrace the "Chinese economy" and accept "Chinese culture", can we conclude that citizen education in Hong Kong has succeeded and that Hong Kong's return to China has won the hearts and minds of all the people in the city. Therefore, those who criticize national education in Hong Kong as moving against the tide have actually placed themselves on the opposite side of international common practice as well as the trend of the times.
Like the English term "identity", the Chinese word for "identity" also means "identification", which is the dynamic side of this concept. Therefore, the word "identity" in Chinese means both the sense of identity and the act of identification. Identity is actually about "who am I", and addresses three key issues: first, making choices; second, building connections; and third, empowering individuals. Identity has a deep impact on the pattern and rules governing individual behaviors.
National identity is a political concept. It is shaped by citizens' perception of the nation where they feel a sense of belonging as well as their assessment of and emotion for the political, cultural and ethnic profile as well as other factors that define the nation. It is a more sophisticated form of ethnic and cultural identification. According to international common practice, national identity should stand at the core of national education.
Britain governed Hong Kong in a borrowed place for a borrowed time. The British understood that a Hong Kong with a strong "Chinese consciousness" was dangerous for their colonial rule. That is why the British tried every possible means to dilute the Chinese identity in Hong Kong. What they provided was civil education, not national education. This unique situation has created an identity crisis for some native Hong Kongers. For some in Hong Kong, they feel alienated both to China and the Western world. As a result of prolonged colonial education, a few local Hong Kongers have denied their Chinese origin, and refused to identify with the Chinese nation. Some radicals even claimed that they would try to "get rid of their Chinese smell".
Nearly 14 years after Hong Kong's return to China, national identity is taking deeper root in Hong Kong communities, yet some people in Hong Kong are still searching for their own identity. In a public opinion poll conducted by the University of Hong Kong last year on local identity, 57 percent of the respondents believe they are "Hong Kongers", while 43 percent think they are "Chinese". On a scale of 1 to 10, the respondents' identification with Hong Kong and Chinese scored 7.90 and 7.63 respectively.
On May 5 this year, the Curriculum Development Council of Hong Kong released a draft paper for public consultation, with a recommendation for making "morality and national education" a compulsory curricular course. They proposed that the new initiative take effect in 2012, starting from primary schools, and then expand to middle schools the following year. The new course, which will cover five main topics, ie the Individual, Community, Family, Nation and the World, is very important for identity building. The Nation part of the course will include a systemic study on national conditions, and students are required to learn about the natural landscape, culture, contemporary realities and history of their nation, and discuss the opportunities and challenges facing China. This will help students in Hong Kong improve their qualifications, better associate themselves with China and support its national development.
Opening the compulsory course on "morality and national education" is consistent with international common practices. Developed countries in the world never feel willing to give up their national interests. They attach great importance to the cultivation of national identity of their citizens and have introduced very effective measures towards this goal. According to international common practice, patriotism and citizen's responsibilities and obligations for the nation are the core elements of citizen education.
Thus national identity is citizens' self-perception of the nation where they feel a sense of belonging. It includes the self-perception of citizen's identity (whether national identity or civil identity), in terms of a nation's territory, sovereignty, political regime and institutions.
During the Sino-British negotiations on the future of Hong Kong, "one China" had always been a fundamental precondition, because national sovereignty is non-negotiable. It is the restoration of sovereignty over Hong Kong to the Chinese government that ended the humiliation suffered by the Chinese nation in the past century, and enabled the people in Hong Kong to enjoy genuine democracy and extensive rights.
Following the return of Hong Kong and the return of Chinese sovereignty, national identity has become an inescapable question for the people of Hong Kong. There is but one China in the world, and the Chinese people only have one motherland. This must be the shared conviction of the entire Chinese nation, including our compatriots in Hong Kong.
The author is the president of Hong Kong Industry Commerce and Professional Association and a senior current affairs commentator.
(HK Edition 06/25/2011 page3)