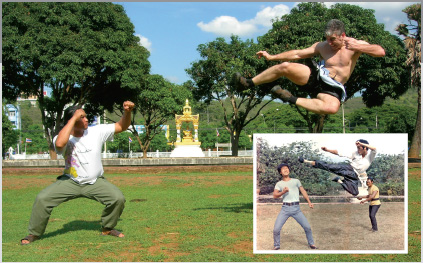 Bruce Lee fan and author Steve Kerridge re-enacts a scene from Lee's 1971 film The Big Boss at the scene where it was shot in Thailand.
Hong Kong is not ready for a Bruce Lee museum yet and it may take decades before the city is able to properly recognize his contribution, an expert on the film star argued.
Paul Li, bibliographer and researcher on the star who was consulted by the Hong Kong government over the museum plans, said he believed all of the plans for a substantial memorial to the star over the years had been doomed to failure.
"There have been plans for adding a Bruce Lee alley inside the lobby of the Hong Kong Film Archive, building a Bruce Lee Memorial Hall in the SkyPlaza and turning the love hotel in Cumberland Road into a Bruce Lee Museum," he said.
"I'm neither a skeptic nor a conspirator but I've always thought these are idiotic, nonsense dreams, because Hong Kong is not ready yet."
Li said it was in the character of the Chinese people to take a long time to appreciate the people who shaped their destiny.
"Look at Sun Yat-sen who we call the father of our nation," Li said. "After 100 years, he got a museum in his honor Maybe in 2046, there will be a museum to Bruce Lee, and then the people will understand."
Li, who is also advising the government on the Shatin exhibition which will open shortly before the 40th anniversary of his death in 1973, said the main reason the movie legend's legacy was ambiguous was because of ongoing debates within the martial arts community about his contribution.
He said he was not disappointed that the Cumberland Road address had not become a museum. "With what the owner was asking for, there was no way to make it come true," he said.
"I prefer it for the property to be left alone. It is a motel now and if we want, anyone can just pay cash and go into one of the rooms of Bruce Lee's old house."
(HK Edition 06/17/2011 page4)