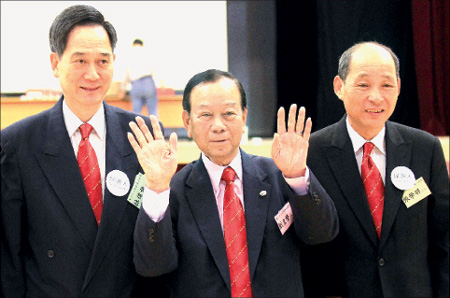 Heung Yee Kuk Chairman Lau Wong-fat (center) acknowledges his supporters after being re-elected as the head of the statutory body on Wednesday. Cheung Hok-ming (right) and Daniel Lam Wai-keung were elected as vice-chairmen. Edmond Tang / China Daily
Prosecutions should not be sole solution to illegal structures, says Lau
Heung Yee Kuk Chairman Lau Wong-fat said unauthorized building works (UBWs) in village houses cannot solely be tackled through prosecutions under the law.
Lau said he "has no other options" but is obliged to solve the illegal structure problem in village houses as his priority.
But he added that he hopes the government will adopt a flexible and lenient approach to its handling of illegal structures.
"The New Territories have an unique history and social background. The so-called illegal structure problem is a historical problem and involves a great deal of matters," Lau said.
"This is not only a legal problem and can't be solved (solely) by means of legislation. It has to be rationalized according to individual situations."
"The government has to be very careful in dealing with the matter to avoid provoking social conflicts," Lau added.
Lau also indicated that the New Territories indigenous peoples are baffled over restrictive land use arising from nature conservation.
Lau urged the government to follow the Basic Law which guarantees protection of land owners's rights.
He emphasized he does not support application of "unjust measures".
Lau, who has held his post for 31 years, began his final four-year term on Wednesday.
Cheung Hok-ming and Daniel Lam Wai-keung remain as vice-chairmen of the authority.
Lau said he felt both "excited" and "disappointed" over having been elected again to head the Heung Yee Kuk.
Some 500 villagers met Heung Yee Kuk representatives on Tuesday and demanded compensation from the government over dismantling any illegal structures at their homes.
In addition, they wanted the law amended so they can build six-story village houses instead of the legally mandated three storeys to accommodate their growing populations.
It was reported that Lau would establish a fund to assist needy owners in clearing their unauthorized structures. The money will come from fines of owners whose illegal structures have no safety problem and are allowed to be retained.
The Secretary for Development Carrie Lam denied the government has been inconsistent in its standards for clearing illegal structures.
Lam said that the number and problem of illegal structures in the city is enormous and the government has been looking for a pragmatic way to deal with them.
Enforcement actions were often taken according to the safety risk involved and urgency of the problem, Lam added.
Lawmakers Cheung Man-kwong and Frederick Fung Kin-kee are the latest caught up in the widening scandal over suspected illegal structures.
Both Cheung and Fung stressed they had never received removal orders from the Building Department.
They said they have contacted the department to clarify whether there are any illegal structures at their flats and will follow the department's instruction accordingly.
Commenting on the report that Cheung had failed to report ownership of the flat, Cheung replied there's no need to report because the flat was jointly owned with his wife and for his own use.
Fung said some illegal structures are exempted under the law but he is uncertain whether his flat is within the area of exemption.
China Daily
(HK Edition 06/02/2011 page1)