Wireless classrooms
Updated: 2011-04-19 08:38
By Kane Wu(HK Edition)
| | | | | | | | | |
| --- | --- | --- | --- | --- | --- | --- | --- | --- |
|   | | Print | | Mail | | Large Medium  Small | 分享按钮 | 0 |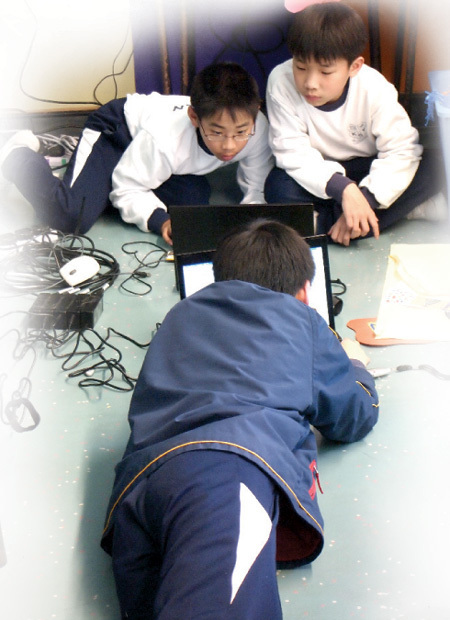 Form 5 students at Kau Yan School browse the Internet to do a research for their school project. Kane Wu / China Daily
A Hong Kong-developed online application for smartphones is taking off in local schools. Developers even hope that iClass will be an asset for helping local students bridge the creativity gap with their Western counterparts. Kane Wu reports.
Normally, students are not encouraged to use mobile phones in classrooms. When they attend Pui Ching Middle School, however, they are required to do so.
"We ask our students from Form 1 up to equip themselves with an Android-based smartphone," says Ma Hoi-hung, the Kowloon school's Information Technology Department head. Students in the school have started doing quizzes or Internet research using Android applications Ma has chosen from thousands of educational applications from the Android store.
"We have a daily session called 'Eye on the world' when we broadcast news clips on the campus TV and ask students to answer related questions on their mobile phones," Ma explains. "And we score them in our web-based study performance system."
In science classes, students sometimes have walking tours around campus, during which they access the Internet via campus-wide Wi-Fi to check out the plants they see on the way.
"There is a tag attached to each plant with the name and basic features on it. There is also a QR (Quick Response) code for us to get connected to the Internet," Form 1 student Natalie Hui says. She uses HTC Desire with a mobile contract that costs her a little less than HK$200 a month. "You just take a picture of the QR code, and the phone automatically links it to the Wikipedia web page that tells you everything about the plant, very simple," she adds.
Natalie is 13 years old. Five years ago, a student of her age wouldn't even know what a QR code is (according to Wikipedia, QR code, short for quick response, is a specific matrix barcode or two-dimensional code, readable by dedicated QR barcode readers and camera phones. The code consists of black modules arranged in a square pattern on a white background. The information encoded can be text, URL or other data). Five years ago, iPhone was still an idea on paper. Five years ago, students would not be lucky to get Wi-Fi in the classroom.
"Now we have a computer, a projector, a television, Wi-Fi, and a Smart Board in every classroom," Ma says, "plus our unique CCTV system that supports online video conferences. You can also zoom documents with the system and display them on the electronic Smart Board."
The government-subsidized school spends a great proportion of its money on high-tech.
"We are actually reducing the number of computers, because the trend is going mobile," Ma said.
However, looking for suitable applications for students in different grades can be hard, since there are so many of them out there. Ma was particularly happy to have found iClass, an interactive class response system developed by students from the University of Hong Kong (HKU) in March.
The application supports most popular mobile devices such as Android phone, iPhone, iPad, iPod Touch and embedded buttons in a lecture room. The modules differ from each platform, but generally, teachers can upload images or text to the system on its computer- or web-based software. Students can draw or write or modify the images or texts in their own iClass application downloaded from App Store or Android Market, and then submit them to the teacher. The system then automatically generates statistics based on students' answers so the teacher will be able to identify the problem when things go wrong. Students can also find each other's work and make comments via the "peer review" function, or simply share them on Facebook. QR code and Internet browsers are also embedded in the application. And most importantly, it's free.
"We believe iClass is the first app in Hong Kong, even in the world, that has reached such a level of interaction," says Law Kam-yuen, one of the developers of the application.
"The current education software is mostly electronic textbooks, which are not that different from paper books in terms of interactivity."
The application originally was Law's final year project at the HKU Faculty of Engineering in August 2010. The faculty's Assistant Dean Wilton Fok was very much impressed with the idea and formed a team specifically to work on it. Law became assistant project manager after he graduated.
"I think it's a wonderful tool to interact with students in class," Fok says. He tried out the application for the first time in the Engineering Economic Finance class in fall in 2010.
"Students were more engaged in discussions with the application. They used to be so quiet when I asked questions, but now everybody wants to share his/her opinion."
Every teacher at the HKU will be evaluated by students after courses are completed. Fok's score shot up 10 percent in the fall semester, a phenomenon he attributes to iClass.
"Students feel that it's more fun in class. And they tend to skip fewer classes because they really enjoy it," he adds.
"Normally you get distracted 20 minutes after the class begins, but with iClass, it's become more interesting and we don't fall asleep any more," says Gavin Liu, a final-year student majoring in electronic communication engineering.
He uses buttons embedded in the chairs to do multiple choices in Fok's class.
"It's like doing a TV quiz show," he jokes. Students from the faculty actually made the button system all themselves.
"It was during the early stages of the application, but I think it made class communication a lot easier because you don't have to speak out to let the teacher know what your answer is," he says. "Chinese people are shy."
The faculty launched iClass officially in December 2010 and after the first week, the application had already more than 1,000 downloads. Other faculties at HKU, schools off campus, as well as IT companies showed interest in the software, Fok says. However, the faculty has no plan to make it a business at this stage.
"We still are in the trial stage. Our goal now is to get more people to download it and use it, so that we can have more feedback and make improvements," he says.
With HKU's teaching development grant, the application team is able to sustain itself and provide free trial services to schools outside.
"Hong Kong has no problem providing the most advanced hardware in classrooms. The problem is software and our rigid curriculum," says Fielie Fung, associate principle of Kau Yan School.
The private primary school on Hong Kong Island is starting a trial program with iClass on iPad in May.
"Most primary schools in Hong Kong are still quite traditional and their mindset is to focus on textbooks and getting good scores. That's why Hong Kong students lag behind their counterparts in Western countries in terms of their creativity," Fung says.
He has traveled to the United States and many countries in Europe and learned how they use high-tech to stimulate students' creative thinking.
The school started a high-tech teaching program three years ago, acquiring 60 laptops, 30 netbooks and 30 iPads, with a specially designed campus-wide Wi-Fi that provides high-speed Internet to dozens of devices at the same time. Students in the school are taught to use computer for homework and research beginning with their first year. Whenever they want to access the Internet, they can rent a device from the e-learning center. Students above Form 4 also have video-editing, computer programming and music composing classes.
The total investment in high-tech exceeds $HK1 million but Fung says the result is quite positive.
"First year after the program started, the Form 6 students performed better than ever in their middle school entrance interviews," Fung recalls.
"The interviewers said their overall ability improved significantly."
Like Ma Hoi-hung from Pui Ching Middle School, Fung is constantly searching for suitable and free software online.
"iClass is the first Hong Kong-developed application I have found so far from the app store," Fung says.
"The resources are out there, but it's up to us how to use them to best facilitate the students."
Fung hopes that iClass developers will add more modules to the current system, further enhancing the level of interactivity. Fok has an even higher prospect.
"Teachers used to use epidiascope to display pictures in class, but later every classroom was equipped with a projector. iClass will be just like that, a default device in the classroom," he says.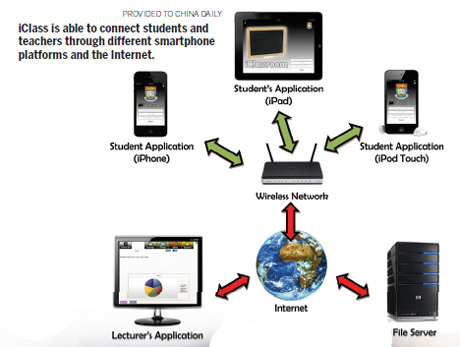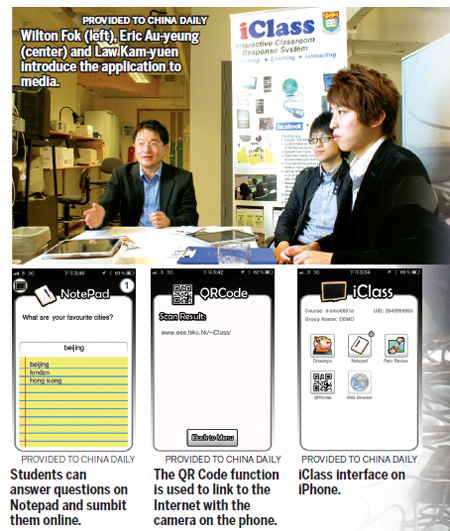 (HK Edition 04/19/2011 page4)