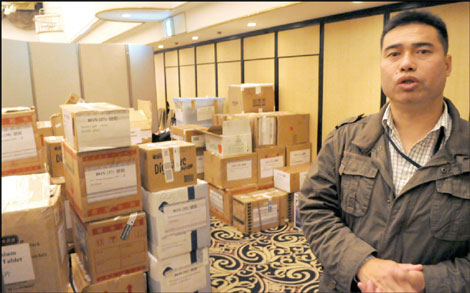 Police team leader Superintendent Barry Cheung shows the store of emergency equipment at the hotel in Tokyo where the Hong Kong crisis team is based.
I had absolutely no idea what to make of the figure flashing on the handheld radioactivity monitor that Fire Services Department officer Chan Fu-shan was running over me in a Tokyo hotel on Sunday morning, but he assured me it was good news.
"Your body's radiation levels are completely normal," he said, showing me the monitor which read 2.05 bq, which stands for Becquerel.
"A reading of anything between 2 and 5 is fine. It's when the reading goes to 30 or higher that you need to start worrying."
I must admit breathing a quiet sigh of relief at the end of a week in which I travelled from Tokyo up to Sendai in northern Japan to report on the aftermath of the devastating earthquake and tsunami.
Fears over the possibility of a leak from the crippled Fukushima plant peaked on Thursday as I landed in Sendai just as many other foreign journalists were withdrawn by their newspapers and agencies because of mounting concerns about the leak.
By the weekend, the crisis seemed to ease. Nevertheless it was reassuring to be given the all-clear before I boarded a plane home. More than 20 other Hong Kong people took advantage of this voluntary radiation check at the government's crisis center in a Tokyo hotel. All of us were given the all-clear.
"If your reading is more than 30 (bq), you need to do some decontamination," Chan said. That would mean taking a shower up to three times and disposing of the clothes you had been wearing and replacing them with fresh ones. If that didn't work, you might need to go to hospital for more detailed checks.
I was shown an information sheet with diagrams at the radiation checking desk showed how people with high levels of radiation should cut off their clothes using scissors, use soap and a nail brush to wash the hands for at least two minutes, then put on fresh clothes and throw the old ones away.
Even if they had no family in Hong Kong to fret about them, no one on a Hong Kong mobile could travel to Japan and remain unaware of either the dangers or the options for evacuation back home.
Along with the anxious "get out of there" messages from my family, my mobile phone rang up to eight times a day with incoming text messages sent to all Hong Kong mobile phone account holders who were on roaming in Japan relaying the government's advice.
The message told me "HKSAR urges HK residents to consider leaving Tokyo or moving south" and updated me with the address of the government's base in the Keio Plaza Hotel and the latest times of the additional Cathay Pacific flights.
Not surprisingly, the number of texts being sent out shows how dramatically the number of Hong Kong people in Japan has fallen since the earthquake and tsunami, although the numbers do not include longer-term residents holding Japanese mobile accounts.
In the first days after the earthquake, around 8,000 text messages were being sent out. By Sunday, that number had fallen to a few hundred. As the aftershocks rumble on, it may be weeks longer before thousands of Hong Kong phones are once more switched to roaming in this battered and benighted country.
(HK Edition 03/23/2011 page4)