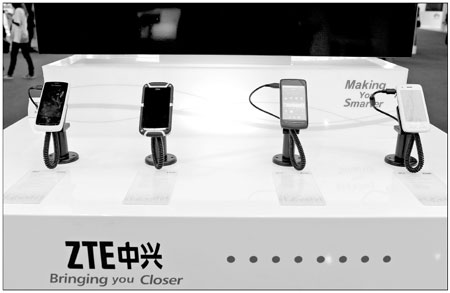 ZTE mobile handsets on display during the Mobile World Congress in Spain in February. The company's president said 2011 will see ZTE become a mid-range to high-end handset supplier. Denis Doyle / Bloomberg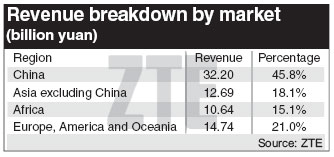 Firm's earnings soar 32% to 3.25b yuan, aided by shipments abroad
ZTE Corportation, the second-biggest telecoms equipment maker on the mainland, said on Friday that it will continue to increase its smartphone shipments in 2011 to help boost its profit margin.
A recent report by IDC, a research firm, lists ZTE as the fourth-largest handset maker in the world by sales volume.
The past year saw ZTE's net profit climb 32.2 percent year-on-year to 3.25 billion yuan, while its revenue rose 16.6 percent to 70.26 billion yuan compared with 2009 on the back of a marked increase in overseas sales.
"We see 2011 as another bountiful year for our business overseas," ZTE's President Shi Lirong said at a media briefing.
But the year will also mark the transformation of ZTE from a company making low-end devices to one supplying mid-range to high-end handsets, said Shi. The company is eyeing a bigger share of the lucrative smartphone business. This year will see more such devices rolled out from ZTE than in previous years, he added.
"It makes sense," Matthew Kwok, deputy research head at Hai Tong (HK) Financial Holdings, told China Daily, commmenting on ZTE's smartphone strategy. "Compared with low-end handsets, smartphones enjoy much higher margins."
ZTE has set a target of selling up to 120 million units of products globally in 2011 including mobile phones, modems and netbooks. ZTE did not give a specific number in terms of how many smartphones it aims to sell, but it did say it is looking for smartphones to generate 30 percent of the total revenue for its terminal products segment in 2011 - up from 25 percent in 2010 - according to Shi.
Shi also reckoned that growth in smartphone sales will help to improve the profit margin of its terminal products segment, which shrank to 20.3 percent in 2010 from 25.3 percent in 2009 despite a robust increase in volume.
ZTE sold 90 million units of terminal products in 2010, a year-on-year rise of 50 percent, thanks in large part to surging demand overseas.
Sales abroad for the first time outstripped the company's domestic business, contributing 54.18 percent of its 2010 revenue, up from 49.56 percent in 2009. In Europe alone, ZTE's sales volume soared 150 percent compared with 2009, while that in the US doubled.
Meanwhile, sales in its home market amounted to 32.2 billon yuan, an increase of 5.9 percent compared with 2009.
The company is continuing to steadily expand its presence in Europe, due to partnerships established with carriers such as France Telecom. Meanwhile, ZTE supplies four carriers in the US, including AT&T.
Looking ahead, the telecom equipment maker is setting its sights on the massive capital expenditure plan of major partner China Mobile.
China Mobile, the world's largest mobile carrier by the number of users, said earlier in the week that it plans to spend 132.4 billion yuan in 2011 to improve infrastructure and add services. "As a major supplier to as well as a strategic parner of China Mobile, ZTE will benefit," said Shi.
ZTE's earnings per share was 1.17 yuan at end-2010, up 25.8 percent from a year ago. The board proposed a final dividned of 0.3 yuan per share and a bonus issue of two shares for every 10 shares held.
China Daily
(HK Edition 03/19/2011 page3)