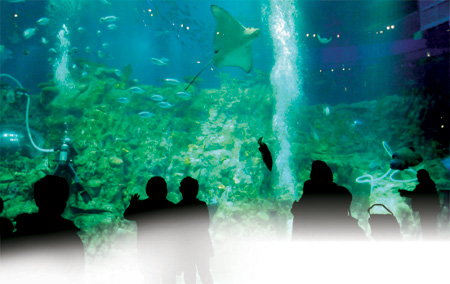 Visitors at the new Aqua City attraction at Ocean Park. Red Door News, Hong Kong / for China Daily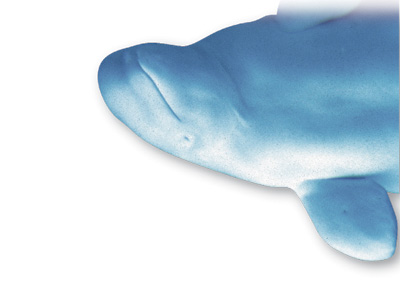 Miguel Iniguez, Whale and Dolphin Conservation Society / for China Daily A beluga whale.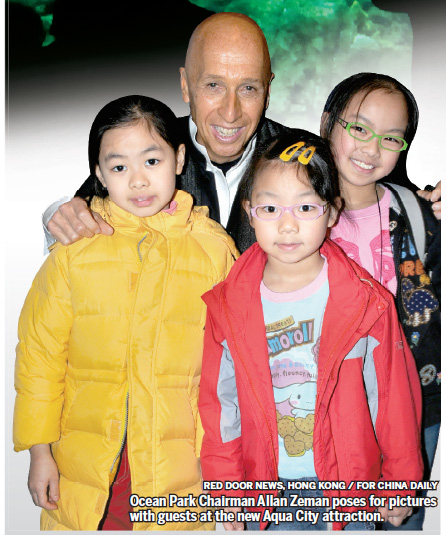 Less than a year after stirring up controversy by considering importing wild bottlenose dolphins from the Solomon Islands, Ocean Park has upset conservationists again with its plans to import wild-caught beluga whales for a new Polar Adventure attraction, reports Simon Parry.
There's no doubt about Allen Zeman's star quality. Within minutes of his arrival at Aqua City in Ocean Park, crowds of visitors queue up excitedly to have their photographs taken with him. The 61-year-old entrepreneur beams happily as he chats with them and poses for pictures.
Zeman, the theme park's chairman, is arguably Hong Kong's most recognizable expatriate and, thanks to his starring role in tourism TV advertisements on the mainland and overseas, almost as familiar a symbol of the city's vitality and success as movie star Jackie Chan.
Aqua City, the theme park's spectacular new three-story super-aquarium with more than 400 species of exotic fish, has given Zeman more reason than usual to light up his trademark grin. Hundreds of thousands of people have experienced it since it opened in January and it helped generate capacity-bursting crowds over the Chinese New Year holiday.
Beyond the park's perimeter, however, not everyone is comfortable about Ocean Park's expansion - and some conservationists are particularly uneasy with its plans to import beluga whales, classed as "near threatened" by the International Union for the Conservation of Nature, from the Russian Arctic for a new Polar Adventure attraction to open in 2012.
Nearly 1,000 people have signed up to a Facebook page expressing "serious concern" over the park's animal acquisition policy and a coalition of 16 environmental pressure groups have called on Ocean Park to stop capturing animals it believes are wild and endangered.
Hundreds of people have also signed an online petition supported by groups including Greenpeace, Friends of the Earth, the Whale and Dolphin Conservation Society and the Humane Society International, which calls into question the way the park sources its animals.
Less than a year after it triggered a storm of controversy by looking into the possibility of importing wild-captured bottlenose dolphins from the Solomon Islands, Ocean Park has now made more waves with the suggestion it might import belugas from the Okhotsk Sea.
Suzanne Gendron, the park's executive director for zoological operations and education, said Ocean Park Corporation has given almost $6 million over the past four years to fund research into the sustainability of beluga whale populations in the Russian waters.
That study, she said, had so far concluded the population was sufficient to allow wild capture, opening the possibility of wild-caught beluga whales being imported to Hong Kong for the Polar Adventure attraction that will open in 2012, if they can't be sourced from existing overseas aquariums, which seems unlikely.
"The indications are that the numbers (in the Okhotsk Sea) are such that there is likely to be a sustainable number but it is premature for me to tell you what that number might be," Gendron said. However, she stressed that an independent review panel would be convened to confirm any sustainability findings before a transfer took place.
Ocean Park hopes to import at least eight, ideally in time for the opening of the Polar Adventure attraction. However, Gendron and her colleagues insist that unless they are totally satisfied the beluga population is sustainable, the new attraction will open without them.
Whatever the outcome of the study, some conservationists will not be happy with the addition of the beluga whales. Sandy Macalister, executive director of the Society for the Prevention of Cruelty to Animals (SPCA) which works closely with Ocean Park on many projects, is among them.
"The SPCA believes that the unnecessary suffering of any animal should always be avoided," he said. "We are very much opposed to the live capture of larger marine life such as beluga whales. We are against any degree of confinement which is likely to cause distress or if they are unable to be kept in a manner appropriate to the normal biological and environmental requirements of their species."
Macalister, who also objected to the idea of importing wild-caught dolphins from the Solomon Islands, added: "The welfare issues involved in capturing, transporting and confining a wild animal such as a dolphin or a beluga whale to a restricted tank or pool cannot be justified."
Another is Cathay Williamson, of the UK-based global charity the Whale and Dolphin Conservation Society (WDCS), who said: "WDCS is very concerned about the continued capture of large numbers of belugas from the waters of Far East Russia for the aquarium industry.
"Belugas are threatened throughout their range by a number of factors including live capture, hunting and pollution and we strongly encourage Ocean Park not to add to these threats by including belugas as part of any new exhibit they are planning."
Williamson said beluga whales had in recent years been bought by countries including Canada, Iran, the Ukraine, China, Vietnam, Thailand, Egypt and Bahrain, but she said: "In addition to the conservation threat posed by live captures, captures can also be very cruel, with individuals dying during the capture operations and, once in captivity, these amazing animals also suffer a significantly reduced live expectancy."
Asked how he felt about the groups' criticisms, Zeman - perhaps appropriately for the founder of Hong Kong's Lan Kwai Fong entertainment zone - answered with a dance music analogy. "Some people like hip hop. Some people like classical dance or ballet," he said. "This is our form, and every group is different as well.
"Some say no animals should be kept in captivity. Some believe only certain animals should be kept in captivity I know we'll never please everyone but I believe that in this world you must do what you believe in."
The greatest justification for Ocean Park's approach, he believes, is the crowds gathering at the entrance every morning at opening time. "When I see all the people here, young and old, with their cameras reading the (conservation) messages, I know we're doing something right," he said.
Ocean Park had already ruled out bringing polar bears to Polar Adventure without any pressure from conservationists, Zeman pointed out. "We went to see places where they had polar bears in captivity already and the facilities were small, the bears were pacing around and it didn't feel right," he said. "We came back and said 'You know what? We're not going to do polar bears'.
"We always try to look first for an animal that is already in captivity that we can get over here. If that doesn't work we will then look to rescue an animal, in the last resort we will look to the wild but the only way we will every take an animal from the wild is if there are independent studies done by top-rates scientists who conclude they are not endangered."
Zeman, along with Gendron and Ocean Park managing director Tom Mehrmann, held talks with the conservation groups in February to discuss the belugas among other concerns. Zeman said he hoped to meet them on a regular basis - but he concedes their ideas on conservation may remain as different as their tastes in dance music.
"With conservation, you have to do what you believe in," he said. "We have to agree to disagree because at the end of the day, the story is about how more people can learn about belugas and sustaining belugas. Most people don't know what a beluga is and that's the importance of what we're doing.
"You will never convince everyone. You have to believe what you do is right and the public is the ultimate judge. As long as we can keep bringing people here and getting the conservation message across while being non-profit, I can put my hand on my heart and say what we do is right."
Samuel Hung, chairman of the Hong Kong Dolphin Society, was among the conservationists who came away from the meeting with Zeman in February unconvinced. "I am not against all animals in captivity," he insisted. "Over the years, I have been very consistent and I have only two requests for them.
"My first request is not to acquire more wild marine mammals. I don't think they need them. They already have 16 bottlenose dolphins. They shouldn't get wild dolphins from the Solomon Islands or belugas from Russia.
"Secondly, they should do a lot better with their education program. They shouldn't get dolphins to do circus-type shows. I'm not asking them to put the dolphins back (in the wild). Since they have them, they should use them for education rather than get them to do jumps and stunts and other unnatural behavior."
Hung said he was unhappy about the import of blue-fin tuna and scalloped hammerhead sharks from Japanese waters for Aqua City. "They say they are saving the species from Japanese fishermen so they won't be put on the fish market and they call that conservation," said Hung. "Isn't that ridiculous?
"Ocean Park keeps saying they are doing everything in the name of conservation and education but they don't know what they are talking about so how are they going to educate the people? People will be miseducated and that is the root of the problem.
"People aren't being educated properly at Ocean Park about what dolphins face in the wild. That is how you educate people and motivate them to change the world for the animals. That makes up for the sacrifice of the dolphins being in captivity."
Gendron and Mehrmann said the blue-fin tuna and the 22 scalloped hammerhead sharks imported to Aqua City were by-catch acquired from Japanese fishermen. The tuna would be tagged and released back into the wild, Mehrmann said.
As part of its conservation mission, Ocean Park intends to set up an Asian Beluga Research Institute which would partner with other facilities holding belugas to advance understanding of the whale, they said.
Whether that institute will have any belugas by the time the Polar Adventure opens in 2012, or whether the new facility opens with just penguins and walruses and empty pens waiting for the belugas to arrive remains to be seen.
But whatever the outcome of the ongoing $6 million sustainability study in the Okhotsk Sea, it looks as if Ocean Park and the conservation groups are going to remain poles apart in their view of how best to preserve the whales' future.
Mehrmann justifies limited wild capture with a straightforward argument that conservation groups view as overly simplistic. "It is much better than everyone going out on a boat to look at the animals or getting in their car or on a train and going to that habitat, because that will destroy the habitat," he said.
"I don't think they (the conservation groups) are ever going to come round and say 'You're right'. They're always going to take the counter position. Every protagonist needs an antagonist, I suspect, in life. There may be a point at which we agree to disagree.
Like Zeman, however, he believes the sheer numbers that Ocean Park attractstell their own story. "We believe the vehicle we have for giving messages to people is far more effective, far more important, than anything we are seeing the groups do," Mehrmann said.
"We are reaching more people, we are able to put in more funding based on the visitation (levels) we have and we can affect more change on the things we can do through the Ocean Park Conservation Fund and the park."
(HK Edition 03/16/2011 page4)