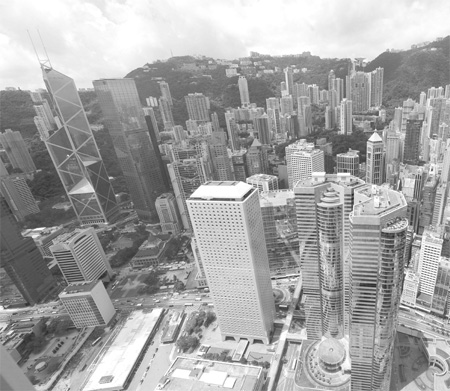 A bird's eye view of residential and commercial property in Central. The chief executive said Shanghai is not in direct competition with Hong Kong. Mike Clarke / AFP
CE: HK's position as a financial center not threatened by Shanghai
Hong Kong's inclusion in the mainland's 12th Five-Year Plan indicates that the city's role as an international financial center is not being threatened by Shanghai, Chief Executive Donald Tsang said in a speech at Beijing University on Monday.
The plan "clearly mentions that the central government will strengthen Hong Kong's position as an offshore yuan financial center," Tsang said. "The onshore yuan business is Shanghai's strength and it is not in direct competition with Hong Kong. Rather, this is a mutually beneficial relationship."
"The yuan internationalization process can reduce the mainland's reliance on the US dollar, as well as elevate the mainland's status in international finance. Nevertheless this process can also lead to more market volatility due to the capital inflows brought by the country's capital account liberalization," Tsang added.
"By leveraging on extensive international business experience and connections, the financial institutions in Hong Kong can act as a buffer for mainland enterprises during the yuan internationalization process," Tsang said.
Hong Kong is vowing to grow as an offshore center for yuan trading as Premier Wen Jiabao allows the currency to become more readily available beyond the mainland's borders to reduce reliance on US dollars in trade and finance. Shanghai, whose economy exceeded the size of Hong Kong's, has pledged to become a world financial center by 2020.
"Yuan internationalization needs the cooperation of the onshore yuan market in Shanghai as well as the extensive business networks from the Hong Kong offshore market. Both cities need to enhance their cooperation to foster the depth and breadth of the yuan internationalization process," Tsang said.
Shanghai will focus on onshore financing activities, while Hong Kong is developing offshore yuan business with help from Shanghai, Tsang said, adding that currently there are more than 150 local banks are participating in the local yuan business.
The mainland's plan includes "international use of renminbi and Hong Kong will play an integral role" in it, economists led by Kevin Lai at Daiwa Capital Markets wrote in a March 2 report, referring to the yuan. "We expect the yuan business to expand significantly in Hong Kong over the next three years and benefit the city's economy," they said.
Sales in the city of yuan-denominated debt, known as dim sum bonds, totaled 13.3 billion yuan in the first two months of 2011 compared with zero in the same period of 2010. The amount of local-currency debt issued in Shanghai rose 13 percent to 267.5 billion yuan.
Meanwhile, Tsang reiterated in his speech that the city will not abolish the current currency peg with the US dollar.
"As Hong Kong is a small and open economy, any currency fluctuation will be detrimental to our economic development. Hong Kong's currency needs to be linked to a strong currency in international finance and that is the US dollar," Tsang said.
Bloomberg contributed to this story.
China Daily
(HK Edition 03/08/2011 page2)