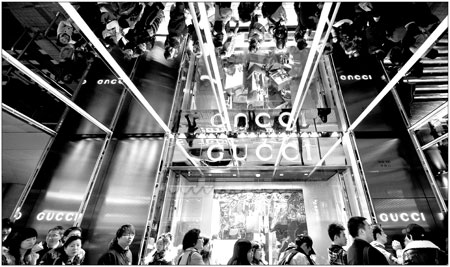 Shoppers line up to enter a Gucci store in the city. According to CLSA, rising Chinese demand for luxury goods is an investment opportunity. Thomas Lee / Bloomberg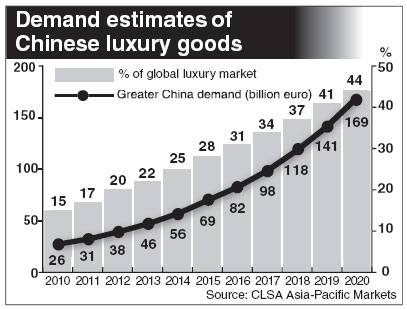 Chinese consumers will snap up 44 percent of luxury goods sold in the world by 2020, up from 15 percent in 2010, according to a report released by Hong Kong-based investment bank CLSA Asia-Pacific Markets. It added that it expects retailers in the city and on the mainland to benefit from this growth.
The report, titled Dipped in Gold, identified rising personal incomes, social aspirations and more stores as the main drivers that will significantly boost luxury consumption in the country.
This growth momentum means a compound annual growth rate of 23 percent in the current decade.
While the Japanese currently top the table in Asia when it comes to spending on luxury goods, they are due to be overtaken by the Chinese as soon as 2014. Luxury sales in China are estimated to reach 22 billion euros ($30 billion) and surpassing total spending in Japan by 1 billion euros, according to the report.
"Although the Chinese spending on luxury goods has been (talked about) for quite a while, our findings show that the pace of increase is accelerating," said Aaron Fischer, head of Asian consumer and gaming research at CLSA.
The rising luxury goods demand by the Chinese are also brewing investment opportunities, which Fischer broke down into five broad categories from which investors can seek exposure. These include apparel brand owners, watch and jewelry retailers, department stores and fashion retailing, cosmetics, and footwear specialists.
"We typically have a preference for brand owners versus retailers as brand owners have better earning sustainability over the longer run as it is difficult to establish new luxury brands given the brand heritage and positioning," wrote the analyst in the report.
Trinity Limited, a high-end menswear retailer listed in Hong Kong, is among the top picks that adopt the preferred business model, said the report. Trinity owns the Kent & Curwen and Cerruti brands and licenses other big names such as Gieves & Hawkes and D'URBAN. The company generates most of sales from the mainland and Hong Kong.
L'Occitane, the French beauty product maker that went public in the city last year, has enjoyed a 40 percent rally in its share price since its Hong Kong IPO. Asia contributes 45 percent of its sales while Greater China accounts for about 17 percent of the total. Analysts at CLSA believe store expansion should drive most of the medium term growth, which means a further 26 percent upside potential to its share price.
On the local stock market, however, share prices of listed retailers have sputtered in recent months after strong gains compared with 2009. Hang Seng Index's consumer goods sub index has slipped 8 percent since November last year.
Fischer said he was "surprised" by the declines. However, he believes that the current correction is only temporary, as the December sales figures of mainland and Hong Kong retailers proved to be robust. And as the earnings reporting season is around the corner, major securities houses will consequently raise their targets based on growth outlook, he said.
China Daily
(HK Edition 02/11/2011 page2)