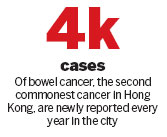 Individuals at risk of colorectal polyps, the precursor to bowel cancer, can now self-predict their risks of the diseases by a simple scoring system developed by the Chinese University of Hong Kong (CUHK).
The scoring system, namely the CUHK Colorectal-polyp Prediction Index, calculates the risk of colorectal polyps based on age, gender, weight, height, family history of bowel cancer, smoking and diabetes mellitus.
The scoring system was developed from two screening groups, one for evaluation and the other for validation.
In the first group, risk factors of colorectal polyps were evaluated in 1,657 people who were recruited from May 2008 to December 2009.
Those people were divided into high-, intermediate- and average-risk groups.
The elderly, males, those with family histories of bowel cancer, smokers, overweight people, and those with diabetes mellitus are believed to be more likely to have colorectal polyps.
The accuracy of the methodology was subsequently validated in the second group of 952 people recruited in 2010.
According to the colonoscopic findings, 81.8 percent of participants in the high-risk groups had colorectal polyps, while 42.4 percent in the intermediate and 29.7 percent in the average group.
One participant, 60, surnamed Ng, who belonged to the high risk group, had confirmed two colorectal polyps. One of them developed into cancer.
He has recovered after resection of the colorectal polyps.
Ng said that he had not acknowledged the problem because his body did not show any bowel cancer symptoms.
"I did not think I had colorectal-polyps because there was no symptom and therefore I had not done any body check-ups. As one of the colorectal-polyps had contained cancer cells, it was likely to spread to other parts of the body," he said.
Kelvin Tsoi Kam-fai, director of CUHK's Jockey Club Bowel Cancer Education Centre, explained that when one's body starts to show bowel cancer symptoms or feel uncomfortable, the patient have normally reached the final stage of the sickness.
"Bowel cancer is preventable, but the incubation period of colorectal-polyps can last 10 to 20 years before they develop into bowel cancer, therefore colonoscopy is recommended for individuals, especially males, classified as high-risk, whereas annual stool tests are an alternative option for those classified as average-risk," said Tsoi.
Bowel cancer is the second commonest cancer in Hong Kong, next to lung cancer.
According to the Hong Kong Cancer Registry, around 4,000 new cases and 1,600 deaths of bowel cancer were reported every year.
The center schedules to recruit 2,000 symptomatic people aged between 50 and 70 for the second round of bowel cancer screening based on the scoring system.
Participants can calculate their own socres and register for the cancer screening program on the website of the center (www.idd.med.cuhk.edu.hk/bowelcancer/en/joinscreening).
China Daily
(HK Edition 02/11/2011 page1)