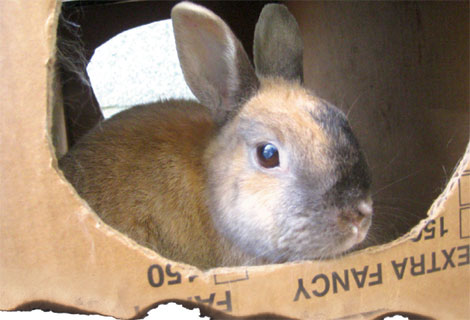 It's supposed to be their year - but animal welfare groups fear the Year of the Rabbit may begin with torment for some animals bought as pets and then abandoned in Hong Kong, writes Simon Parry.
Animal activist Ashley Fruno has good reason to be concerned for rabbits taken on as pets in Hong Kong over the Chinese New Year: She used to have three of them living free range in her Vancouver apartment and knows exactly how disruptive their presence can be.
"They eat absolutely everything from shoes to shower curtains to the furniture and flooring," said Fruno, a senior campaigner for People for the Ethical Treatment of Animals (PETA) in Hong Kong. "For some reason, they have a tendency to love to chew electrical wire. One of my rabbits chewed through the telephone cord more than 15 times."
Fruno was tolerant enough to put up with the domestic mayhem. Her worry is that in the days and weeks ahead, rabbits taken on by families in Hong Kong will be less willing to put up with the pure bedlam that a pet rabbit can bring.
It is the prospect of rabbits bought on impulse or as Chinese New Year gifts that worries PETA, which along with the Society for the Prevention of Cruelty to Animals (SPCA) has launched a campaign to make people more aware of the responsibility of a pet rabbit.
According to the Hong Kong Rabbit Society, rabbits are the third most neglected animals in Hong Kong after cats and dogs with SPCA figures showing that around 200 a year are abandoned by their owners. And the situation could worsen over the Chinese New Year, Fruno believes.
"We have seen in the past how at the time of the movie Finding Nemo everyone wanted to buy fish and when 101 Dalmatians came out, people bought Dalmatians," she said. "We are very concerned that with the Year of the Rabbit everyone will rush out and buy a rabbit.
"Of course everyone thinks rabbits are cute and cuddly but speaking as someone who has had many rabbits in my lifetime I can say while they are cute and cuddly they are also very high maintenance animals that require a great deal of time and resources which most people don't realise."
Despite their sometimes destructive instincts, rabbits can adjust surprisingly well to high-rise living with patient owners. "They can live happily in apartments but they can't live in cages which some people think they can," said Fruno.
"Rabbits require a great deal of exercise. They are marketed in pet shops as animals that can be caged and can be fulfilled in cage whereas in fact that is absolutely not true. The other thing people need to be aware of is that rabbits live for eight to 10 years.
"People assume they may only live for a couple of years, but eight to 10 years is really big commitment of course. You need to be able to look into the future and say 'Where will I be in 10 years time? Can I commit to the rabbit for that entire time?'
"Like cats and dogs, if they are abandoned into the wild they will suffer from separation anxiety and they will die. Domestic rabbits have no idea how to fend for themselves when they are released into the wild."
PETA's advice to people in the run-up to the New Year holiday is not to give rabbits as pets. "Giving pets as a gift is never a good idea because the recipient may not be as excited about the purchase as the giver," Fruno said.
According to Fiona Woodhouse, deputy director (welfare) with the SPCA, the domestic rabbit population in Hong Kong is growing, with people increasingly choosing more exotic species such as Dwarf rabbits and Lop Bunnies for pets.
The most recent census of household pets in 2005 found they accounted for some 2.3 percent of the pet population compared to around 38 percent for dogs, 19 percent for cats, 19 percent for turtles and tortoises, 10 percent for birds and 7 percent for hamsters.
"Rabbits are getting more popular," Woodhouse said. "Since 2004, we are on average homing probably 20 percent more rabbits a year. We homed 126 rabbits in 2010. In 2004, the figure was around 100.
"I think people realise rabbits are interesting creatures in their own right and people are getting more responsible as well. We are also getting a reduction in abandonment rates. In 2004 and 2005, the total number abandoned was 276 and 263 respectively. In 2009 and 2010 it was 188 and 195."
The SPCA believes that the reason for the rising rabbit ownership levels and the falling levels of abandonment is that Hong Kong people are becoming more mature and responsible over pet ownership and generally more aware of animal welfare issues.
"People realise you don't just get a bunny and it lives for a year or two," Woodhouse said. "Rabbits have a life span with proper veterinary care and a good owner of eight to 12 years which is comparable to cats and some dogs."
Owners were also becoming more adept at choosing breeds that might be more suited to their housing - and rabbits are in fact good at adapting to living in apartments with the correct preparation, she said.
"You can toilet-train them," Woodhouse said. "They do have a natural habit in the wild of toileting in a certain area so you can work with that and get them relatively toilet-trained.
"You have to make your flat a little rabbit-proof. Electric wiring is a problem because they like to chew on things.
"You can also train them to a degree with positive reinforcement. I have seen people training bunnies to come to them when they reward them with food. People have also become more educated about the diet of rabbits. As a result we are seeing less dental and gut problems - those are the major issues with pet bunnies."
In the run-up to the last Year of the Rabbit 12 years ago, the SPCA ran a similar awareness campaign in Hong Kong to deter people from giving rabbits as gifts. Encouragingly, statistics show there was no noticeable rise in abandonment after the New Year period.
Whether the same positive result can be achieved in 2011 may depend as much on pet shops and advertising companies as pet owners, according to Woodhouse.
"I am aware that certain pet shops are stocking up on rabbits because they think they will sell more in the Year of the Rabbit," she said. "So while the Hong Kong public has got more sophisticated in their understanding of issues, the pet trade may have become more sophisticated in its marketing techniques.
"We may actually see the pet trade playing on the Year of the Rabbit and hoping to push sales, which would be disappointing.
"Historically we have tended to see more problems with bunnies associated with Easter and with marketing campaigns. People may get a load of rabbits for a TV commercial for instance and film the commercial then find themselves left with five or six baby rabbits who need to be homed.
"More often, in the past, we've seen displays at malls where animals have been used. We've had Easter displays with live rabbits hopping around. It is a little bit short-sighted and very detrimental in terms of welfare because the animals obviously don't like the environment and at the end of the day they haven't got a home to go to."
The SPCA's advice to people is not to buy animals as a gift - and if you do consider taking on a pet rabbit, adopt one rather than buying one from a pet shop. "We always say don't give any animal as a gift," said Woodhouse.
"If you go out and give a random gift to someone who isn't expecting it might be cute at the time but six months later when the animal is bigger it might be neglected, ignored and abandoned. We are trying to get the message out there so that people will be pragmatic and responsible and won't get taken in by some impulse.
"Rabbits - particularly the New Zealand white breed - can grow bigger than a Yorkshire Terrier. They start out as cute fluffy bunnies but they grow into reasonably large animals. People may not realise how big their pet will grow."
Another factor to consider is that many people are allergic to rabbits or rabbit fur - and a rabbit bought for an extended family may suit most members but may leave one sneezing and coughing.
Allergic reactions are the most commonly cited reasons for pet rabbits to be given up, Woodhouse said. "If you are thinking of getting a pet rabbit you need to make sure the whole family is on board," she said. "In a lot of cases you can't return the animal to the pet shop."
Often, the unfortunate result of impulse or ill-advised purchases is an abandoned rabbit. "If they are lucky, owners will bring them to us," said Woodhouse. "If they are unlucky they will get dumped in the street.
"Quite often they will be abandoned at the management office (of an apartment block). They are taken in their cages or left in a box beside the management office and the office will call us up. Or they are left by a rubbish collection point.
"Sometimes they are let go which is a real issue in terms of welfare not just for rabbits but for dogs and cats and any species in Hong Kong. People think if they let them go, they at least have a chance but most animals don't survive too well in the wild if they are domesticated pets. Unfortunately some people still do it."
Nevertheless, there has been a "very positive improvement" in animal welfare awareness in Hong Kong in the 12 years since the last Year of the Rabbit, according to Woodhouse. "People have become much more aware of what they need to do with an animal," she said.
"Things can be improved and in Hong Kong we are limited by the infrastructure in terms of parks and housing restrictions. But people generally are more aware that the animals have certain needs in terms of care and exercise and diet and being played with and they are not just a toy you can impulse-buy and discard."
(HK Edition 01/27/2011 page4)