Cracks showing in Korea's movie armor
Updated: 2011-01-22 07:19
By Elizabeth Kerr(HK Edition)
| | | | | | | | | |
| --- | --- | --- | --- | --- | --- | --- | --- | --- |
|   | | Print | | Mail | | Large Medium  Small | 分享按钮 | 0 |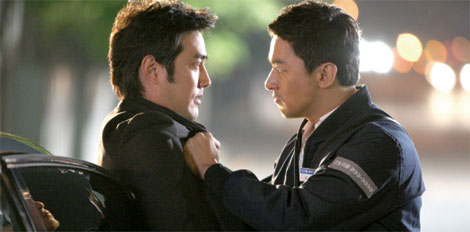 Tae-min and Kim Hyuk (Jo Han-sun and Ju Jin-mo) go mano a mano in the super-macho pale replica of John Woo's classic A Better Tomorrow.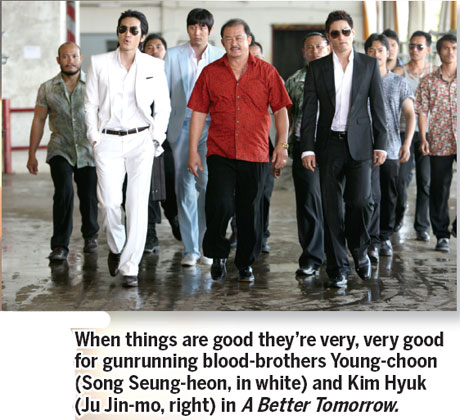 The region's strongest film industry could be believing its own press. Elizabeth Kerr reports.
Cinema is cyclical in its trends, what viewers will accept, gimmicks, and who exactly, aside from Hollywood, is "in". Mexican films have had their day in the sun. Iran has had its moments, as have Japan, Kazakhstan, Romania, and Senegal. Pretty much anyone who makes films has experienced a minor boom that drew attention to the country. And because there are only 192 charter members in the United Nations and around 5 national cinemas that regularly get attention, that means everyone else gets a good 15 minutes from time to time.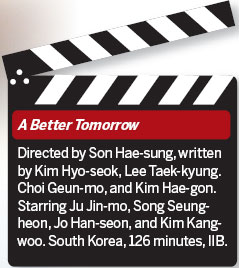 South Korea has been hanging on since the late-1990s and the onslaught of the so-called Korean Wave, when Korean television series, music, and films become all the rage; the "must-see/hear" of any given year. At the time some truly creative and often thought-provoking films were churned out on budgets a fraction of what Hollywood or, regionally, Hong Kong and Japan were working with. The frantic nature of the Wave's fanbase may have eased off, but the Koreans are still lingering. With more money being pumped into cultural industries as a result of the success of JSA, Shiri (which starred a pre-Lost Kim Yun-jin), Peppermint Candy and My Sassy Girl cultural exports topped $18 billion in 2008 - a recession year. Despite that figure, sales may be slowing down but South Korean product still has its fans.
The question becomes one of how to keep them. During the last few rocky years, the Korean film industry has been active, hedging bets and signing all manner of co-production deals/treaties with China and Japan, and maintaining its presence at every major film market in the world. After the massive overseas success of Oldboy and The Host (sequel on the way), it's also become a matter of how to stay on its perch as the most vibrant film industry in Asia. Content hasn't moved nearly as far forward as technical skill, and it's starting to show. The latest spate of glossy, high profile Korean films include a remake of Ghost (yes, that Ghost), more revenge thrillers like I Saw the Devil and The Man from Nowhere, and the multi-generational thriller Moss. Most have been done before - better - and none have really taken the mainstream industry to the next level.
But nonetheless, the industry is clearly feeling confident. Confident enough to get John Woo's blessing to remake his classic 1986 brotherhood actioner, A Better Tomorrow. Very few would dare touch the sacred text that film has become, but here it is. Also opening this week is Bestseller, a genre mash-up about an author suffering writer's block that holes up in a spooky old mansion with the hopes of pounding out her next book. Both films have sky-high production values and the kind of polish reserved for Hollywood's finest hacks, but they also have a weathered feel that suggests we've seen it all before.
A Better Tomorrow's re-envisioning is neither outrageous nor unexpected. As is the case with many Korean films, the central antagonistic brothers hail from the North, separated as youths when one flees to the South. That's as far as the quadraset of writers go in breathing new (unnecessary) life into the old film. Aside from the reference to the north/south divide, it's not a particularly "Korean" film, and doesn't even wallow in the gleeful violence of the revenge thrillers the country has become so renowned for. This version of A Better Tomorrow is a by-the-numbers, macho, brothers-on-opposite-sides-of-the law gun drama that mimics the films Woo and his ilk inspired the Korean industry to start making in the first place. The snake is eating its own tail.
Kim Chul (Kim Kang-woo) plays the younger sibling who joins the police force, and is effectively sent to hunt down his gunrunning gangster brother Hyuk (Ju Jin-mo). Hyuk has found a "real" brother in Young-choon (Song, Seung-heon) and after a tragic turn of events, he's maimed and the gang is taken over by the vile Tae-min (Jo Han-seon). Anyone familiar with the original film will be able to spot who's who. And it's not a pretty sight. Director Son Hae-sung proved he could handle action with Rikidozan, but Tomorrow was never just about the (utterly ridiculous) shoot-outs. To be fair, Song, Ju, and Kim don't have the charisma much less the skill to compare with Chow Yun-fat, Ti Lung and Leslie Cheung. But more than that, this A Better Tomorrow isn't the game-changer Woo's film was.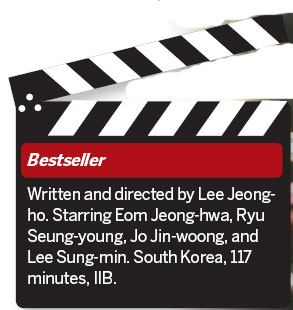 In Bestseller Baek Hee-soo (Eom Jeong-hwa, Haeundae) is an author scandalized by accusations of plagiarism hiding away in a small town where she hopes to cure her writer's block and vindicate herself. She's there with her daughter and before you can say "bizarre old lady in the attic" Hee-soo starts to lose her mind (we know this because her hair gets increasingly frizzy). Or does she? After using her creepy daughter's creepy imaginary friend's sad tale of death for her next book, things really start to unravel for the laughably hysterical Hee-soo - and this is about half way in. It's here first-time director Lee Jeong-ho starts piling on the K-horror conventions and loses any semblance of narrative focus. Sam and Dean Winchester could solve the big mystery in Bestseller - is there a haunting and a murder afoot? - in about five minutes, leaving them with nothing to do for the other 35 on any given episode of Supernatural and that's precisely what happens here. Once the mystery is solved, the town's deep dark secrets take center stage and the film huffs and puffs to its desperate finish line. What began as psychological horror bafflingly morphs into a rote thriller, complete with prodigal sons (where do these guys come from?), unrequited love, and last minute heroics.
It's understandable that there's a strong instinct to repeat what works for any artist - or group of artists. If weepy tearjerkers about dying spouses sell tickets then tearjerkers it will be. At this stage of the game Korea is a brand, and its commercial films have an identifiable veneer that no one wants to tinker with, no matter what the material may demand. That's the kind of thinking that brings an industry's 15 minutes to a close, and also the kind of thinking that, when it gets old, really shows its age.
A Better Tomorrow and Bestseller opened in Hong Kong on Thursday.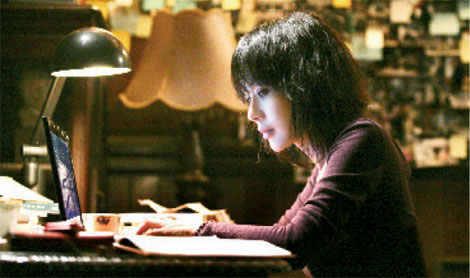 What's an author with writer's block to do? Spend time in an abandoned orphanage possibly haunted by a murder victim of course. Eom Jeong-hwa as writer Baek Hee-soo in Bestseller.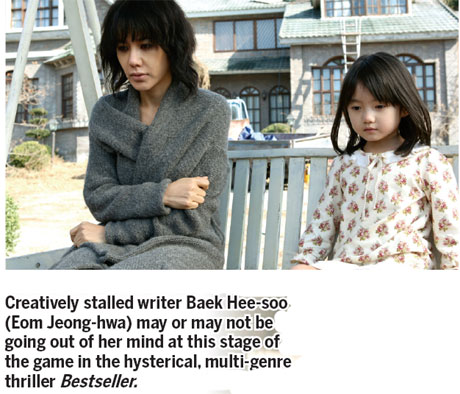 (HK Edition 01/22/2011 page4)