A rude awakening
Updated: 2011-01-07 06:40
By Andrea Yu(HK Edition)
| | | | | | | | | |
| --- | --- | --- | --- | --- | --- | --- | --- | --- |
|   | | Print | | Mail | | Large Medium  Small | 分享按钮 | 0 |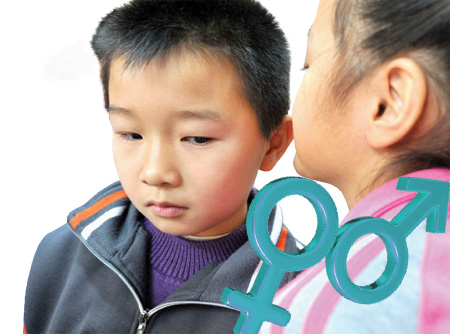 Many taboos remain when it comes to teaching sex education to students in our schools. Experts in the field fear the lack of proper information poses high risks to the health of our young people. Andrea Yu reports.
Cheeks redden and kids giggle. Children's eyes and ears are shielded by doting parents. It's a signature response to any mention of the notorious three-letter word. Sex.
But shyness and embarrassment among teachers, parents and students are keeping kids in the dark at a critical developmental stage in their lives. A 2009 study from Peking University shows proof of the lack of adequate sex education.
Half of respondents didn't use any form of protection the first time they had sex. Among females who had lost their virginity, 20 percent had become pregnant, according to the survey.
More than 22,000 individuals aged from 15 to 24 were surveyed across 24 provinces on the mainland. The survey didn't include any respondents from Hong Kong, which may lead some to believe that the comparatively more cosmopolitan city would be more advanced and on top of students' sex education.
But results from a recent survey on condom use and awareness conducted by local women's rights NGO Zi Teng shows that Hong Kong fares no better in educating its youth.
Nearly half of all respondents (46.7 percent) incorrectly believe that Vaseline is a suitable lubricant for use with condoms. And only 55.7 percent of respondents say they use condoms every time they have sex, while just 35.4 percent are married or have a fixed partner.
Twenty percent rely on packaging instructions for the proper use of condoms. If a condom loosens during use, 69 percent incorrectly believed it was okay to refit the condom, whereas loosening actually indicates that the condom is too large or small.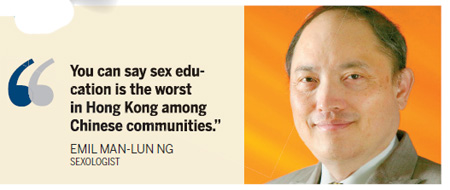 Ng A Shan, organizer of Zi Teng's survey, wasn't surprised by the results. "Actually, they are under our expectations," says Ng, who worked with a team of about 10 volunteers to conduct interviews, collect and analyze data.
While condom use represents only one part of sexual knowledge, it gives us an indication of where the population stands in terms of this touchy topic. Ng believes that opinionated parents are keeping teachers from fully executing the sex education curriculum.
"Parents don't want teachers and schools to talk about it. They believe that it will encourage students to start having sex earlier."
But there's still plenty of work to be done in schools. The city's Education Bureau (EDB) has made efforts to address concerns in sex education through an "on-going mission" to keep school curriculums up to date.
The EDB plans to augment the sex education curriculum with a new subject entitled "Life and Society" to be implemented in September 2012. The new subject addresses topics such as the "meaning of romantic love and its relationship with sex" and the "reflection on one's attitude towards sexuality", but topics such as methods of contraception and the proper use of condoms are not included in the core learning elements.
In addition, while the EDB works in close partnership with organizations like the Family Planning Association of Hong Kong (FPAHK), to offer professional development programs for teachers delivering the sexual education curriculum, participation in these commissioned courses is not enforced by the EDB.
The same goes for testing students' knowledge of sex. Schools are encouraged to use their own assessment policies and methods based on their students' needs, but according to the EDB, "as sex education is concerned, there are no assessment methods that are classified as 'mandatory'."
Without mandatory training and testing, it remains unknown whether teachers are adequately equipped with the knowledge to deliver the sex education curriculum or if students actually learn anything from it.
Lee expresses equal concern when it comes to education. "There are time constraints on implementing sexuality education, due to tight school curriculums ... the importance of sex education still is subsidiary as it is not an examination subject."
Due to the lack of sex education available in classrooms, students, instead, are turning to their friends, or to media outlets such as the Internet and adult video. Significantly more respondents first learned about condoms from the media (52.4 percent) as opposed to school (37.2 percent). But this proves to be an unreliable source of sex education information.
"The media carries a lot of incorrect messages," says Ng, who found that asking for advice from friends shows no better results. "Some girls believe they can use Coke to wash themselves after sex to prevent pregnancy. They were told by multiple friends about this and were even surprised to hear that the method is incorrect."
Ng also believes that government funding is being inappropriately targeted to so-called "dangerous groups". "They focus their funding to teach sex workers or homosexuals to use condoms, but they're not teaching students or parents. They need to be more comprehensive and address the whole society," Ng says.
Dr Emil Man-Lun Ng sympathizes when it comes to government funding. He's been conducting sexology research and delivering sex education training courses for over 30 years. Now that he's retired, Ng says it will be difficult to find someone willing to take on his research and training in a neglected field of study.
"As long as you submit your project with the name 'sex' on it, it will be low in priority," Ng says.
But Ng believes that it's neither parents nor teachers to blame for our city's insufficient knowledge of sex education. According to him, 156 years of British colonial rule has created a deep-rooted religious conservatism that encourages the public to shy away from sex.
"The British have infiltrated the city with conservative Christian teachings. All the government officials and leaders are either Catholic or Christian, or come from elite schools with religious backgrounds. They pay very little attention to sex education, especially with something like wearing condoms," says Ng.
In response to Ng's statement, the Hong Kong Chinese Christian Churches Union had no comment.
"You can say sex education is the worst in Hong Kong among Chinese communities," Ng says.
In spite of his knowledge and experience, Ng believes that it is a long road to remedy the situation. "I think you cannot expect to have too much change in the coming 10-20 years. You have to wait until all these generations of government officials go away," says Ng.
Grace Lee, the Education Officer In-charge at the FPAHK believes the problem stems from social taboos on sexuality. Parents believe they are protecting their children's innocence and in turn are unable to provide them with the necessary sexual information.
Lee also points out that Hong Kong's demanding work life has had a negative impact on parent-child communication.
"Many parents have long working hours, and there's not much time for family members to share time together. As a result, many young people are not used to sharing their needs and concerns with their parents. If they encounter any problem related to sexual and reproductive health, they may feel unwilling to seek help from parents or other family members," Lee says.
She believes that adequate training and education of the public needs to be addressed in order to improve the state of sex education.
"Many young people are ill-informed with respect to their own sexual and reproductive health. There is a need to step up efforts to promote and provide comprehensive sexuality education for all young people through government leadership and multi-sectoral cooperation," Lee says.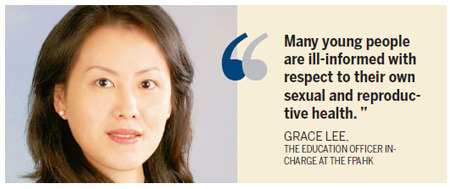 Ng chooses to focus his efforts on making progress with sex education on the mainland, with the hope that Hong Kong may follow suit.
Zi Teng's Ng A Shan believes knowledge is only one part of the puzzle, at least when it comes to contraception. She is baffled at how barrier contraception technology has advanced so slowly, and believes that the design of condoms makes them too difficult to use.
"It's very backward in its design. With all this scientific development, we can go to the moon but we're still using the same plastic condoms. We should have more choices, to use something other than condoms," says Ng. Since its invention in the 1920s, the latex condom has changed little in design.
Come 2011, the FPAHK will be due to conduct another Youth Sexuality Study. The city-wide survey has been conducted every five years since 1981. It tracks changes in the sexual attitudes, experiences and knowledge of teens and young adults up to age 27.
Results from the 2006 study highlight ongoing concerns in sex education.
"Indeed, according to FPAHK Youth Sexuality Survey 2006, there had been no significant increase in knowledge in the areas of fertility and contraception over the past five years," says Lee of the FPAHK.
The proportion of teens who have dating experience is increasing, especially in Forms 1 and 2. The proportion of teens with experience of sexual intercourse also is increasing.
Both males and females increasingly feel more confident that the sex education they receive is adequate. That could lead teens to believe falsely they are prepared to have sex.
The updated study results for 2011 will provide a more comprehensive and Hong Kong-specific look at the state of sex education in Hong Kong. But if Zi Teng's survey is any indication, there's plenty of work to be done.

(HK Edition 01/07/2011 page4)