Top-notch watches have long been a passion of many Hong Kong people, especially men. In a city where you can't show off a flash car in a driveway, as you can in London, New York or Los Angeles, an expensive and finely crafted timepiece is the perfect status symbol. And many have turned their love of watches into a collectable habit.
Hong Kong watch aficionado Antonio Arancio says he's been fascinated by watches since he was 12 years old, when he became intrigued by the gold color and decorative dials of his parents' watches. Today, he's particularly attracted by the movement contained within the watch. "I have one of the first Chopard L.U.C. movements; it's a lovely watch and stunning movement and overall finish. I feel every collection needs a Jaeger-LeCoultre and I have the Reverso Day Date - the case can be reversed so if the user was playing polo and got hit by a ball the watch would not get damaged. Another watch that I really had to get was the Co-Axial movement by the English master watchmaker George Daniels."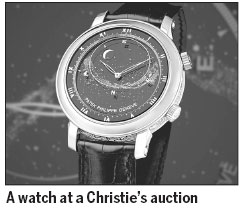 Sam Hines, head of sales of Christie's Watches, says that a number of key elements affect a watch's value. "They include the rarity - how many examples were produced; the condition of the case, dial and movement; brand recognition; the complications; and what accompanying items does the watch retain such as original certificate and presentation box," he explains.
"This year we have seen our biggest year of watch auctions at Christie's," he adds. "The market is extremely buoyant and at every sale we have sold over 90 percent of the watches offered. In 2003, our world-wide sales totalled $18 million. This year we achieved a record breaking $91.2 million. We have more buyers than sellers, which is a terrific position to be in."
Not surprisingly, Asia is one of the strongest and fastest growing markets, particularly in terms of Chinese buyers. "Brand recognition is huge in Asia," says Hines. "The more limited the edition the better. There is also an extremely strong demand for pocket watches of all types with a main focus on enamel works of the greatest quality."
Auctions are not the only source. Arancio buys his watches from shops that offer good service along with reasonable prices. "This is important when a watch needs servicing," he says. "There are second-hand watch shops in Hong Kong, some better than others. The most important thing when buying second-hand as an investment either online or in a shop is to be knowledgeable about the watch you want, its movement, date of manufacture, dial hands and so on, as there are many fakes around."
However, he feels that the market is becoming too expensive for a variety of reasons. "I guess the huge bonuses in the financial business in the past (have had an effect). This probably drove designers to create new watches but the price made many of these stunning watches prohibitive for the normal collector."
He keeps up with trends and designs through studying websites and books. "Good watch sites include Timezone.com, the Seiko and Citizen forums and watchuseek.com," he notes.
However, he says that for most collectors it is the love of watches rather than investment opportunities that drive them. "The investment side can mean buying watches way outside most people's price range and maybe watches they do not really like. A few days ago I saw an old but lovely Rolex Sea-Dweller for HK$79,000, which is more than the new one and I find that hard to understand. So here is an investment watch - but would I buy it just for that?"
And do collectors wear their watches? Arancio does. "I mainly wear my Rolex, but I do rotate many of my watches. I like to wear the Chopard at the weekend and the Zenith when I need a timer."
(HK Edition 12/24/2010 page2)