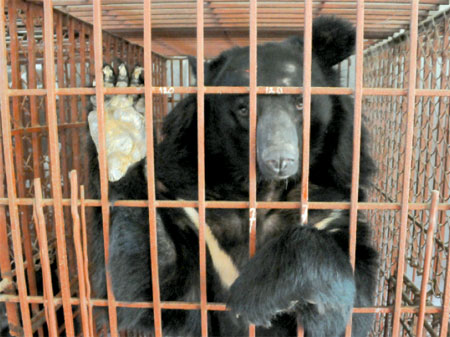 A bile bear stares out from his cage in northern Vietnam. Red Door News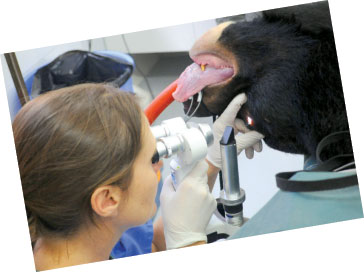 Animals Asia Foundation vet Kirsty Officer operates on 113kg bear called Halong - rescued from Halong Bay - at the foundation's Vietnam bear rescue center. The operation is to remove rotten teeth. Red Door News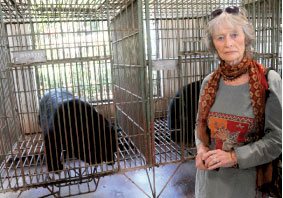 Actress and animal rights campaigner Virginia McKenna inside a bear farm in northern Vietnam. Red Door News
It's sold in small, expensive vials to tourists from Hong Kong and Asia as a health tonic to improve your liver function, your libido and your general health. But the bear bile sold to visitors in Vietnam is not only cruel and illegal but potentially deadly to those who use it. Simon Parry reports.
It's no exaggeration to call them the luckiest bears alive. With food, open air, good company and all the bear necessities, they have found their way out of a living nightmare and into an animal sanctuary in northern Vietnam where the cost of caring for them is an estimated $16,000 a year per bear.
Months ago, the lives of the five Asiatic black bears - known as Moon Bears because of the crescent-shaped white patch on their chests - were hellishly different. Kept in cramped, squalid cages near Halong Bay, they were regularly drugged and milked for their bile which was sold to Asian tourists.
Crude catheters would be forced into their stomachs to extract the bile sold as a tonic in traditional medicine and said to cure liver disease and a variety of other illnesses in the popular seaside resort, which attracts thousands of Hong Kong visitors every year.
After years of lobbying and undercover investigations by the Hong Kong-based charity Animals Asia, police and government officers raided one of the farms near Halong city and arrested employees and tourists over the illegal trade.
Earlier this year, five of the 24 bears on the farm were finally freed and handed over to Animals Asia which has been looking after them since at its bear sanctuary north of the capital Hanoi where their lives have been transformed. Their new home is truly bear heaven.
But despite the efforts of Vietnamese officials and Animals Asia the poison trade they were freed from is continuing apace with hundreds of bears being milked for bile in the Halong Bay area and more than 4,000 in the country as a whole, according to the government's own figures.
The bear bile sold to tourists in areas frequented by Hong Kong visitors is not only produced by a horrendously cruel trade but is also potentially deadly to humans because it is extracted from diseased and infected bears kept in appalling conditions.
Animals Asia founder Jill Robinson said her group had collected ample evidence of how tourists were being taken on "tours" to illegal bear farms to buy bile and she said: "For anyone in Hong Kong tempted to join one of these tours, please consider the years of cage confinement and abuse the bears suffer.
"The reality is that the bear bile you buy is not only easily replaced with herbs, but comes from diseased and dying bears and causes sickness and death in those that consume this contaminated 'cure'."
Traveling with Robinson and Virginia McKenna, wildlife campaigner and star of the 1966 film Born Free, we found Asiatic black bears kept in filthy cages being illegally farmed in another area north of the Vietnamese capital Hanoi where tourists are taken on tours to buy bile.
There, in a covered courtyard in front of a family home, McKenna, who heads the Born Free Foundation, clasped a hand over her mouth in shock as she watched an emaciated caged bear claw dementedly at his bloody tongue with its paw.
"It was absolutely one of the worst things I have seen in my life," said the 79-year-old actress afterwards. "It is so evil. I will never, never forget it."
The village of Phung Thuong we visited is home to a booming black market trade in bear bile for traditional medicine smuggled out of Vietnam and sold to traditional medicine users around the world - often in the hand luggage of Asian tourists.
In yards, tin shacks, gardens and stretches of scrubland, a grotesque cottage industry has sprung up with scores of families making a living out of the endangered bears. Crammed into small cages they will never leave, the bears are milked for bile that sells at up to $25 a milliliter, equivalent to the weekly wages of a Vietnamese factory worker.
Riddled with disease and scarred with wounds from banging themselves against their cages, the tormented creatures are drugged and have syringes and crude catheters regularly inserted into their gall bladders to extract the bile.
The bile is mixed with wine or taken in powder form to improve sexual potency and to treat a variety of ailments ranging from hangovers to liver and heart diseases. But one of the country's leading traditional medicine experts said the bile extracted in these crude conditions was so contaminated and poisonous and he had personally seen three people die in agony from its effects.
In Phung Thuong alone, there are more than 350 bears - around one for every village household - kept by residents who exploit a loophole in the law by claiming they keep the bears as pets or tourist attractions to avoid a formal ban on bear farming in Vietnam.
Wary of our presence and of the local government official accompanying us on our visit, the families at each home insisted they were keeping the bears as pets and had not milked them for bile since laws were introduced officially banning the practice in the 1990s.
Littered on the floor around the cages, however, were wire nooses, canvas straps, syringes, boxes of antibiotics and other tell-tale signs that these bears were being milked for bile.
Bears, some with paws missing from their trapping in the wild, others with abdominal wounds from bile extraction, rocked back and forth in their cages, gnawing at the bars with broken teeth and banging their heads repeatedly against the cages.
When we looked in, some shrank back in terror into the corner of their cages, which are barely large enough for them to turn around in, while others threw themselves against the bars in panic.
"I keep them for conservation purposes," said one 63-year-old bear farmer called Mrs Loc, who keeps 29 bears in a compound at her village home, without a hint of irony. Some of the bears were skeletally thin and many were clearly deranged by their captivity and treatment.
In another household where 30 bears were housed in a cramped tin shack, a man called Mr Phuong offered to sell the bears when Ms McKenna asked if he would release them to a sanctuary. "I paid up to $5,000 for each of these bears," he said. "I will sell them to you for $3,000 a bear."
Animals Asia has found that tourists from around the region make organized visits to the bear farms of Phung Thuong and other bear bile villages in northern Vietnam to buy freshly-extracted bear bile which they usually smuggle home in their hand luggage.
Although local laws state bears must not be farmed for bile and must be micro-chipped and checked, the system in Vietnam was described by Robinson as "shambolic". "We tell officials what is going on. They say a bear farm is going to be closed, a group of officials pay a visit and then nothing happens," she said.
A total of 69 bears have been freed from bile farms - including 19 earlier this year - and taken to the $1 million Animals Asia bear sanctuary but there have still been no court convictions for illegal bear farming in Vietnam despite the apparent scale of the industry.
Robinson believes it is evidence of the sometimes deadly effects of taking bile extracted from bears farmed in such primitive conditions rather than any humanitarian considerations that will bring an end to the trade.
"It should be stopping because of the way bears are treated. Instead, it is going to be the impact on humans that make a difference ultimately," she said. "Whatever works is fine as far as we are concerned.
"We have treated farmed bears with cancerous tumors up to 7.5 kg in weight inside them. We see blood and faeces and puss and cancer cells within the bile juice that comes out of them. People are consuming bile from severely degraded bears so as you can imagine, it will make them extremely sick."
Nguyen Xuan Huong, chairman of the Vietnamese Traditional Medicine Association, told us how he had treated three patients who died slow painful deaths after consuming bear bile, including an acupuncturist friend who drank bear bile in wine given to him by his son.
"I treated him for a year but he died. There was nothing that could save him ... I felt very sad and I think a lot about this friend I lost." Hoang said he was currently treating another patient suffering from bear bile poisoning whose fingernails had turned black.
Hoang said he had never prescribed bear bile in 40 years of practicing traditional medicine. Its use was promoted by word of mouth among Vietnam's nouveau riche, he said, but it had no medicinal benefits that are not available in alternative herbal treatments.
"Law enforcement needs to be stronger against people who keep bears in farms," he said. "Keeping bears should be prohibited altogether to deal with this problem. The law should be enforced more strongly."
A survey of 152 traditional medicine practitioners in Vietnam conducted by Animals Asia found 93 percent oppose bear bile farming and 76 percent have never prescribed bear bile. And yet the underground industry continues to flourish, targeting Asian tourists as its prime outlet.
The prospects for most of the caged bears are bleak. Even if officials step up enforcement, few of the 4,000 bile bears - many of them diseased and riddled with cancer - would make it to the Animals Asia sanctuary.
For a handful of rescued bears, Animals Asia and the Vietnamese government is considering a trial release back in to the wild in the wooded mountainsides close to the sanctuary.
"We would have to start with three to five bears at most in a protected area of national park," Robinson said. "The (Vietnamese) government is quite interested in the concept. Before, we always said these bears aren't appropriate for release into the wild because they have missing limbs and teeth. But this is a unique situation."
International experts had been consulted and Robinson said she had been warned of the possibility of the bears being recaptured by surrounding communities for bile extraction or even for their paws, a delicacy in some restaurants.
"We have been told to prepare ourselves, because if it does go wrong, it will go catastrophically wrong," she said.
The most immediate challenge, however, is to get stricter enforcement of existing laws by Vietnam and to persuade tourists not to buy bear bile.
Robinson said the trade was pointless when effective herbal remedies were widely available and just as effective. "No one will die from the lack of bear bile," she said. "Ironically, though, it seems people are now becoming sick and even dying from taking it."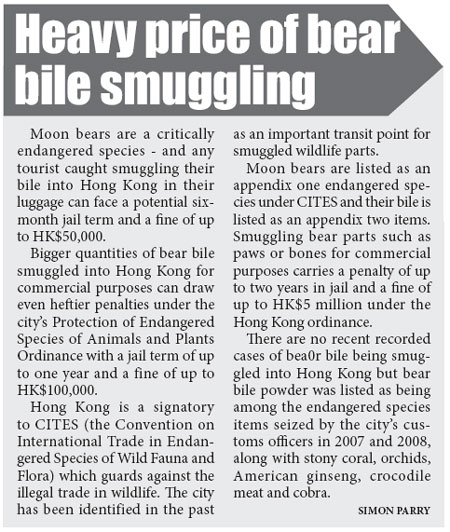 (HK Edition 12/02/2010 page4)