Sherry Tsai (2nd left) and her teammates hold the flag of the HKSAR with Timothy Fok (3rd right), president of the Sports Federation and Olympic Committee of Hong Kong, after winning the 400-meter freestyle medley relay at the 2009 East Asian Games in Hong Kong. Provided to China Daily
From the fiercely competitive swimming pools to the glamorous but extremely demanding job of a TV presenter, champion girl Sherry Tsai Hiu-wai's career transition has been remarkably seamless and triumphant. Kane Wu reports.
Sherry Tsai Hiu-wai feels pretty lucky. The seven-time winner of the Hong Kong Best Athlete Award, holder of 12 Hong Kong swimming records, medalist in numerous international and regional sports events, has become a leading local television presenter. The former top swimmer seemed never at a low during her sports career. In making the successful transition to television she applied techniques she learned as a young athlete.
"I started swimming because my younger brother, who suffered from asthma, needed company in his swimming class at the Hong Kong Sports Institute," the 27-year-old "flying fish of Hong Kong" told China Daily. Within a year, she completed all levels of the training class and was recruited to the Hong Kong junior swimming team. By the next year, she was winning races as a representative of the city.
She became the first Hong Kong swimmer to win a silver medal at the World Youth Olympic Games in 1998. After training alongside top swimmers from across the world as a member of the UC Berkeley team in the US, she snapped up a gold in 100-meter backstroke in the 2005 World Universiade Games. Since 2000, she has participated in the Olympic Games three times in succession and was appointed flag holder for the Hong Kong Delegation at the opening ceremony of the 2004 Athens Olympics.
With two relay-race bronzes in the East Asian Games held in Hong Kong last year, the veteran swimmer waved goodbye to the pool. But Tsai sought an even more high-profile career after retirement. She now co-hosts Sports World, a weekly news program on Television Broadcasts, the city's most popular TV channel. The transition was smooth.
"I wanted to try different things after I retired and TV hosting sounded tempting," said Tsai. "I talked to my agent at the time and she happened to know someone working at the channel, who arranged all this for me."
So the dynamo, formerly nicknamed "muscle girl", started to pose and smile for the camera. "This wasn't easy for me initially, honestly," admitted Tsai. Having been interviewed hundreds of times as a swimmer she still felt it a bit challenging to "appear confident and take everything under control" in front of the camera. "I felt like I was reading scripts to the viewers all the time. I was very tense and rigid," she joked. But the sports girl knew the trick all along: practice makes perfect. "Nobody gave me any professional training. I had to listen to the tapes and correct myself again and again. Now I'm much better."
Some say showbiz is all about image, especially in Hong Kong where paparazzi are ready to take your picture any minute. Unlike many other celebrities who use all means to maintain a slim and chic silhouette, Tsai said that she just doesn't care.
"I try to be myself. I won't use heavy makeup or lose weight just to look good on TV. My healthy image as a sportsperson is pretty OK," said Tsai, who sported a loosely-tied pony-tail, a simple t-shirt and a pair of sneakers.
Tsai doesn't think TV appearances make her a popular icon though. "I am not a star," she said. "I just feel accomplished when I am actually influencing people." She is not short of skills in that department. As the ex-captain of the Hong Kong swimming team, she is the role model for her younger teammates. The "big sister" would always give advice on their swimming technique, or even choices in their lives. .
Away from the arena for nine months, Tsai hasn't stopped exercising. Going to the gym regularly and playing basketball as a member of the TV channel's own team, she knows the importance of keeping fit. Recently she participated in Operation Shake Up, a fitness challenge organized by a fitness center, and achieved top scores in every sport.
Tsai goes to the TV studio once a week. Her busy schedule, however, reveals that she is not satisfied with showbiz only. Master of Arts in Sports student at the Chinese University of Hong Kong, part-time swimming coach at the Hong Kong Sports Institute, columnist for various publications, she is also a member of the Hong Kong Olympic Committee and the Hong Kong Elite Association. Her latest commitment was ambassador of the World Youth Olympics. She just came back from the 9th Games held in Singapore, spending time with young athletes from around the world to promote the Culture and Education Scheme of the Games.
"I'm just trying to gain as much diverse experience as possible to pave the way for my future career," she said seriously.
Athletes in Hong Kong, during Tsai's time, were self-sponsored and had no guarantee from the government after their sports careers ended. "The Hong Kong Olympic Committee has an Employment and Education scheme for retired athletes, but this can only benefit those who have achieved high levels in sports," said Tsai. "I really feel that I am a lucky person. But luck is not enough, when opportunity comes, you have to work hard to grab it."
She admitted life might become tougher after saying goodbye to the routine, and sometimes even monotonous life of an athlete. "I am trying everything for the first time and nobody would tell me what to do," she said. "As an athlete, if you try hard enough, it is very likely that your efforts will be rewarded. But in real life it's different. You don't necessarily get what you deserve."
Fifteen years of sportsmanship, she said, has equipped her with the right attitude towards life. "Sports taught me to persevere through hardships and set goals for life, which made me more qualified and prepared for any future challenges."
Tsai is happy that her public image has attracted people's attention to sports. She goes to schools regularly, sharing her sports experience with young students. "Hong Kong's sports environment for young athletes is much better now. Athletes now receive funds from the government and universities started to offer sports scholarships too," she said. "But we still have a long way to go, compared with other countries like the US."
With only one semester to go in graduate school, Tsai hasn't figured out what kind of "full-time" job she will be engaged in, but she said she will "definitely be doing something related to sports." "Sports is such a big asset in my life. I would have been nobody if I hadn't started swimming."
The TV hostess shows no ambition in expanding her star profile but is enjoying everything she does and is planning to do. She shares the view, "it is not whether you win or lose but how you play the game."
She remains unaffected by her celebrity status, still taking the MTR to work every day. But she knows she's got the game going.

Sherry Tsai shares her sports experience with young athletes at the 2010 Youth Olympics in Singapore this August. Provided to China Daily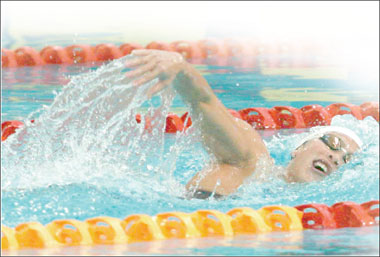 (HK Edition 10/08/2010 page5)