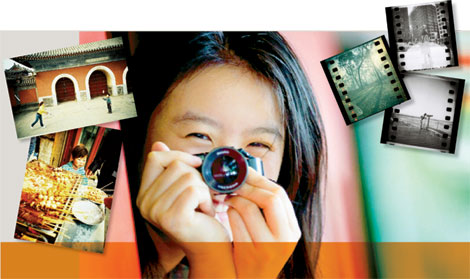 Photo journalist Mimi Sun recently opened an exhibition of photos she took over two years with lomo cameras. Photos provided to China Daily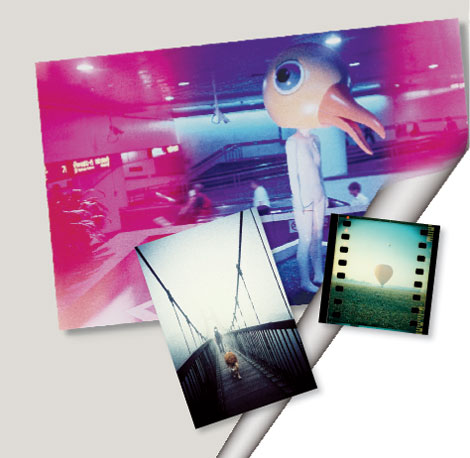 The images are odd, maybe a bit bizarre, they show none of the finesse of professional photographs, yet for all that, they're art. They are the creations of lomography. Kane Wu reports
An odd array of framed photographs hangs randomly from the walls of Cafe Corridor. Some images are indistinct, in others the colours are so heavily saturated as to dazzle the eyes. They are undistinguished snapshots in terms of framing, lighting composition, nor, seemingly by the eye of the professional photographer, yet they are reflections of a trend in photography that's caught on in Hong Kong and they are considered art.
The photographic style is lomography and the photographer is a professional. Her name is Mimi Sun.
"They don't surprise you at a first glance, but when you take a closer look, you will be amazed at the colors or the lighting or the focus of the images that are somewhat different from the pictures taken by a conventional digital camera," said Sun, a 24-year-old photo journalist at Terence Pang Photography.
Most of the pictures in her exhibition, at the ground-floor cafe restaurant opposite Times Square, were taken over two years while Sun traveled around the world. She used eight models of lomo camera. Street signs in Poland, old temples in Beijing, sunset on Taiwan beaches, all have become still moments in her camera.
The exhibition named "Lomo", sponsored by the Hong Kong Arts Development Council, features the works of Sun and her partner, photographer Molly Zheng.
The pictures are taken by a special kind of analogue camera, which often records over-saturated colors, blurred focus and over-exposed lighting. These effects, normally "frowned upon by conventional photography lovers who use digital single-lens reflex (DSLR) cameras", in Mimi Sun's words. "We call it the 'lomo' style," said the girl from Harbin, a northeastern city on the Chinese mainland.
The "lomo" style derives from "Lomography", an international camera company headquartered in Austria. Lomography restores old analogue cameras, bringing them back to life as tools for a "new style of artistic experimental photography comprising unorthodox snapshots", as the company says on its website. The name Lomography was inspired by the former state-run optics manufacturer LOMOPLC of Saint Petersburg, Russia, the company that created and produced the 35 mm LOMO LC-A Compact Automat camera. It was a fixed lens, leaf shutter, zone focus, compact camera. The Austrian founders of Lomography signed an exclusive distribution agreement with LOMO PLC in 1991. The camera product became the centerpiece of Lomography's marketing and sales ever since. LC-A, along with other models produced by the company, are referred to as "lomo" cameras by fans. Lomography itself has also come into use as the term that defines this style of photography.
"My first LC-A was brought to me by a friend who studied in Russia," said Mimi Sun. When studying film at the Hong Kong Baptist University, she worked on as many visual devices as she could get her hands on. Lomo cameras caught her eye because "they look simple and easy to operate". The cameras, made mostly of plastic, weigh no more than a cell phone. They are designed in iconic colors and shapes. Users don't need to bother about aperture setting, shutter speed or any of the other settings required when using DSLR cameras. All a user needs to do is frame and snap.
Sun's maiden efforts failed. She kept on trying, exploring the distinctive features of lomo cameras. "You are allowed to make mistakes with lomo cameras," said she. "It actually enables you to capture the twisted moments that might be deleted immediately in digital cameras."
Sun is a private student of Alain Yip, one of the most celebrated photographers in Hong Kong. Sun shoots weddings, corporate campaigns and magazine photos. Adept with the most advanced DSLR cameras, she finds the allure of the lomo cameras irresistible. "It makes it easier to express the users' feelings deep down inside. Unlike digital cameras, every shot you take with a lomo camera requires more careful preparation, because you can't see the immediate outcome," said Sun. "which, in turn, can actually result in better pictures."
"The most interesting thing is the expectation," Sun said. "You never know what you are gonna get until you develop the film, which might be a long while after the pictures are taken. Sometimes the mistakes you make turn out to be great surprises." Her Russian-bought LC-A, for example, once got the film jammed inside. She had to set it back in place by hand. The accidental exposure to light, however, created a pleasant pinkish halo effect around the objects in her frame. "There is nothing more surprising than this," said she.
The exhibition that started August 1 and will remain open until end of this month has attracted hundreds of visitors. They crowd into the little cafe that covers an area no more than 20 square meters including the outdoor yard.
"I admire how Mimi can create such splendid visual effects," Jill Yao, a visitor and also a lomo user, commented. The multimedia producer owns seven lomo cameras. She loves to experiment on different lenses and accessories that Lomography offers to. "Splash, for example, can adjust the color of the camera flash, while Holga enables multi-exposure," she said. "I can find pictures taken with all those cameras at the show. It's a great show!"
The latest trend, according to Sun, is to take along a lomo camera to wedding shoots. "I have shot wedding pictures for a couple from England, using 'Black Birds, Fly', a Japanese made camera that imprints the sprocket holes on the film rolls on the images," she said. "They loved it so much."
One visitor to the show, however, was not happy. Pan Chan, general manager and creative designer of Lomography Asia, called Sun a few days after the show opened. "Lomography is a brand. We don't feel comfortable when an individual uses our brand name for an exhibition."
Chan is glad to see the growing popularity of lomo cameras, but is concerned that the brand Lomography will be taken for granted as a generic term of photography, as what Mimi Sun did in her exhibition.
"I'll define it as snapshot photography. We did it first, so people refer to it as 'lomo style' or 'lomo feel'," said he. "It's just like Coca-cola. It's a brand name but people always take it for a kind of drink. We don't like it but haven't come up with a solution yet."
The lomo trend, it seems, is well established. But in today's camera market where digital technology innovation is the mainstream, will the age-old analogue revival last? Chan is optimistic. "Now that the boundary between digital cameras and film cameras is ever more blurred, nobody would bother to discuss the advantages and disadvantages of each," said he. "People will own different cameras and pick the one that fits the occasion, just as they wear different clothes to work or to parties."
"I think we are in the age when old things and new things co-exist," said Sun. "If you find the niche to fit in, you will succeed."
The young photographer hopes that one day she can pick up her dream job: to shoot pictures for people - using lomo cameras only.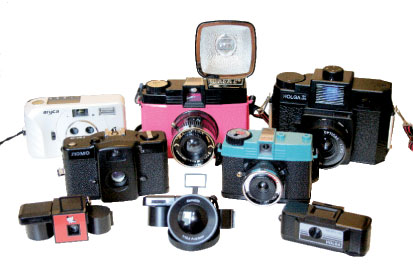 Mimi Sun's lomo cameras.
(HK Edition 09/07/2010 page6)