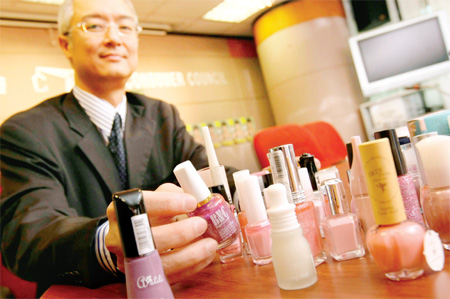 Ambrose Ho, vice-chairman of the Consumer Council, displays all the problematic nail polish products to the media Monday. The council says it found toxic and cancer-causing substances in some samples of nail polish. Three of the four most toxic products were made in South Korea. Ho advises people to use nail polish only in well ventilated places and avoid contact with the skin. Edmond Tang / China Daily
Sub-standard products more often found in small shops
The Consumer Council has found high levels of toxins in five types of nail polish and base coat products.
"We have found some polish samples contain toxic chemicals and cancer-causing substances," Council's Chairman of Publicity Ambrose Ho said, adding the compounds can find their way into people's bodies through skin contact and inhalation.
In its first review of nail polish, the Consumer Council found Benzene in polishes by South Korean brand Skin Food, Flower and BNC manicure as well as in a polish by Volili, whose labeling failed to identify the country of origin.Volili's nail polish, number 846, was found to have 10 parts per million (ppm) of phthalates, which is banned on the mainland and in the European Union for its suspected links to birth defects.
"Some animal studies showed that certain phthalates at high levels might produce endocrine-disrupting effects and cause birth defects," Ho said.
"While most of the major brand name nail polishes from cosmetic chain stores passed our tests, the more problematic brands we found were mostly purchased from small independent stores," Council Chief Research and Trade Practices Officer Brian Cheng said.
The concentration of Benzene ranged from 9.7 ppm to 260 ppm in BNC's polish, which also was found to have 41,000 ppm of methanol or 20 times the maximum allowable limit according to national standards.
Methanol is highly toxic while there is an established link between Benzene and leukemia.
Skinfood Hong Kong promptly announced it will offer full refunds with proof of purchase for its products found to be high in toxicity.
Products involved are Skinfood Jojoba Pure Nail PK004 and Milk Creamy Nail Base Coat. The two products were found to contain 9.7 and 11 ppm of Benzene respectively.
In a faxed statement accompanied by lab reports, the company said levels of the compound linked to cancers such as leukemia were well within acceptable limits according to South Korean standards.
It said it will nonetheless suspend sales and conduct further tests to assure customers the product was safe.
Dr Hair & Beauty, which sells the BNC brand locally, said it had removed the polish from shelves.
Advising users to apply polish in well ventilated areas, Ho said Flower's Nail Polish also exceeded a 25 percent European limit for Toluene, a solvent in nail products that can affect the nervous system and respiratory tract.
The Flower brand of polish also was found to be 0.03 percent methyl methacrylate, an organic compound and listed allergen by Health Canada.
Spokeswomen for Sasa, Manning's and Watson's said they did not carry the brands, while enquiries to Joyce Beauty and Bonjour were not answered as of press time nor did Aster Cosmetics Center, which carries the Flower brand.
China Daily

(HK Edition 08/17/2010 page1)