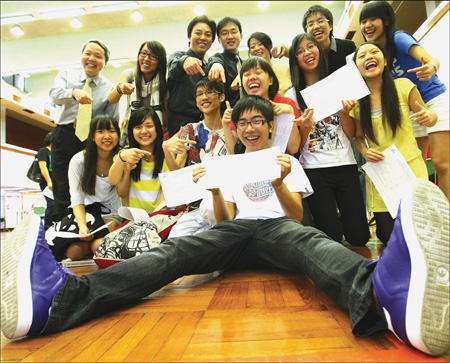 Hang Seng School of Commerce student Cheng Fuk-wai (center), who was the only student to be awarded six A's in the A-level examination, shows his result sheet with his schoolmates Wednesday in the school. The school has again outperformed traditional elite schools in this year's A-level examinations. One student at the Hang Seng School of Commerce gained six A's, while 16 others recorded five A's. EDMOND TANG / CHINA DAILY
Seventeen Hang Seng School of Commerce students tops among 39,774
Most of the top students in this year's Hong Kong Advanced Level Examinations (A-level) taken by 39,774 students turn out to have come from one school. The one student who scored six A-levels and 16 of 21 who achieved five A's are students at the Hang Seng School of Commerce. The school announced that it has scored a record-high - 575 "A" grades.
Cheng Fuk-wai, the only student who achieved six A's this year described the whole experience as a roller coaster ride, confessing that not even he believed his results would be that good. The key to his success? He just kept reading and asking questions, he said. With the top A-level result in Hong Kong, Cheng says he wants to study language or social sciences when he moves on to higher education.
There were also five disabled candidates who achieved stellar results.
Ma Yuet-kwan. a wheelchair-bound student from Ming Yin College, earned three A's in the exam.
She suffers from a condition causing her muscles to atrophy. She's had it since she was eight months old. It wasn't easy preparing for her A-level exam. She said it took a lot out of her physically. Her condition worsened toward the end of last year and she spent an extended time in hospital, she said.
Ma credited her teachers and classmates for the help they gave her to catch up on her work. "I like learning," she said. "I hoped I could do it well," she added with confidence.
A candidate from Kwok Tak Seng Catholic Secondary School, suffering from color amblyopia, earned three A's.
Hui Man-kwan from Hang Seng School of Commerce got two A's in the A-level exam. She writes and types much slower than most others, as a result of severe burns to her hands suffered in an accident when she was a year old. She's had 19 surgeries since the accident. Hui admitted she is still struggling to overcome psychological scars from her affliction, but plans to study psychology at university.
One candidate who failed the A-level exam has decided to repeat Grade 7. One said he will adjust his applications to increase his chances to be admitted to university. If he fails after that, he will take an associate degree program as an alternative route to university studies.
Students may obtain their grade reports from their schools, while private candidates will be notified by post. The results of private and evening school candidates will also be available on the website of the Examinations and Assessment Authority.
China Daily

(HK Edition 07/01/2010 page1)