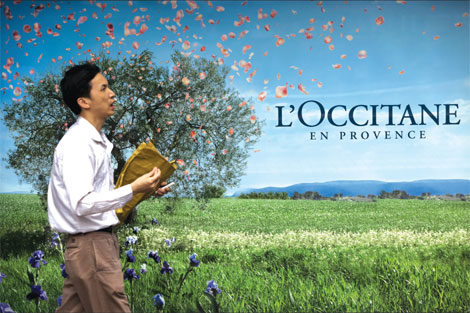 A man walks by an ad for L'Occitane International SA in Hong Kong earlier this year. L'Occitane, a French maker of beauty products, is set to expand its presence on the Chinese mainland after being listed on the Hong Kong stock exchange earlier this month. Jerome Favre / Bloomberg news
French beauty product maker sees bright future in East Asian markets
L'Occitane International S.A. (HKEx: 0973), the French beauty product maker and the first French company listed in Hong Kong, plans to extend its presence to 15 more cities in China this year, an ambitious expansion plan aiming at the unleashed consumption appetite on the Chinese mainland, according to Andre Hoffmann, president of Asia Pacific at the company.
"We expect China's share of L'Occitane's business to more than double over the next five years," said Hoffmann at a press briefing in Hong Kong Friday.
L'Occitane opened its first store in Beijing in 2005. Since then the beauty maker has been opening about 10 stores per year. As of the financial year ended March 31, the company has been operating in 25 cities.
"In Asia, all stores are profitable. It's very different across countries around the world, but in Asia it's very fast - we've gotten a return on investments typically well within one year," said Hoffmann, commenting on the company's ROI in the Asia region.
In response to the impact of China's currency policy change, Thomas Levilion, the group's deputy general manager said a more flexible yuan is "good news to us."
Despite that good news, "it is more important that the nation has a certain wish to increase domestic consumption, which is naturally positive for us. This can have a greater impact than the small appreciation of the renminbi," said Levilion.
On Thursday L'Occitane released its first annual results since its initial public offering in Hong Kong this May. The company posted a net profit of 81.6 million euros in the financial year ended March, up 39.8 percent from a year ago. Its net sales grew by 13.9 percent to 612.2 million euros. Earnings per share (EPS) were 0.064 euros, compared with 0.046 euros in the previous financial year.
Japan remains L'Occitane's largest market, representing 24.1 percent of overall sales, followed by the US (14.6 percent), France (12.7 percent), and Hong Kong (8.1 percent). In terms of contribution to sales growth in the latest financial year, Japan and Hong Kong pulled in 16 percent and 14.7 percent, respectively.
L'Occitane closed at HK$16.6 per share Friday, down 2.81 percent, or HK$0.48, from the previous trading day amid a generally weaker broad market. The Hang Seng Index closed at 20,690, down 0.21 percent from the previous trading day.
Bloomberg News contributed to the story.
China Daily
(HK Edition 06/26/2010 page3)