Remembering Teresa Teng
Updated: 2010-05-28 07:36
By Phoebe Cheng(HK Edition)
| | | | | | | | | |
| --- | --- | --- | --- | --- | --- | --- | --- | --- |
|   | | Print | | Mail | | Large Medium  Small | 分享按钮 | 0 |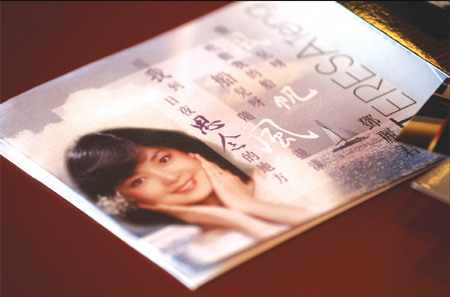 An old postcard featuringTeresa Teng that Cheong Kam-mei has kept for decades. Edmond Tang / China Daily
It's fifteen years since Teresa Teng, one of Asia's most popular and enduring singing stars died. As Phoebe Cheng tells us, Teng's popularity carries on, winning new legions of fans from the post-80s generation.
She had a voice everyone recognized, described as "seven parts sweetness and three parts sadness". It was a voice that reached out to her audience. Fans never tired of hearing Teresa Teng sing.
She made about 200 records and sold about 50 million copies.
Teng was the first ethnic Chinese singer to perform at New York City's Lincoln Center in 1980. That was also the year Teng won Taiwan's Golden Bell award for best female singer. She was selected as one of Taiwan's Ten Most Outstanding Young Women in 1983.
Fifteen years ago this month, Teresa Teng, who suffered from asthma throughout her adult life, was fatally stricken by a respiratory attack. For Teng's housekeeper and close friend Cheong Kam-mei, memories of the late singer remain fresh in her mind. Tears flow freely when Cheong recalls her lost friend, even after all these years.
Cheong spent five years with Teng, as her housekeeper and cook. She shared the singer's joys and sadness.
"She never treated me as her employee but as her family," Cheong said. "She was a great boss and treated us (people who worked for Teng) with no bias and never looked down on us.
"Yet she did have her own pressure and sadness. She would chat with me and cry before me when she was sad. Whenever I saw her crying, I cried with her," says Teng's former employee.
"I'm just another human being who loves to sing," Teng once told her.
The singer, with the fresh, girl-next-door looks didn't use a lot of makeup, nor wore fancy clothes, Cheong remembers. Teng didn't have time. She gave all her attention to singing, eschewing even marriage to pursue her first love.
"When you sing, you have to really get into the song. You have to sing with all your feelings," she told Cheong.
Cheong, 51, was still in her teens when she became a loyal fan of Teresa Teng, the Taiwanese-born singer known to nearly every Chinese.
Teng had charmed Chinese communities around the globe with her classic folk songs and romantic ballads in the 1970s. She sang in her native Mandarin, and in Taiwanese, Cantonese, Japanese, Vietnamese, Indonesian, and English.
The Taiwanese singer loved to play tennis, watch romantic movies, and go fishing. "Teng had a sense of humor and knew how to make people happy," Cheong recalls.
Teng once took Cheong to France when she went there to learn French. Cheong's idol-turned-employer became her tour guide in France.
"She was very health- conscious about her diet and was not picky. Her favorite dish was fried tofu and bean sprouts. She never spoke during meals," says Cheong.
Teng loved to travel. She lived in the United States, France, Taiwan and Hong Kong. She came to Hong Kong every autumn, which is the best season for hairy crabs.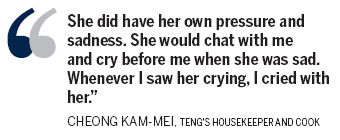 "Her favourite was Chinese mitten crabs. She could have three at a time," said Cheong who looked after Teng's diet.
Teng also loved stuffed dumplings. She once said, "girls who do not know how to make stuffed dumplings will not be able to get married," which is a tradition of her hometown.
Her songs still heard and recognized by listeners today were love songs, such as "When Will You Return?" and "The Moon Reflects My Heart".
Teng also had a tough, determined nature. Her success did not come "overnight".
"She was teased in Japan when she started her career there," Rick Tsang Wai-ki, a 28-year-old fan, said of her. "But she didn't give up and held on to her dream to be a singer. She later became very popular in Japan."
Her song in Japanese, "Airport", won Teng the New Singer Award in 1974. "Give Yourself to the Sands of Time", later covered in Chinese as "I Only Care about You", received the Gold Award and Grand Prix in 1986.
She was a "superb prodigy", as described by Ricky Fung, current Chief Executive Officer of the International Federation of the Phonographic Industry (Hong Kong Group) Limited. He was a record producer at Polydor Records and worked intensively with Teng when she started her singing career in Japan in 1973.
"She was proud of her identity as a Chinese and she worked hard in her singing as she didn't want to shame the name of 'Chinese,'" Fung said. "She was so intelligent that she learned to speak fluent Japanese in six months."
Teng had suffered severe respiratory difficulties throughout 1995. She was fatally stricken on May 8, while on vacation in northern Thailand. She was 42.
Her death sent Taiwan and other parts of Asia into deep mourning.
This year on the 15th anniversary of Teng's death, hundreds of her fans from around the world gathered at her grave to commemorate her with flowers and paper butterflies. Cheong was one of them, who could barely speak about Teng in the first ten years after Teng's death.
Cheong joined Teng's fans club when she was 19. The club carries on today, after 34 years. Some of the members are still active fans of Teng, who regularly hold meetings and concerts to commemorate the star. They also take part in charity work as Teng did, carrying on Teng's tradition of charitable works while she lived.
Teng's legacy continues. Many from the post-80s cannot resist her powerful voice. "Teng's voice is so powerful that even though she has passed away, her voice touches the heart of our generation," Ricky Tsang, a 28-year-old clerk, said. "Her voice is not the best, yet is unique. Today's artists are incomparable to Teng as she touched our hearts solely with her voice and the feelings she had when she sang."
Tsang and his friend Jerry Wong Wai-chun, 21, have pledged to keep Teng's legacy alive, by introducing her music to others. They've set up a website. They've invested time and money searching for old phonograph recordings of Teng's songs.
Wong, although a university student with no income, spent his life savings of about HK$300,000 on collecting Teng memorabilia including records and newspaper clippings.
Teng's image also survives, untouched by the passage of years - as a wax figure at Madame Tussauds Hong Kong, in the music icon attraction.
Cheong helped in the production of the likeness in 2002, providing details of the singer's appearance, her style and manner: a traditional Chinese lady, very polite and elegant with a pleasant manner. Set before a backdrop based on Teng's NHK "One and Only" 1985 concert in Japan, the likeness is dressed in a white sequined cheongsam with pink butterflies, a replica of one of her favorite gowns. The figure brings back memories to Cheong of Teng's delicate features and bright smile.
One of Teng's popular hits "Forget Him" is Cheong's favorite. She likes the song in the way it describes her memories for Teng. "Forget her would be like forgetting everything - even myself. Forget her? How can I forget her? She will be in my mind forever and ever."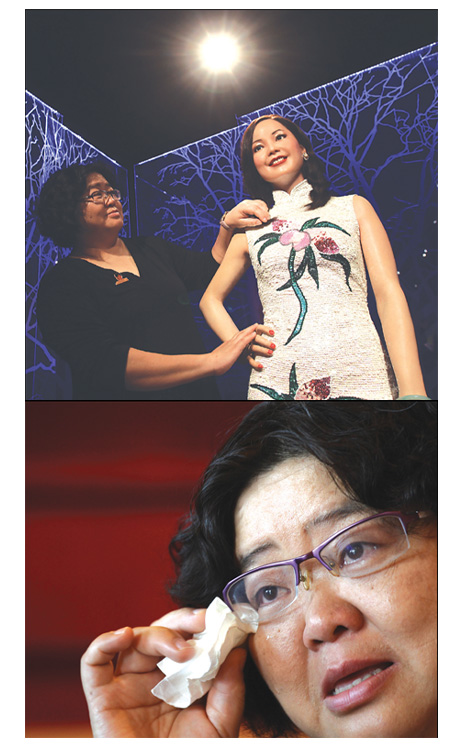 Cheong Kam-mei gazes at the wax figure of Teresa Teng at Madame Tussauds Hong Kong.

Teresa Teng's fans gather at Teng's Garden at Chin Pao San in Taipei to commemorate her on the 15th anniversary of Teng's death. provided to china daily
(HK Edition 05/28/2010 page2)