Hong Kong-designed all-electric passenger vehicle, MyCar, will hit the US market early next year as a result of a recently-established strategic alliance between the Hong Kong patent owner, EuAuto Technology Ltd, and US automaker GreenTech Automotive.
GreenTech Automotive, a hybrid-car maker based in Virginia, announced Monday it has acquired EuAuto Technology, with manufacturing and marketing the Hong Kong firm's electricity-driven MyCar in the US as a prime objective.
GreenTech plans to produce five models of MyCar and will start production as soon as it secures regulatory approval in the US, the company's chairman, Terry McAuliffe, told a press briefing in Hong Kong Monday.
The company said in a statement that EuAuto has now become its wholly-owned subsidiary. It did not reveal the financial details of the deal.
The announcement comes during US Commerce Secretary Gary Locke's Clean Energy Trade Mission in Hong Kong.
In congratulating GreenTech on its acquisition of EuAuto, Locke said, "Transactions such as this one are truly win-win: they bolster the US economy and speed our economic recovery; they support high-quality, high-wage green jobs in the United States; they help rebuild our manufacturing sector; and, by leading to lower carbon emissions, they contribute to our ability to deal with climate change."
GreenTech aims to sell "hundreds of thousands" of MyCars in the US within a few years of production, said McAuliffe, who expects that "potential demand for this kind of car is huge".
Zevia Tong, a senior marketing manager at EuAuto, told China Daily that the production of MyCar in the US, which is expected to start by the first quarter of next year, is expected to reach around 10,000 units in the first year.
On the reasons behind EuAuto's alliance with GreenTech, Tong said, "The alliance is very important, as it will help us enter the US market."
She said future US production will mainly cater to the US market, noting that EuAuto's current production plant in Dongguan, Guangdong will continue to operate.
"In fact, we may expand the Dongguan production capacity to cater to demand from Europe and Asia, including the mainland market," she said, emphasizing that the plan has yet to be finalized.
MyCar was named electric vehicle of the year at the 2008 European GreenFleet Awards. The two-seater coupe, jointly developed by the Hong Kong Polytechnic University and EuAuto, can be charged from any regular household socket.
The standard version of MyCar retails at HK$97,000 in Hong Kong and 10,495 pounds in the UK. By contrast, Nissan Motor's Leaf electric car sells for $32,780 in the US before government incentives.
Bloomberg contributed to this story.
China Daily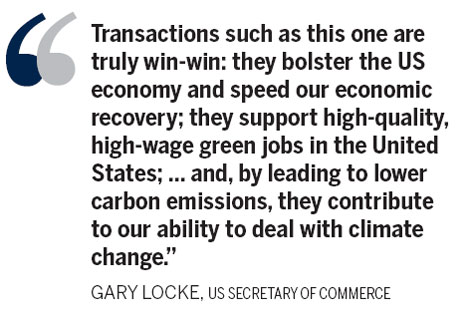 (HK Edition 05/18/2010 page3)