Financial regulator to demand home price transparency
Updated: 2010-03-11 07:35
(HK Edition)
| | | | | | | | | |
| --- | --- | --- | --- | --- | --- | --- | --- | --- |
|   | | Print | | Mail | | Large Medium  Small | 分享按钮 | 0 |
CEPD chairman favors some curbs on bank credit to rein in the property market, especially Taipei's
The chairman of the Financial Supervisory Commission (FSC) said yesterday that his agency plans to ask banks to improve the transparency of information disclosed relating to real estate prices, as part of efforts to curb housing prices.
FSC Chairman Sean Chen said the FSC will ask the Joint Credit Information Center to suggest the proper way for banks to reveal pricing information about the real estate market.
"Making the information public will be very helpful in making prices fair and market-oriented," Chen said at a Legislative Yuan Finance Committee meeting.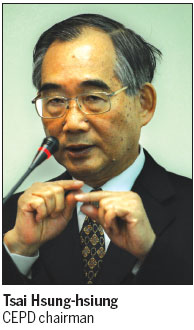 He added that the housing market information to be published should be provided according to area, should be otherwise non-identifiable, and should not contain specific addresses.
Legislators of the ruling Kuomintang (KMT) said they will propose that the FSC must make the housing market information public within three months.
The information will include average deal prices, as well as average ratios and mortgage repayment periods for specific areas.
Legislator Lai Shyh-bao said making housing prices public will be more effective than putting more pressure on the market in terms of curbing soaring property prices.
Lai pointed out that the steep rise in domestic housing prices in the past two years has taken place only in certain areas, such as Taipei City, with a rise of 36 percent, and Taipei County, which has posted about a 12 percent rise.
He noted that housing prices in southern Taiwan's Kaohsiung County increased by 5 percent, while Kaohsiung City saw an increase of just 1.32 percent. Taichung County and Taichung City even showed negative growth for the 2007-2009 period, he added.
Meanwhile, the chairman of the Council for Economic Planning and Development (CEPD) said yesterday that he favors tightening credit controls conditionally to curb soaring housing prices, but added that he does not agree with raising bank interest rates to serve that end.
Fielding questions from lawmakers at the Legislative Yuan's Finance Committee, Tsai Hsung-hsiung said he would prefer to impose conditional credit controls to ease the housing fever in prime urban areas, mainly because prices have been pushed up by cheap speculative funds. But he added that he does not agree with increasing bank interest rates, as doing so would impact average home buyers.
The government will address the problem on three fronts - making information disclosure transparent, levying adequate tax to reflect real market values and preventing leveraged speculation - Tsai said.
Promising that the government sector, including the central bank, the "Ministry of Finance" and the Financial Supervisory Commission, will definitely deal with the thorny issue, Tsai explained that the government has already stopped selling large public land lots in Taipei City and that young and low-income earners will have their home-buying subsidized.
According to Tsai, Taiwan's real estate tax rates are relatively low compared to those of some other economies. However, as the government is trying to encourage the public to choose home ownership, only taxes for non-residential property purchased as an investment rather than as a home should be increased, he said.
Speaking on the same occasion, Yang Chin-lung, deputy governor of the central bank, said it would be more effective to adopt conditional adjustments aimed at specific groups than to simply impose a blanket increase in bank interest rates, as an overall economic recovery is still some way off.
In response to the question of whether the banks will soon raise key interest rates, Yang reiterated that such a decision can be made only after a central bank board meeting.
China Daily/CNA
(HK Edition 03/11/2010 page4)