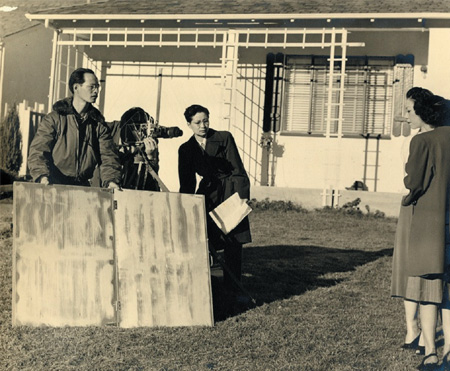 Esther Eng (third left) at work. Courtesy of Frank Bren
While taking great pride in fellow Hongkongers such as Jackie Chan and Chow Yun-fat for their Hollywood success, few locals have ever heard of the name Esther Eng. As Frank Bren tells us, Eng's role in Hong Kong cinema as well as Tinseltown is monumental in its own right
She died forty years ago come Monday.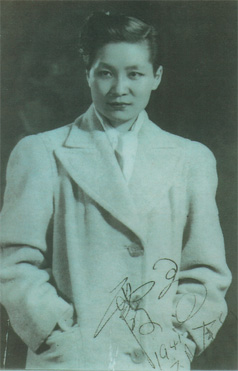 An autographed portrait photo of Esther Eng she signed in June 1941 using her nickname "Ha Go".
Oddly, for an American, she was the greatest female director of early Chinese cinema, becoming one of the screen's most audacious brats, "retiring" at an age when directors often begin their careers. She made four feature films in America and five in Hong Kong, yet look for her name and weep, for historians have dropped the ball on Esther Eng.
For her screen debut, she co-produced Heartache (1936), Hollywood's first Cantonese talkie. She directed four US features in the 1940s, comprising Golden Gate Girl (1941) - the screen debut of baby Bruce Lee, Blue Jade (1947), Back Street (1948), and Mad Fire, Mad Love (1949) the first Chinese color feature made in Hawaii. She replaced Dorothy Arzner as America's foremost woman directing films following Arzner's retirement in 1943.
These achievements were surely enough for inclusion in any comprehensive film history, despite the disappearance of her films. Two scripts, personal letters, film fragments, contemporary press clippings, and the personal memories of a diminishing few offer some insights into the individual "voice" of her American films. But it is the five she made in Hong Kong during the 1930s that define her special status as "outsider", a Chinese woman in America and a lone foreign woman in Hong Kong in the phallocratic business of movies.
Ng Kam-ha (Esther Eng) was born in San Francisco on September 24, 1914, though her roots (grandparents) go back to Toy Shan (Taishan) county in southern China's Guangdong province. At 19, she persuaded her father and his business associates to form a film production company with her on board as a producer. He did so, basing the company in the family home at 1010 Washington Street, while Esther hunted for a studio on Los Angeles' Sunset Boulevard. The first film produced by the fledgling company was Heartache (1936), a contemporary drama set in San Francisco and shot in six days. A fraction of the film was shot in color to show off some gorgeous traditional costumes.
Her plunge into filmmaking stemmed from a childhood steeped in her passion for the performing arts, as a movie fan and lover of Chinese opera. For decades, San Francisco had hosted some of the world's most exciting Chinese theater. The city's houses could afford the best actors in all China. They had seen the rapid, inspirational rise of some professional, independent women - actresses, so recently liberated from a prolonged ban from the Chinese stage. When San Francisco's Mandarin Theater opened in 1924 (see it in Orson Welles' 1947 film, The Lady From Shanghai), its leading star was a woman, Cheung Sook Kun, described as the highest-paid Chinese thespian after Mei Lanfang. Esther's best friend (gossip said lover) was Wai Kim-fong, another star from the Mandarin prior to headlining three "Esther Eng films", including Heartache.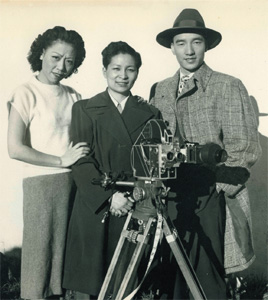 Esther Eng (middle) with her leading lady Wai and leading man Wong during shooting of Heartache. Courtesy of Frank Bren
A preserved script of this film shows the patriotic and feminist concerns evident in her feature films as director. It reads as an effective weepie. Its central figure (Wai) is a Chinese opera star who sacrifices her love for a young Chinese-American pilot (Beal Wong) for the benefit of their motherland (China). She finally dies of heartbreak in his arms.
In May 1936, producer Eng and star Wai boarded the ocean liner, The President Hoover, and sailed to Hong Kong, where their picture played from late June to August at several theaters including the Queen's and Majestic cinemas on Hong Kong Island.
Esther's feature directing debut, National Heroine, opened there in March 1937, being acclaimed for "honoring Chinese womanhood" and even winning an award in Guangzhou. Like Heartache, in an era just prior to China's long war with Japan, it represented "national defense", an arts genre in which defense of motherland China overrode personal concerns like true love. Esther directed or co-directed four other Hong Kong features until the beginning of 1939, returning home that year to begin distributing Chinese films throughout Central and South America.
She loved Hollywood's "B" pictures, particularly their production finesse and efficient scripts on tight budgets. One of her letters (1940) offers vivid impressions of "B" picture methods after she had attended the shooting of a Hollywood cowboy quickie made in just a few days. She planned to take such lessons back to Hong Kong, but her attempt to set up an ambitious war movie there in 1946-1947 ended in frustration following months of preparation, including location hunts in southern China. She returned to the US to make her last three features, all of them starring her friend, actress Fe Fe Lee.
In 1949, Esther Eng, director of nine features, a writer, producer and distributor who had criss-crossed the globe trailing several unfinished projects, went into the restaurant business! She was just 35. Perhaps she was fatigued by moviedom's endless obstacles, including ceaseless press gossip in Hong Kong over her sexual preferences and relations with other women. It was all a deadly business considering the "mosquito press" gossip that led to the death of China's greatest screen goddess, Ruan Lingyu, in 1935.
Thus this "five-foot-tall dynamo" (per The New York Times) achieved gastronomical fame. In 1950, finding her Chinese actor friend, Bo Bo, stranded in New York, Esther supported him, managed his stage career in America and even named a restaurant she co-founded that year as "Bo Bo". It was the first of her five Manhattan restaurants, including the best-known, the Esther Eng Restaurant, launched in 1959. Her patrons numbered many show business figures, including visiting Chinese actors who addressed her respectfully as Ha Go ("Brother Ha"), but few knew of her former career as a major director-distributor of Chinese motion pictures.
A chat site on the Internet retains a curious message from 2001: a romantic couple re-visiting New York are looking for the Esther Eng Restaurant to relive their first date there in the mid 1960s. It's long gone of course, though one eatery site still lists it.
One might direct the couple to a simple obituary in The New York Times in late January 1970, one that describes their late host thus: "Theatrical director, producer, restaurateur, a great lady."
(HK Edition 01/23/2010 page3)